Stained Glass Cookies are buttery sugar cookies with a beautiful melted candy center that looks like stained glass windows. They are impressive but easy to make and perfect for the holidays!
If you're looking for more Christmas cookies, you must try these delicious eggnog cookies. Or for a more classic recipe, try our rugelach!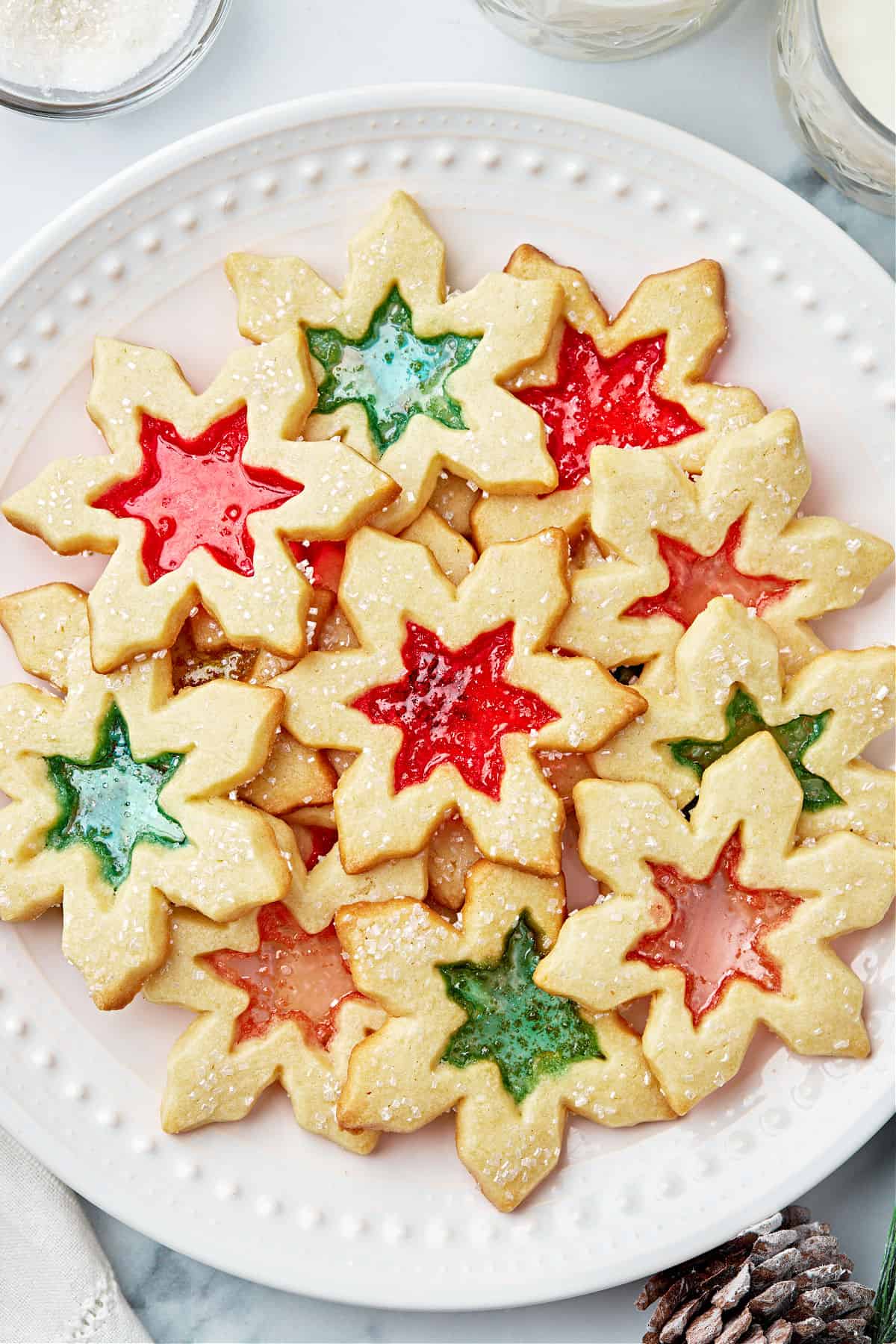 Why This Recipe is Best
Stained glass cookies take cut-out cookies to a whole new level! These sugar cookies are cut to have an open center that's filled with crushed candy and baked until set.
The slightly translucent colors look just like stained glass for a truly beautiful, unique cookie!
The dough for these cookies is just basic, on-hand ingredients, and comes together easily.
Use Jolly Ranchers or other hard candies and select whichever colors you want to feature for your stained glass!
These cookies make a gorgeous addition to a holiday dessert table and can also be gifted to friends, family, neighbors, teachers, anyone!
Ingredient Notes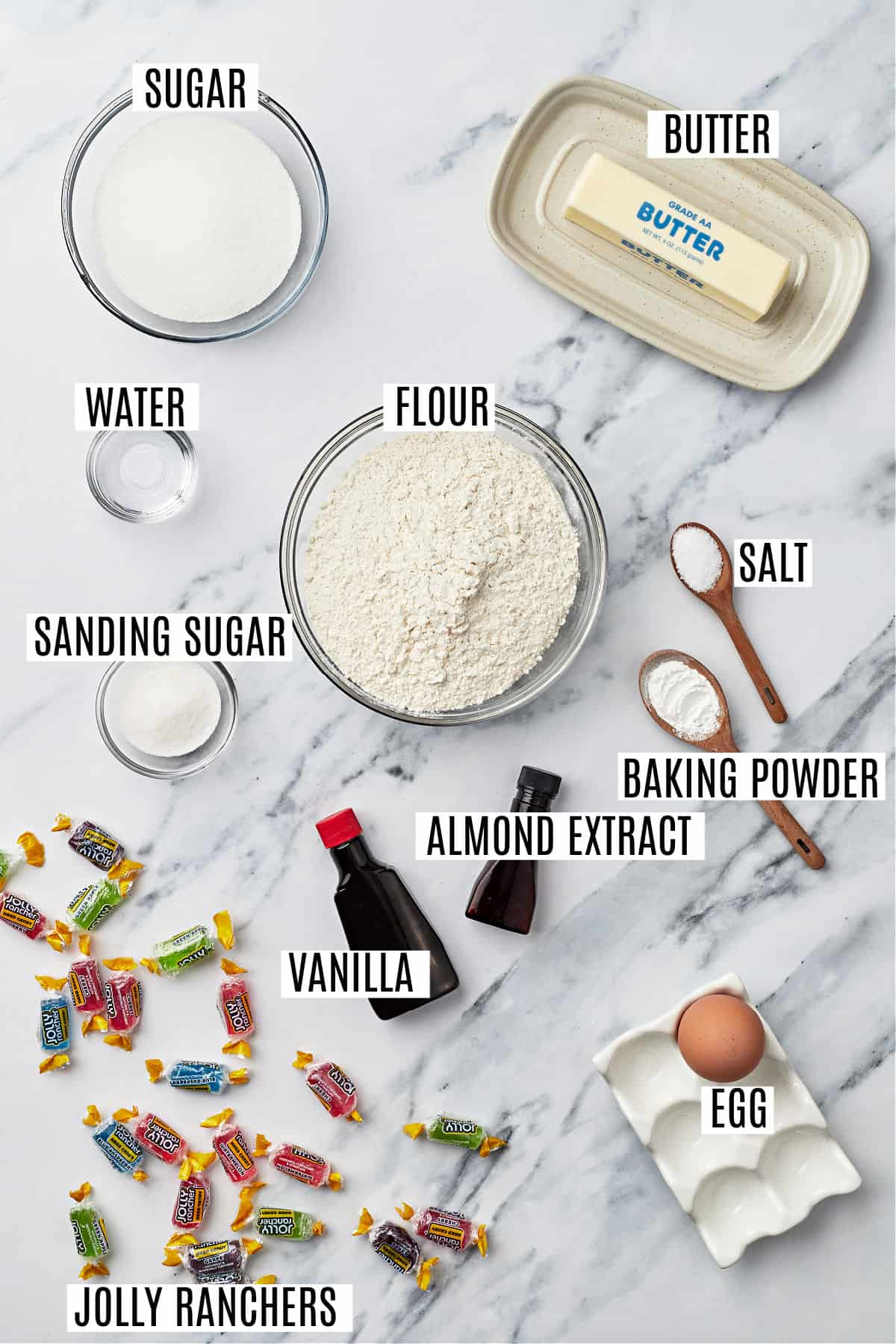 Unsalted butter – Unsalted butter is best for these cookies. You can use salted butter if that's all you have; just leave out the added kosher salt in the recipe. See our guide on how to soften butter.
Vanilla extract – Be sure to use a PURE vanilla extract, not imitation. Try our homemade vanilla extract for best results.
Almond extract – This blends beautifully with the vanilla to enhance the flavor of the cookie. However, you can substitute extra vanilla extract if you don't have any.
Candy – You can use Jolly Rancher candies or other fruit hard candies, such as Life Savers, for the melted candy middle. Just choose your colors and separate the candies accordingly.
Easy Instructions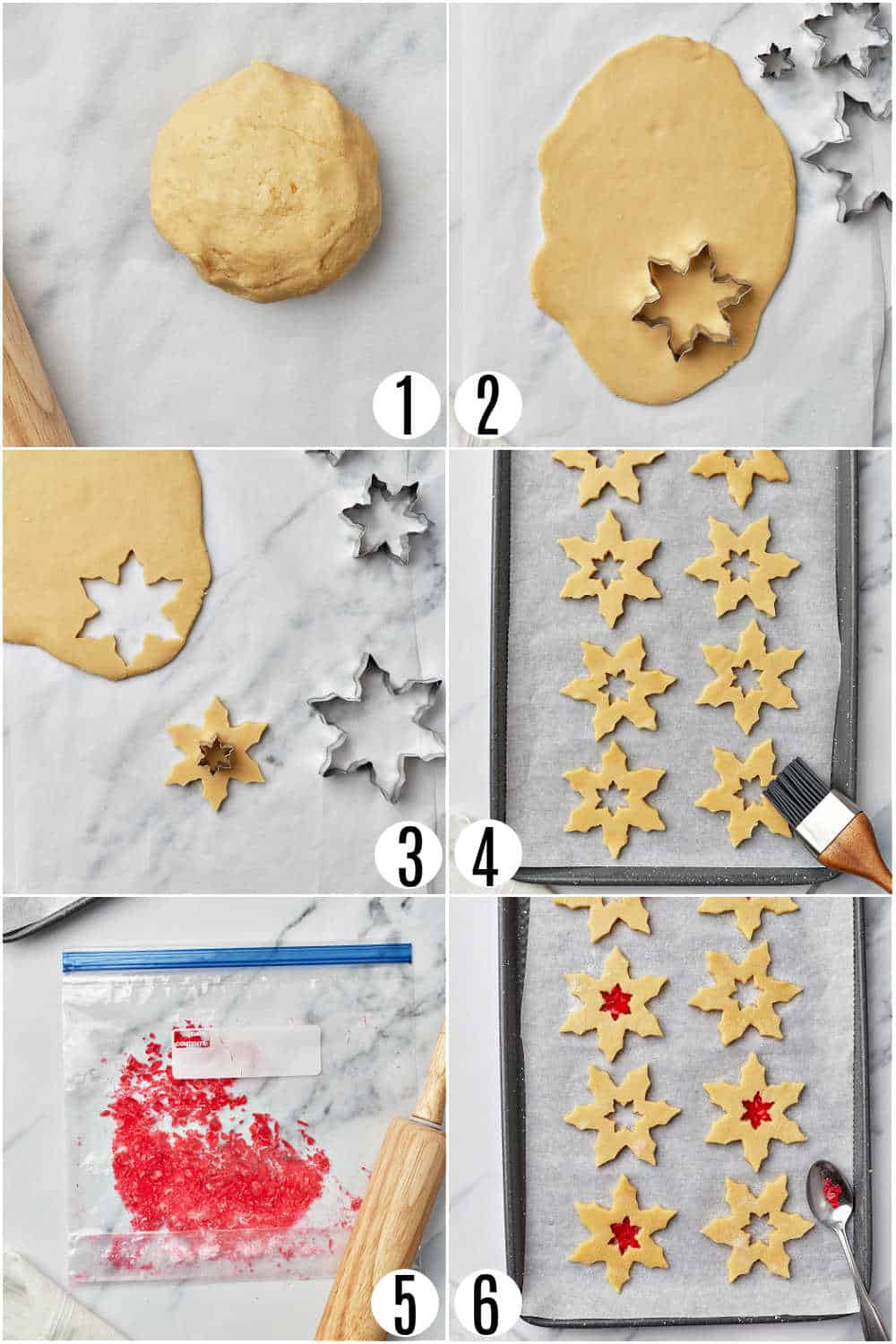 Make the cookie dough. Once you've made the dough, divide into two balls.
Roll and chill the dough. Roll each dough ball out to ¼-inch thickness on a piece of parchment paper then chill the rolled out cookie dough for 2 hours (or overnight).
PRO TIP: It's easier to roll out the dough and chill it (between two pieces of parchment paper, than to chill the dough balls. If you MUST chill the dough balls, you'll need to work carefully as the dough will be drier.
Cut and fill the cookies. Use two different sized but same shape cookie cutters to cut out the cookies. Crush the hard candies, assorted by color, and fill the cut out cookies with the crushed candy.
Bake then cool. Bake until the candy centers have completely melted and the edges of the cookies are slightly browned. Let cool on the cookie sheet for 10 minutes then remove and let cool completely on a wire rack.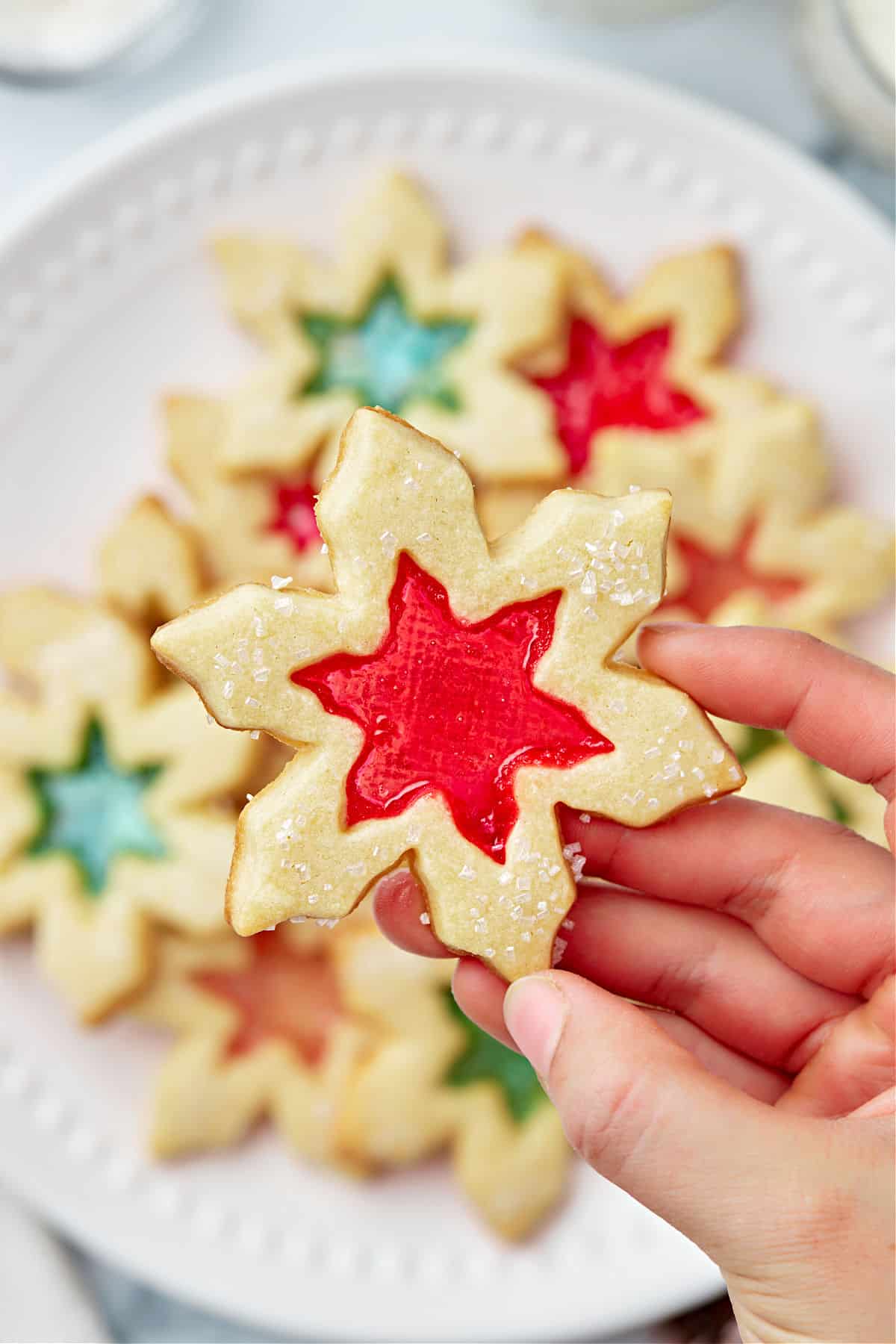 Tips and Tricks
Don't chill the dough while it is in a ball shape or it will become dry and be too difficult to roll out.
Rolling the cookies out on parchment paper will prevent the cookie dough from sticking to the pan and make it easier to transfer in and out of the refrigerator for chilling. It makes clean up easy, too!
We love these snowflake cookie cutters but any shape will work. You need two different sized cookie cutters – one for the bigger shape that will be filled with the crushed candy and one for the smaller center that will be removed (and can be baked on its own, plain).
Fill the center of the cookies with crushed candy pieces to about ¾ full. Overfilling with candy can cause them to bubble over the tops of the cookies.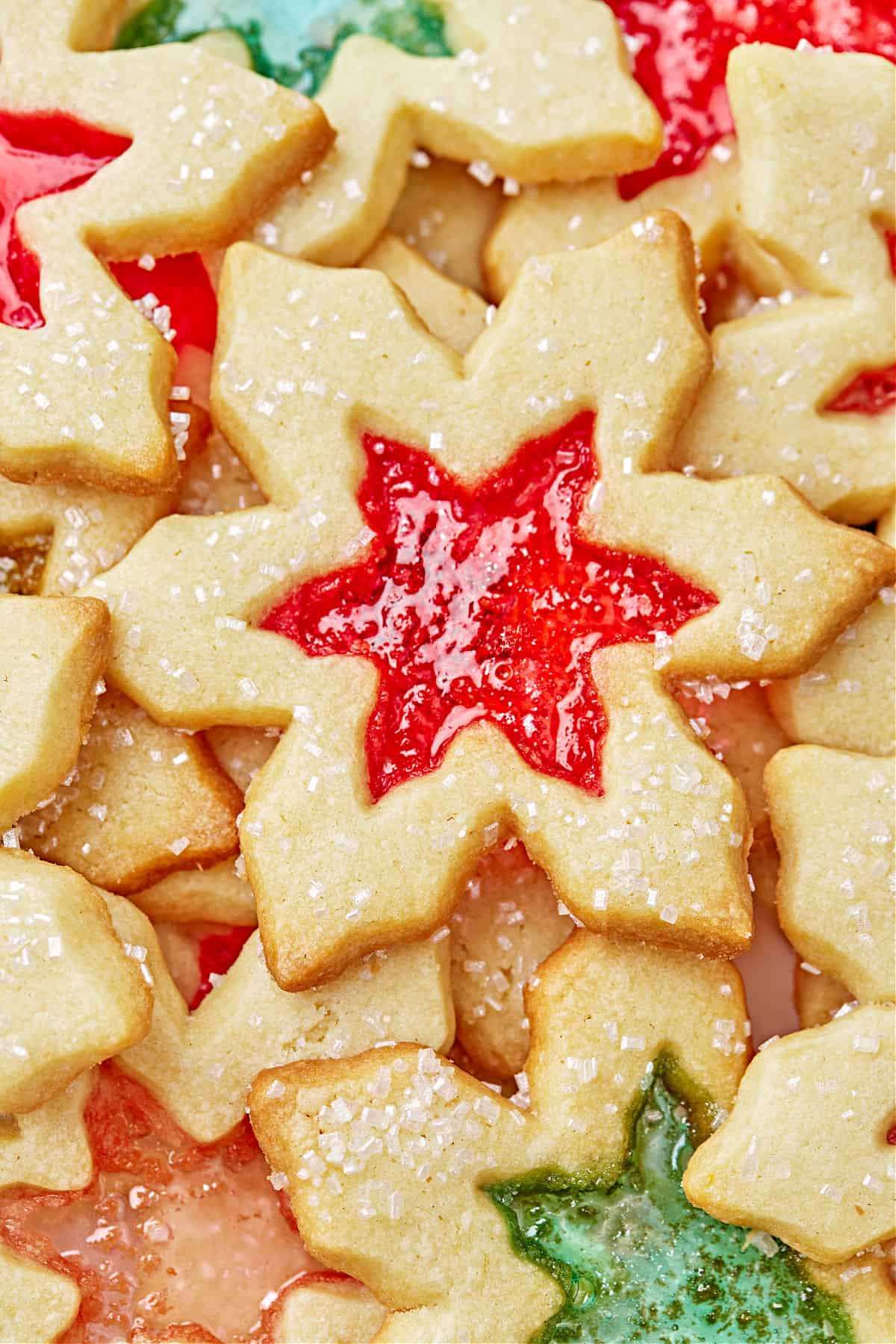 Recipe FAQs
What kind of candy is best for stained glass cookies?
You can use any hard fruit candy, such as Jolly Ranchers or Life Savers. Separate the candies by the colors you want to use, then crush the candies to use as the stained glass center of the cookie.
Can I make stained glass cookies in advance?
Yes, these cookies can be made in advance. Let them cool and set up completely before storing. They will keep in a covered container at room temperature for up to 5 days.
Can I freeze these cookies?
Yes. You can freeze the baked and cooled cookies in a freezer-safe ziplock bag for up to 3 months.
More Holiday Desserts