Peach Cobbler has a syrupy, thick peach filling and a flaky, crispy, golden brown biscuit topping that's dusted with cinnamon sugar. Add some vanilla ice cream and dig in!
Love peaches? Our easy peach dumpling recipe topped with homemade vanilla ice cream is simply the best. And did I mention it's EASY?!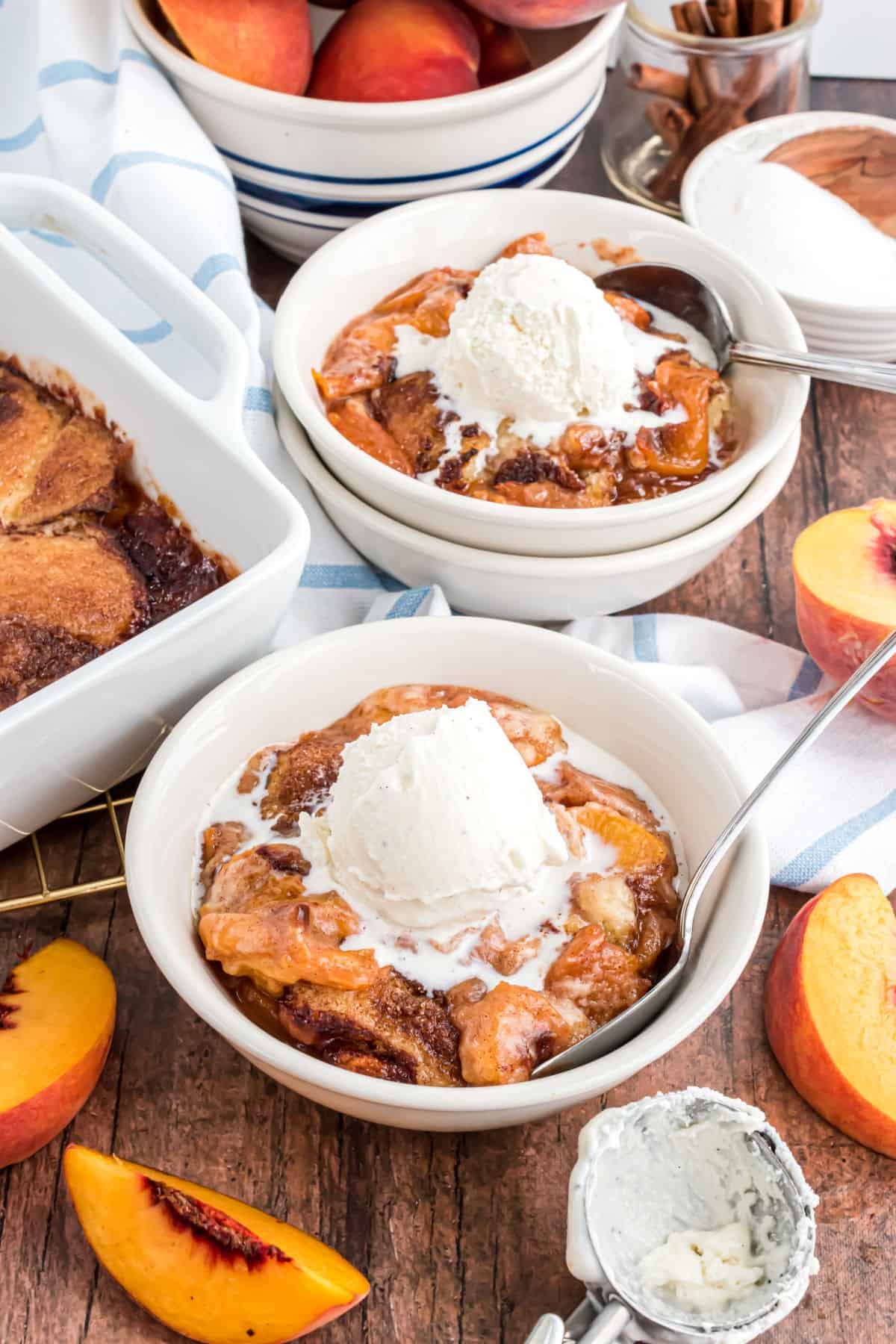 Why Peach Cobbler is Best
Peach cobbler is a simple, classic dessert with the irresistible combination of a syrupy tart-sweet peach filling and a crunchy biscuit topping.
The cinnamon sugar mixture sprinkled on top just sends this over the top!
You can use fresh OR frozen peaches for this recipe, depending on the season and what you have available.
The biscuit topping is easy peasy to mix together and uses basic, on-hand ingredients.
This recipe only takes about 15 minutes to put together and then it bakes in the oven for an easy, hands-off dessert.
In case you're wondering, our peach crisp is equally delicious! Or give our apple crumble a try next!
Ingredient Notes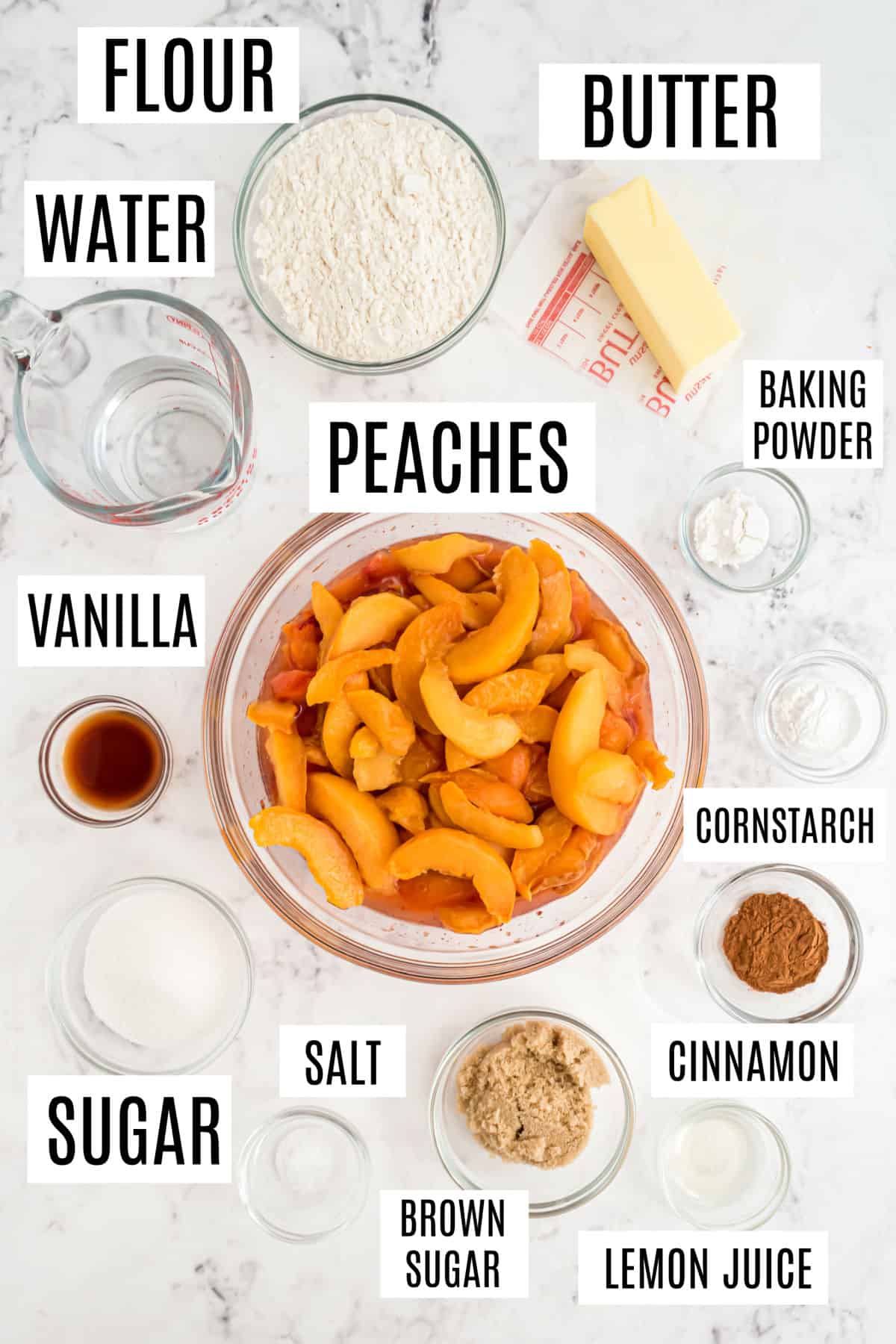 Peaches – You need about 4 cups of peeled, sliced peaches. You can use fresh peaches – about 4-5 large, ripe peaches – or you can use frozen sliced peaches that have been partially thawed.
Cornstarch – We use cornstarch instead of flour as a thickening agent for our cobbler. When combined with the lemon juice and sugar, it results in a tart but sweet filling. 
Lemon Juice – This not only prevents the peaches from over-browning and breaking down during baking, but the acidity helps balance out the peaches' sweetness.
Butter – Grating the cold butter into the flour mixture helps ensure a flaky biscuit topping.
Easy Instructions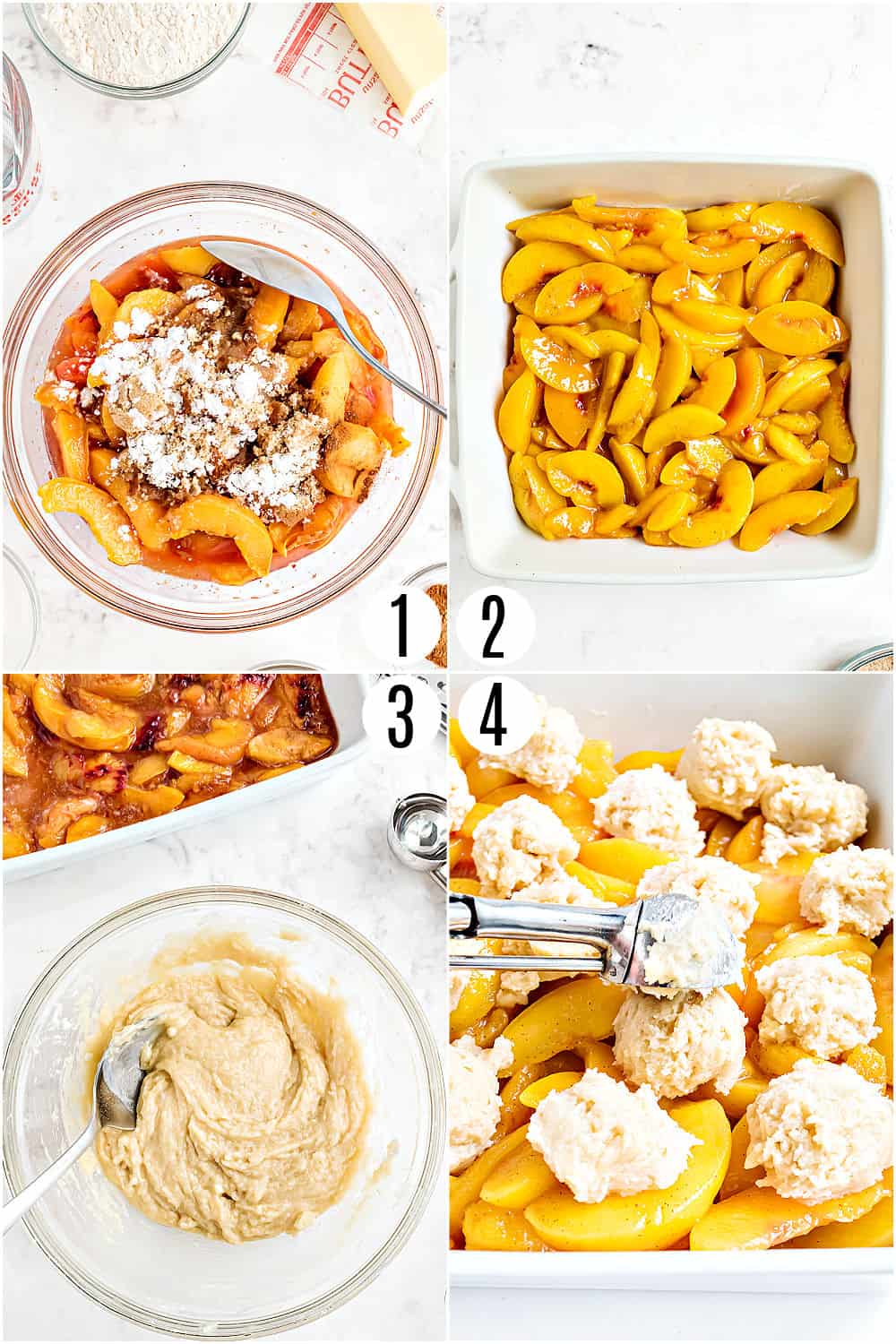 Make the peach filling. Combine the sliced peaches with the lemon juice, sugars, cinnamon, vanilla and cornstarch. Stir to combine and place in a sprayed 8×8 pan.
Make the biscuit topping. Stir together the flour, sugars, baking powder and salt in a bowl. Grate in the butter and stir to get it coated. Add the boiling water and still until just combined. Drop the biscuit dough by spoonfuls on top of the peach filling in the pan.
Sprinkle with cinnamon sugar and bake. Sprinkle the top of the biscuits with the cinnamon sugar mixture, then bake the cobbler at 375 for 50-55 minutes.
Let cool slightly then serve. The filling will thicken slightly as the cobbler cools. Top each serving with vanilla ice cream or whipped cream and enjoy!
Tips and Tricks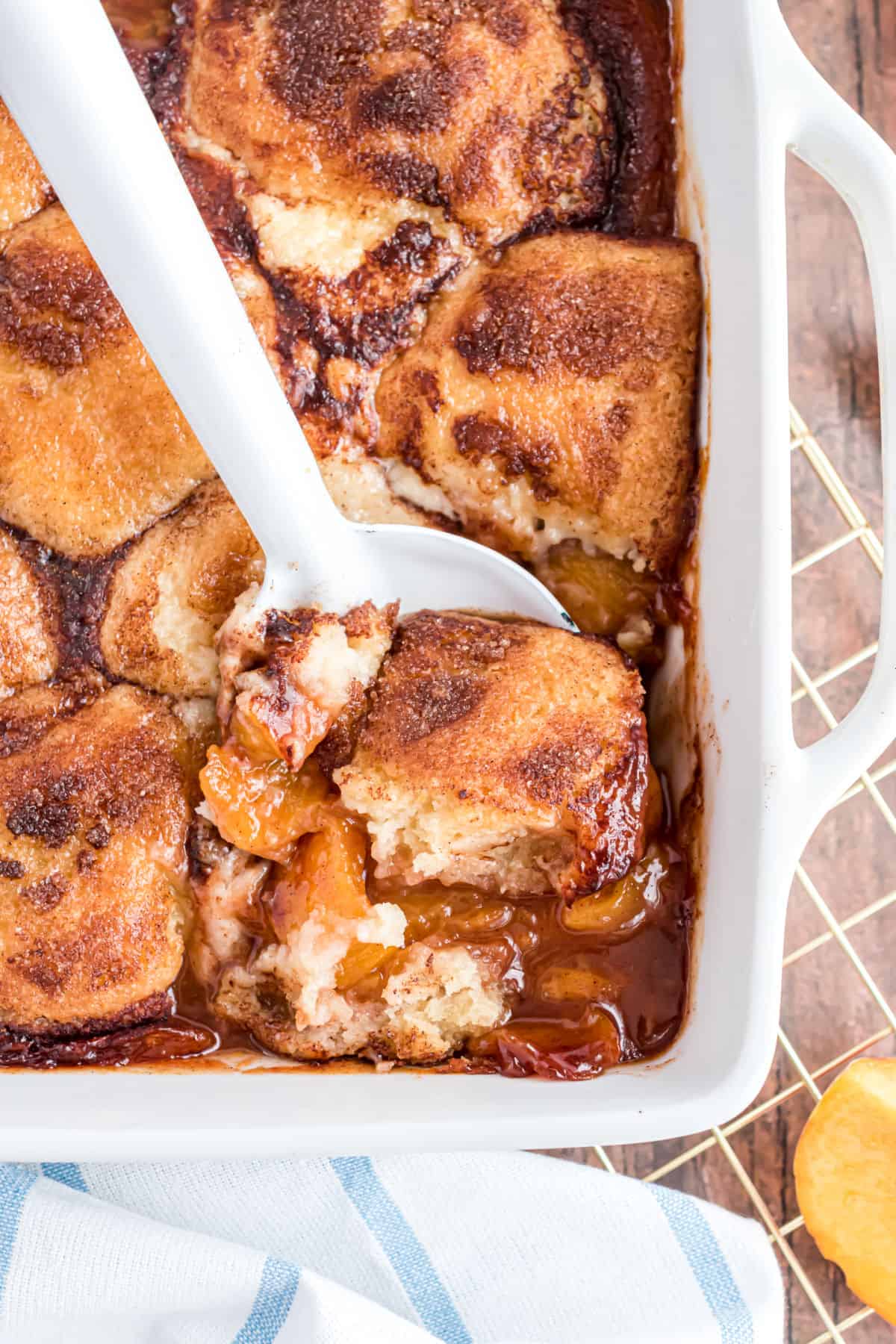 Cut the peaches into slices that are ¼"-½" thick (about 8-10 slices per peach.) Cut the peaches a little thinner if they are on the harder side.
If the peaches are super ripe and juicy, use a slotted spoon to transfer them to the baking pan. This helps drain excess juices. (And it won't impact the flavor or the filling's ability to thicken.)
For frozen peaches, let them defrost slightly by placing them in a shallow bowl for 15-20 minutes, stirring occasionally. Don't let them defrost totally or you will have mushy peaches in your cobbler.
Important tip: Stir the ingredients of the peach filling together but wait to add the filling to the baking dish until after the topping has been made. Adding partially frozen peaches to the baking dish while making the topping could make the dish so cold that it cracks when placed in the hot oven.
If using a glass pan, the baking time may be slightly reduced. I would recommend to check for doneness about 10 minutes earlier than the recommended baking time.
If your baking dish is very full (depending on how deep it is), you can put a cookie sheet underneath it in the oven to catch any spills.
Browning too quickly? A piece of foil can be placed over the dish if the cobbler topping is getting too brown while baking.
Double the recipe! You can double the recipe and bake this in a 9×13 pan to serve a larger crowd.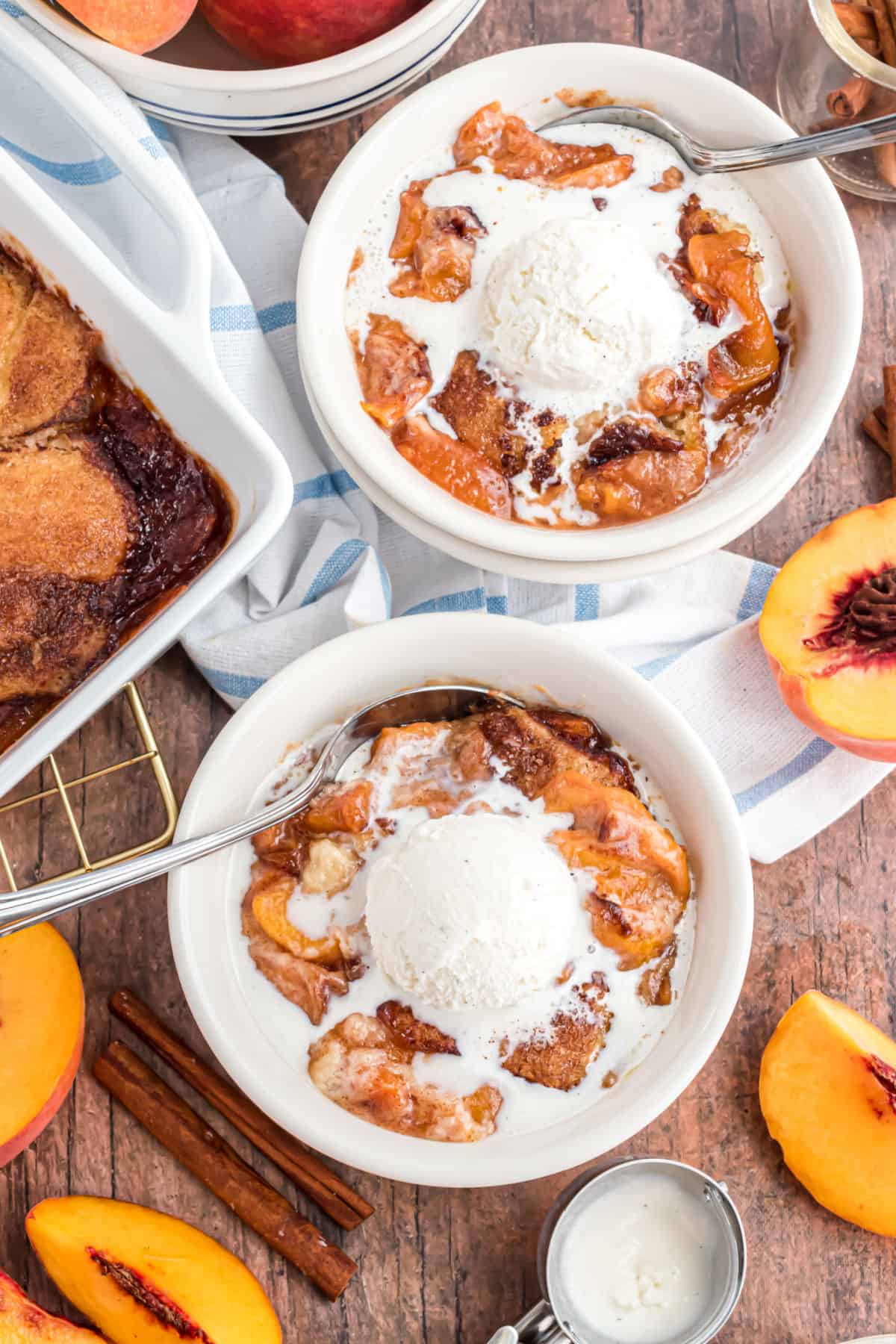 Recipe FAQs
How do I know if a peach is ripe?
You can tell a peach is ripe by the color, feel and smell. Ripe peaches will be dark yellow on one side and red on the reverse where the peach was ripened by the sun. Give a peach a gentle but firm squeeze. If there is no give at all, the peach isn't ripe. If there is a slight give, it may need a day or two to finish ripening. If it gives so much that your finger punctures the skin and feels mushy, it's overripe. A ripe peach will have a noticeable peach smell. If there's no peachy aroma, the peach isn't ripe yet.
How can I ripen peaches more quickly?
Place hard, unripe peaches in a brown paper bag in a single layer. Fold the top over, leave them at room temperature, and check them every 24 hours for ripeness. Adding a banana or apple to the bag will release ethylene gas which will help the peaches ripen more quickly.
How can I peel peaches more easily?
To easily peel ripe peaches, place them them into boiling water for about 30 seconds. Remove and immediately immerse into ice water. Then the peel will slide right off!
How do you prevent peach cobbler from getting a soggy or underbaked top?
Our recipe includes cornstarch in the peach filling, which helps to thicken the juices released from the peaches and avoid a soggy top.
Can I prep peach cobbler in advance?
You can certainly make the peach filling the day before. I would definitely recommend draining the excess juice with a slotted spoon when added the peaches to the baking dish. However, you should wait until right before baking to make the biscuit topping and add it to the baking dish.
How do I store peach cobbler?
Once cooled, cover and store leftover cobbler at room temperature for up to 2 days. Or store it covered in the refrigerator for 4-5 days.
Can I freeze peach cobbler?
Yes. Baked cobbler may be frozen in an airtight container or wrapped in foil or plastic wrap and placed in a freezer bag for up to 3-4 months.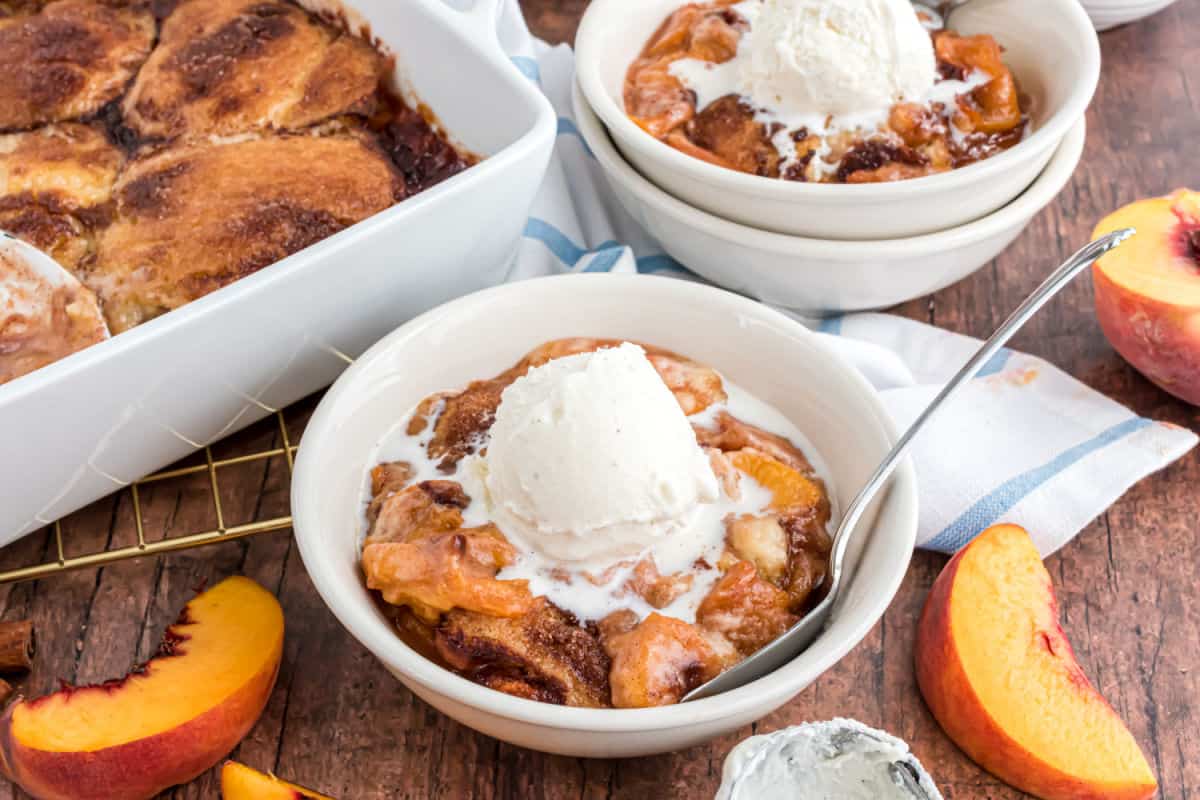 More Easy Dessert Recipes