Instant Pot Pineapple Brown Sugar Ham is an easy-to-make holiday entree that's sweet, savory, and so easy to make! This recipe requires only three key ingredients: ham, brown sugar, and pineapples. Toss in some cornstarch if you'd like to make a sweet glaze and you've got yourself a stunning holiday centerpiece!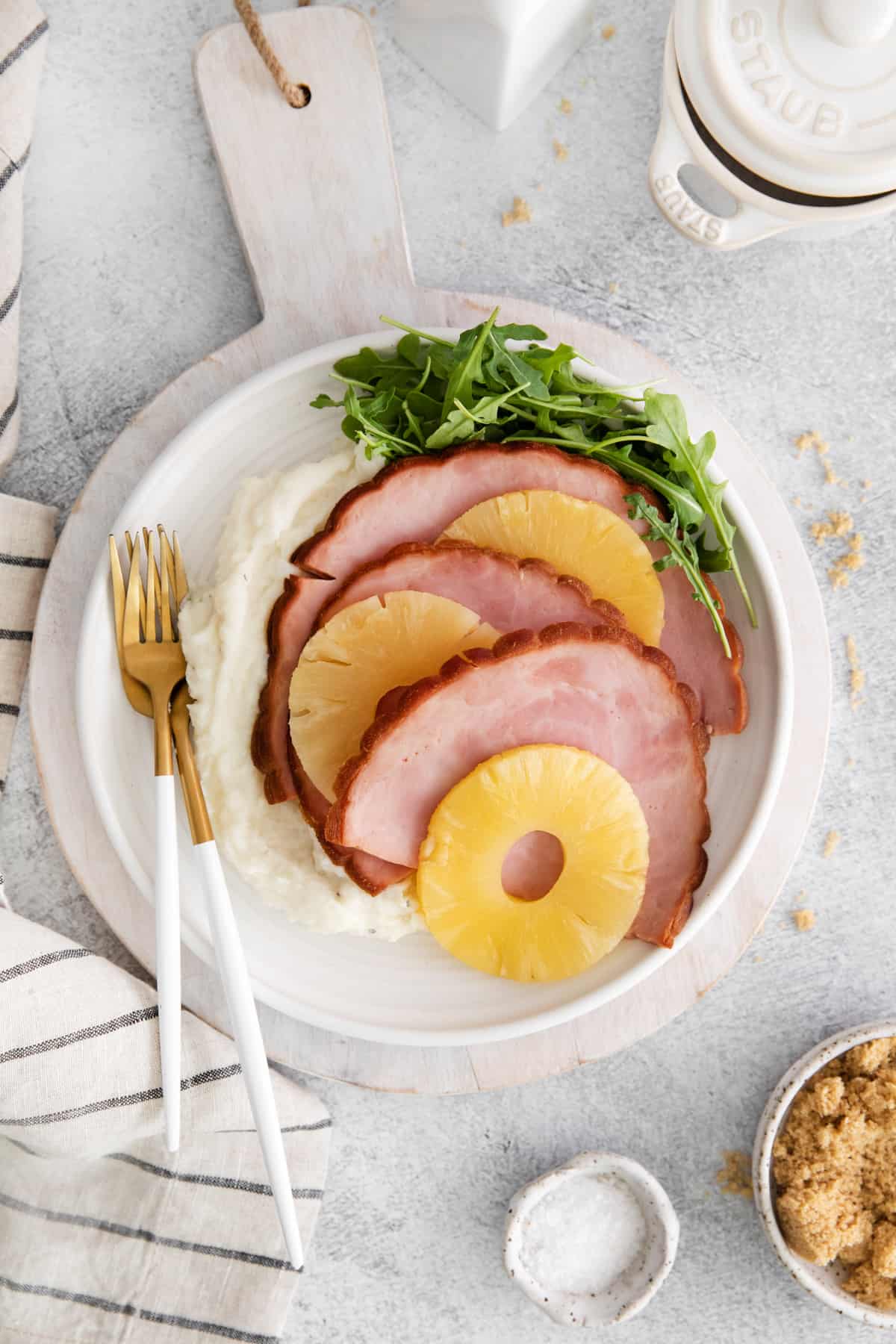 Ham in the Instant Pot
Your Instant Pot just made the holidays a whole let less hectic! No need to stress and sweat over a hot oven this year–just let the pressure cooker do all of the work for you! This holiday ham is made in just a few quick and easy steps that always yield trustworthy results.
This Instant Pot Pineapple Brown Sugar Ham is perfect for serving on both Christmas and Easter. I love that, because I don't have to go so long without enjoying it! Plus, it makes for the best leftovers – ham and cheese sandwiches with this sliced meat are the BEST.
Why You'll Love this Instant Pot Pineapple Brown Sugar Ham Recipe:
So Easy: Using an Instant Pot really simplifies this classic recipe.
Sweet and Savory: Ham has a natural savory and salty flavor that's perfectly balanced by the sweet pineapples and brown sugar.
Glazed: The glaze is an optional final touch, but it's highly recommended! It's really easy to whip up and does wonders for this already delicious ham.
Whether you serve this ham for Christmas or Easter (or both), it's sure to be a huge hit on either occasion!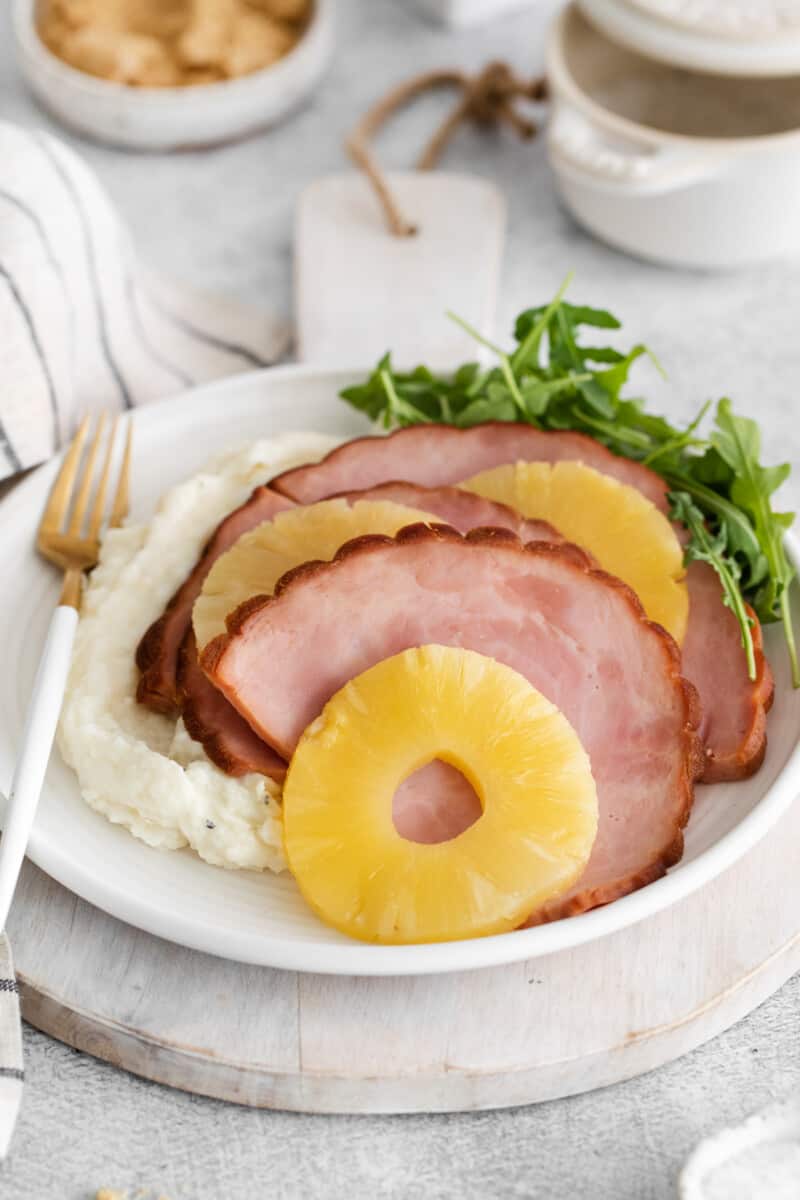 How to Make Instant Pot Pineapple Brown Sugar Ham
You can jump to the recipe card for full ingredients & instructions!
Pour water into the Instant Pot and place the trivet on the bottom.
Place the ham on the trivet. Sprinkle with brown sugar.
Place the pineapple slices on the ham. Pour in the pineapple juice.
Attach the lid. The valve needs to be in the "sealing" position.
Pressure cook on high for 10 minutes.
Allow the pressure to release naturally for 5 minutes.
Release the rest of the pressure manually.
Make the glaze by whisking the cornstarch in with the liquids.
Recipe Notes
Ham: I'm using a 3.5-pound Boneless Sliced "Anytime" Ham for this recipe – make sure to use a small fully cooked boneless ham.
Brown Sugar: Light brown sugar adds a rich, sweet flavor to the ham.
Pineapple: Pineapple juice goes so well with ham – it's sweet and fruity and pairs perfectly with salty ham.
Cornstarch: Thickens the juices into a rich glaze.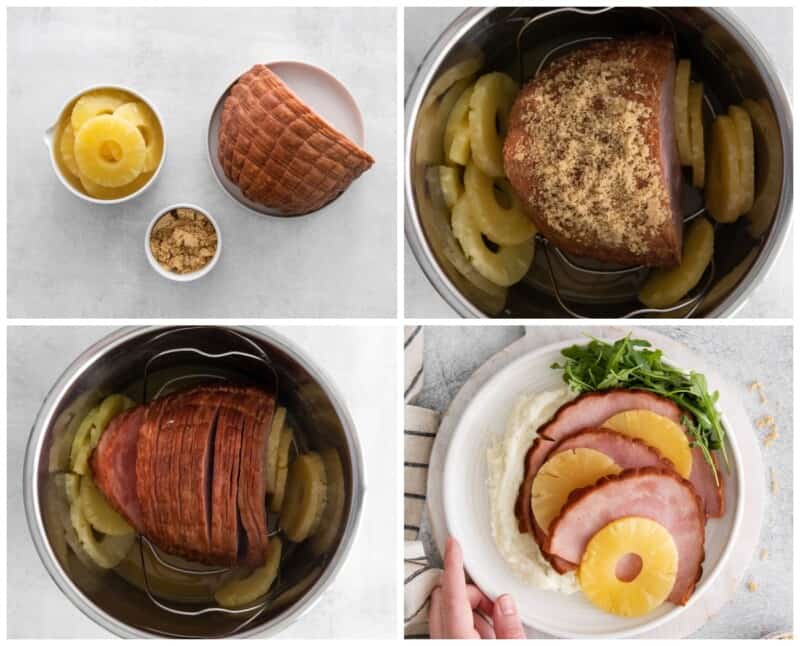 What's the best ham for instant pot pineapple brown sugar ham?
Any fully-cooked boneless ham will work in this recipe. I like to use sliced ham because I can tuck the pineapple slices between the ham slices. For an 8-quart instant pot, I don't recommend going any larger than 7-8 pounds, as it may not fit!
How long should I cook a ham in an instant pot?
That depends on the size of your ham! For a 3.5-pound ham, I recommend following the recipe and cooking for 10 minutes. For other sizes, a good estimate is about 2-3 minutes per pound.
Can I make instant pot pineapple brown sugar ham with fresh pineapple?
I don't recommend it! Pineapple contains a powerful enzyme called bromelain that is much higher in concentration in fresh pineapple than in canned. Bromelain will actually break down the meat, leading to mushy ham. Plus, with fresh pineapple, you won't have all of that delicious juice!
Can I make instant pot pineapple brown sugar ham in a crockpot?
You sure can! Add the ham, brown sugar, and pineapple to a crockpot and cook on low for 5 hours or high for 2½ hours.
Serving Suggestions
Be sure to pair your holiday ham with some of the best side dishes!
In my home, Christmas and Easter are both celebrated with a serving of sliced ham on every plate. And now, it's easier than ever to make everyone's favorite entree!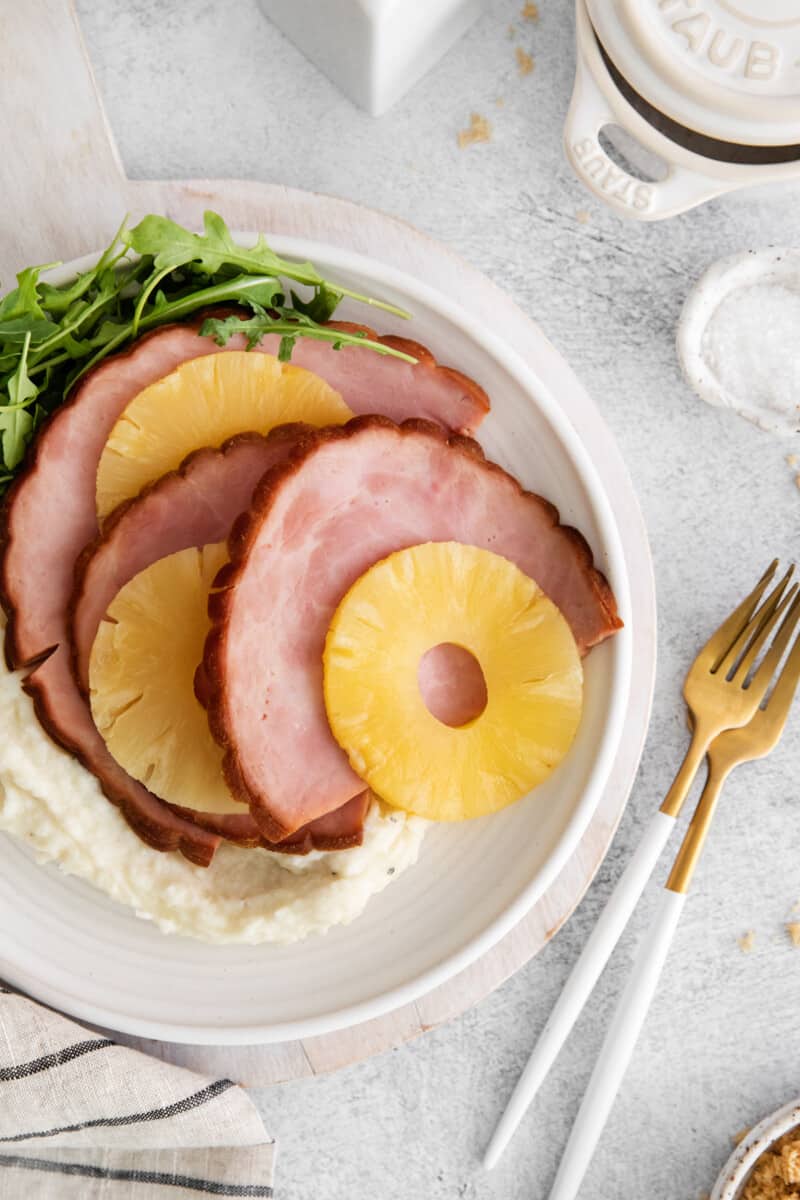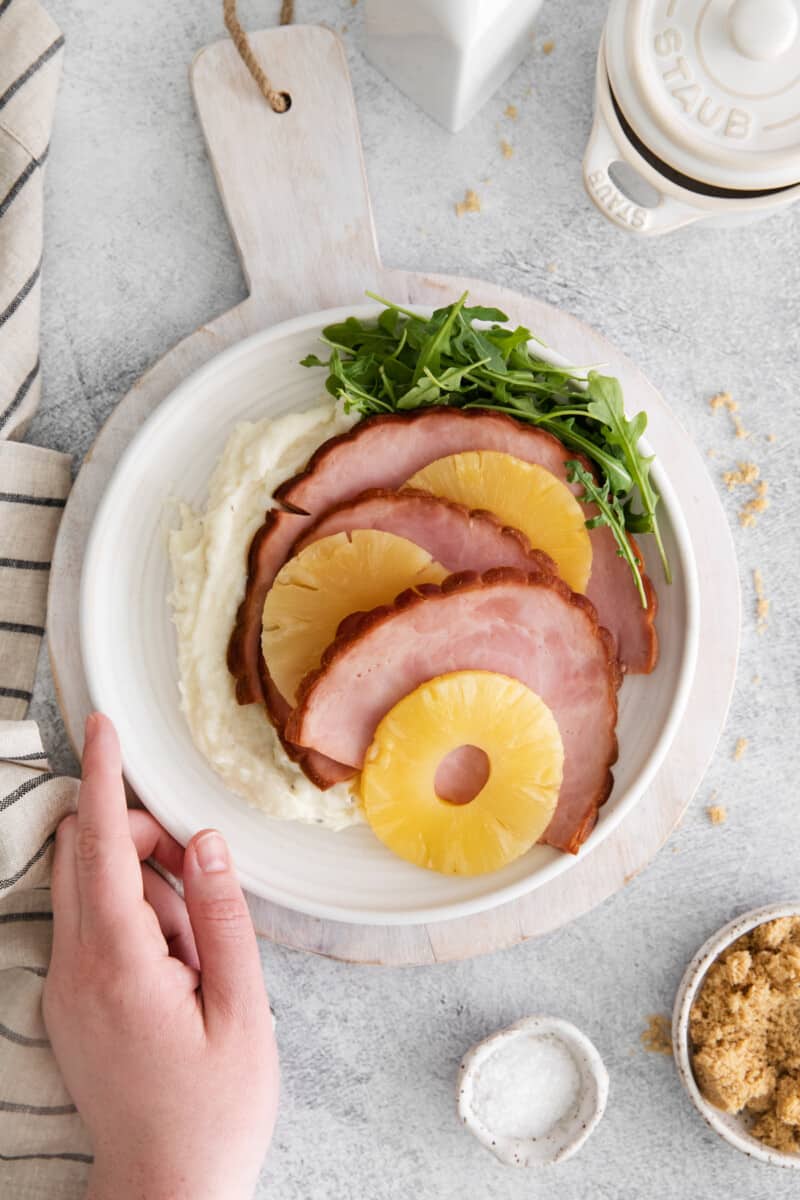 Make Ahead Instructions
Instant pot pineapple brown sugar ham can be made up to 1 day in advance of when you plan to serve it. Store the ham in an airtight container in the refrigerator until ready to serve.
Storage Instructions
Store leftover instant pot pineapple brown sugar ham in an airtight container in the refrigerator for up to 3 days. Reheat gently in the microwave.
Freezing Instructions
Freeze instant pot pineapple brown sugar ham in a Ziplock bag with parchment between the slices for up to 3 months. Let thaw overnight in the refrigerator before reheating.
Tips for the Best Instant Pot Pineapple Brown Sugar Ham
The amount of sodium in this recipe is mostly due to the ham itself. If you're on a low-sodium diet, check the label on your ham!
For crispy ham, place the ham on a rimmed baking sheet, brush with a few tablespoons of the glaze, and broil in the oven for 3-4 minutes.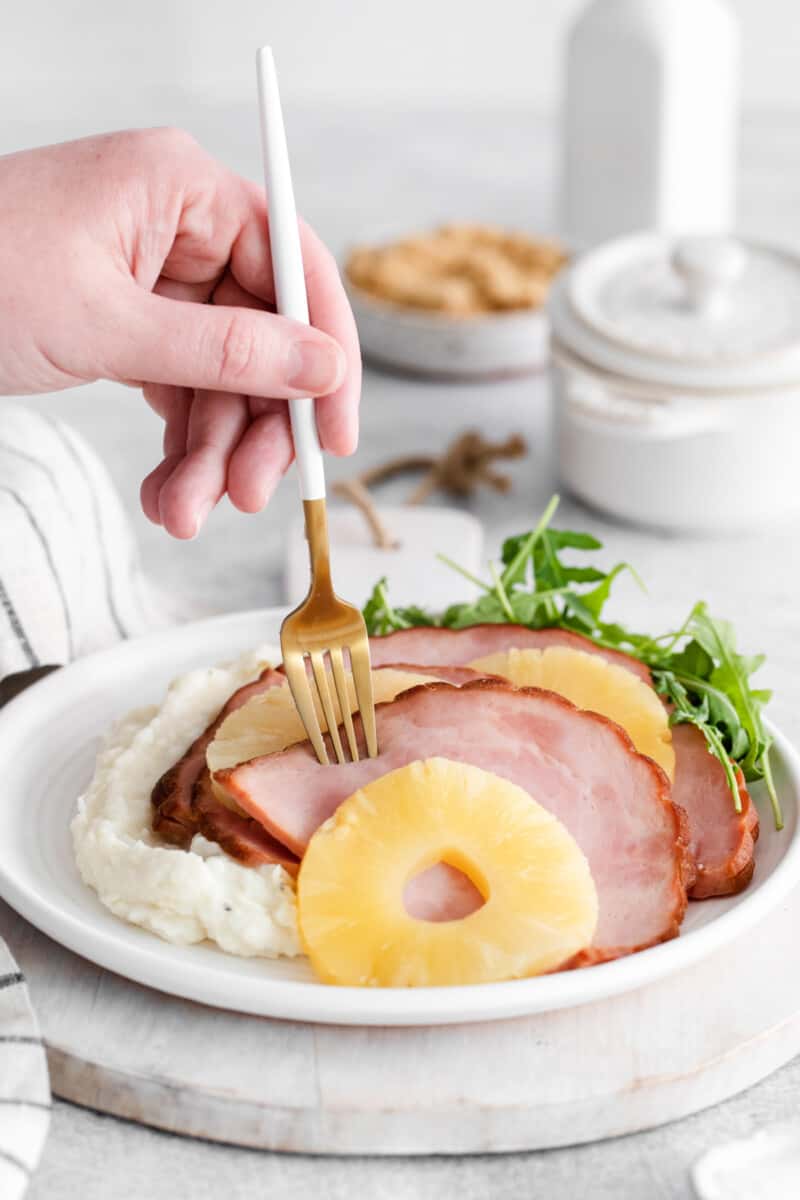 Since your oven will be undoubtedly busy this Christmas, reduce that traffic by plugging in your Instant Pot to cook this pineapple brown sugar ham! This easy pressure cooker recipe always yields the BEST ham with sweet glaze.
If you make this recipe be sure to upload a photo in the comment section below or leave a rating. Enjoy! You can also jump to recipe.