The Grinch might be mean but these Grinch Cookies with JELL-O are nothing but sweet! Bright green cookies have a red heart at the center. Your party guests will love this nod to the classic Seuss holiday story!
These cookies aren't the only Grinch dessert recipe we love. Make some Grinch Brownies or some Grinch Peppermint Fudge this season too!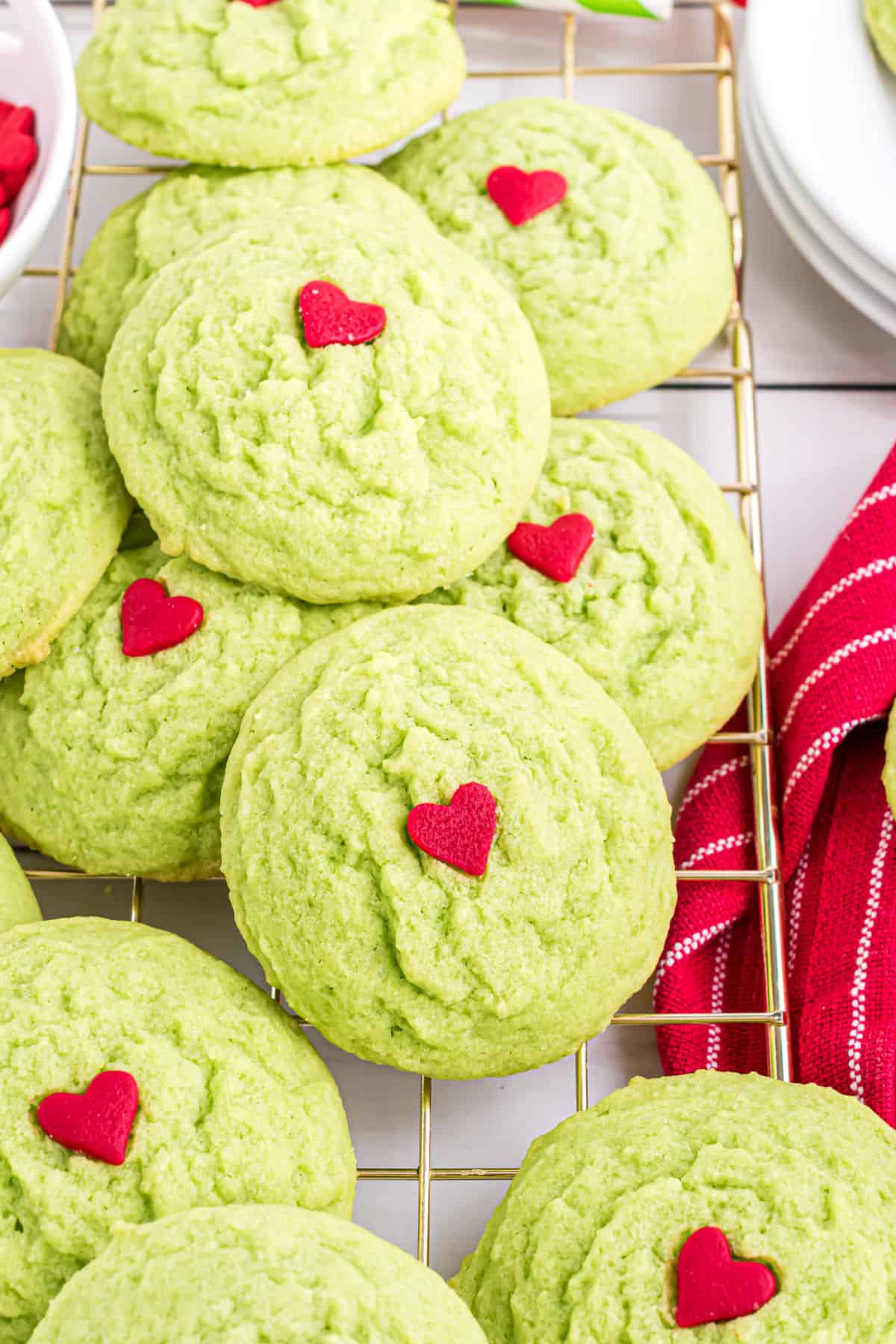 Why this Recipe Works
These Grinch Cookies are not your average Christmas Cookie!
Lime gelatin and food coloring make soft sugar cookies Grinchy green.
A red heart sprinkle at the center looks just like the Grinch's–ready to grow three sizes!
These are eye catching and impressive but easy to make.
No frosting required to make pretty Christmas cookies!
This cookie recipe is a perfect one to make with kids who love The Grinch book or movie. Easy, delicious and festive!
Ingredient Notes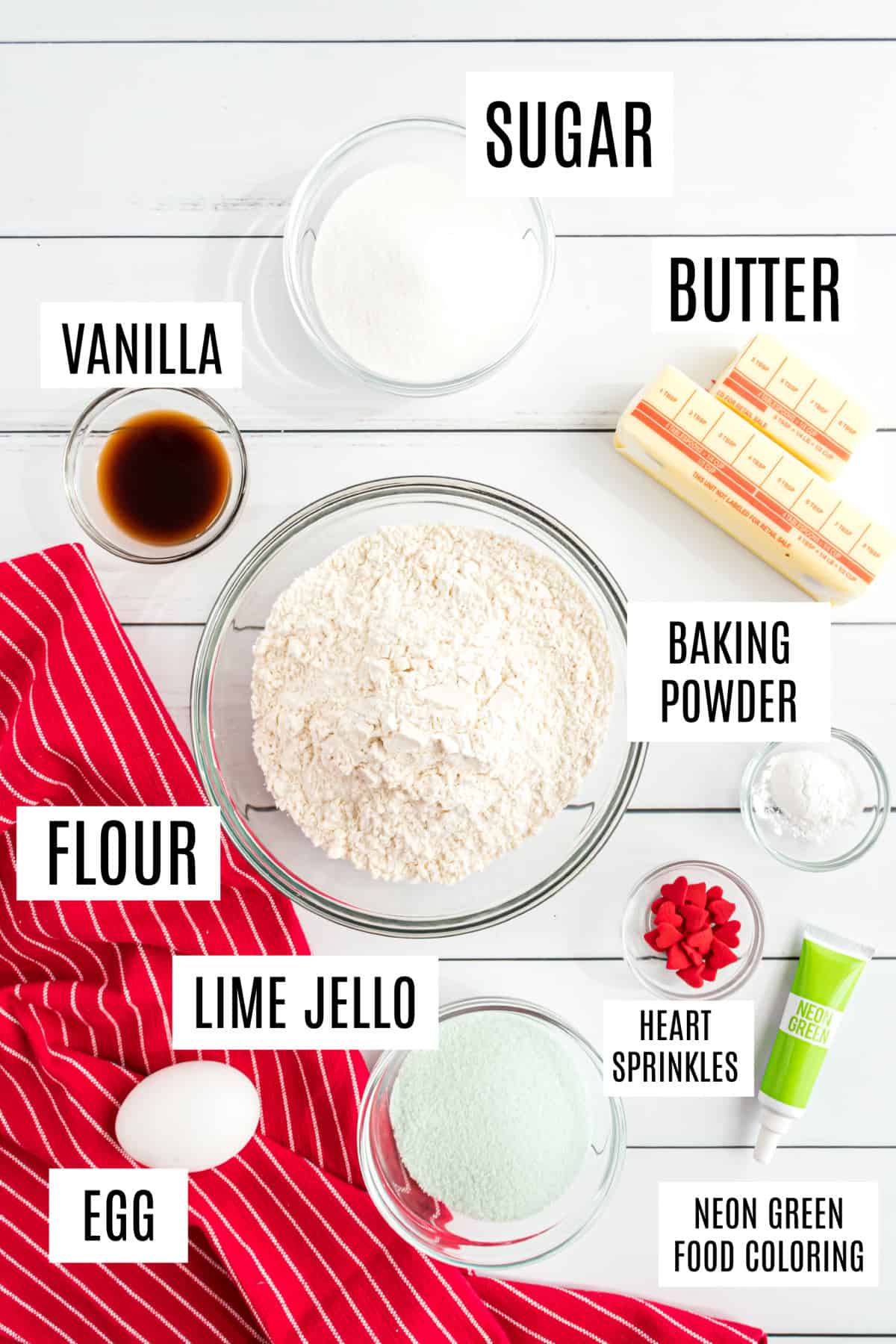 Lime gelatin. You'll need one box of JELL-O.
Green food coloring. I recommend this Neon Green Food Coloring for best color.
Red heart sprinkles. To make your cookies look like our pictures, use these large heart sprinkles.
Unsalted butter. Let it soften at room temperature first so it blends better with the other ingredients. Use our tips on how to soften butter quickly!
Vanilla extract. Make sure to use a good quality pure vanilla extract. I love the flavor my homemade vanilla gives to all kinds of baked goods.
Easy Instructions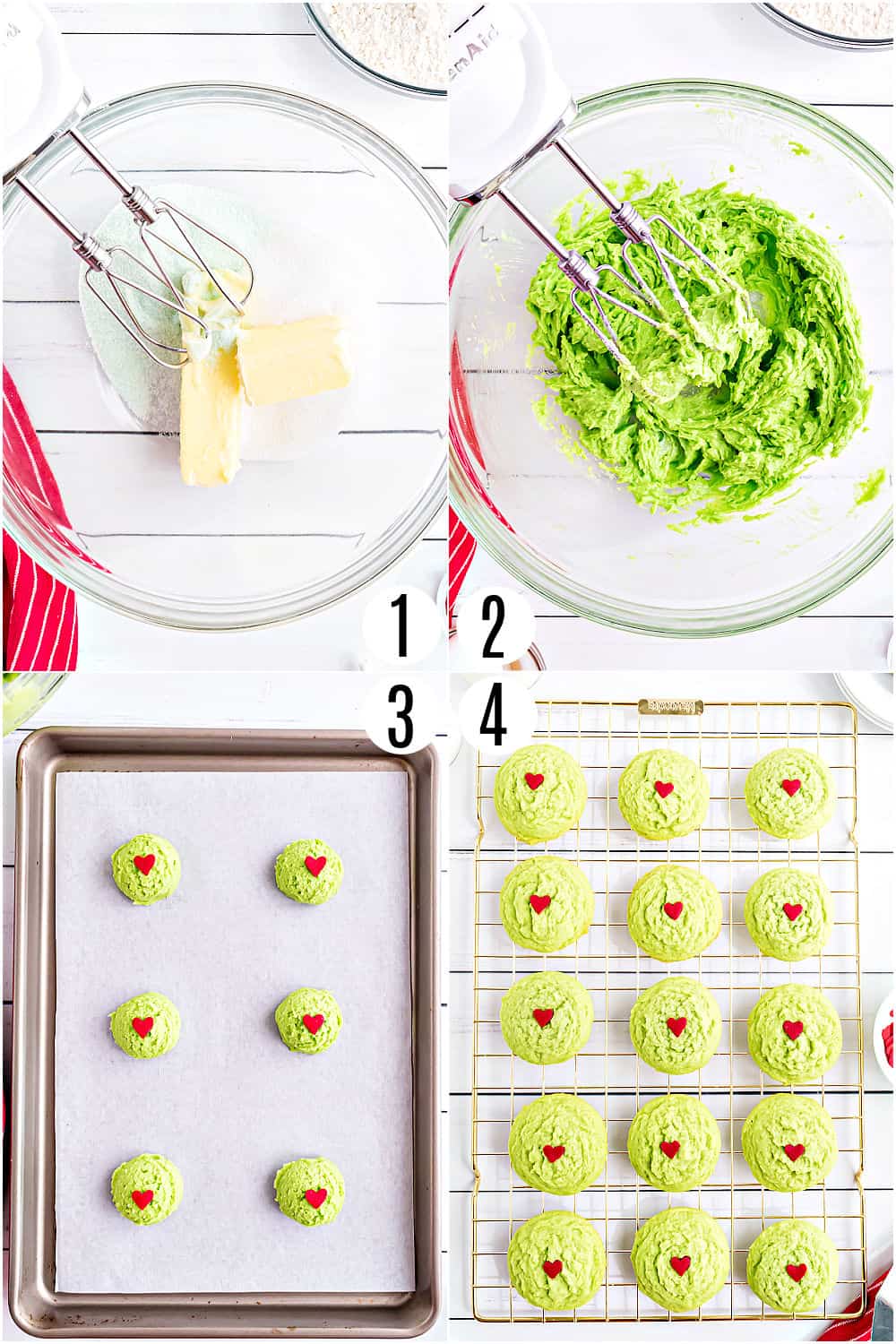 STEP 1. Add wet ingredients. Cream together the butter, sugar and gelatin. Add the egg and vanilla, along with the green food gel. Mix until no green streaks are visible.
STEP 2. Add dry ingredients. Now, add the dry ingredients and mix well to form the dough.
STEP 3. Scoop the dough. Using a 2 Tablespoon cookie scoop, scoop dough and place on a parchment paper lined cookie sheet about 1 inch apart. Place one of the red heart sprinkles in the center of each cookie.
STEP 4. Bake. Bake the cookies for 12 minutes. Remove, let cool, and enjoy!
Tips and Tricks
Take note of the baking time. These cookies can over cook before you know it! Set that timer and stick to it.
Cool cookies on a wire rack.
Food coloring is optional, but it does add a brighter more vibrant green color to the cookies.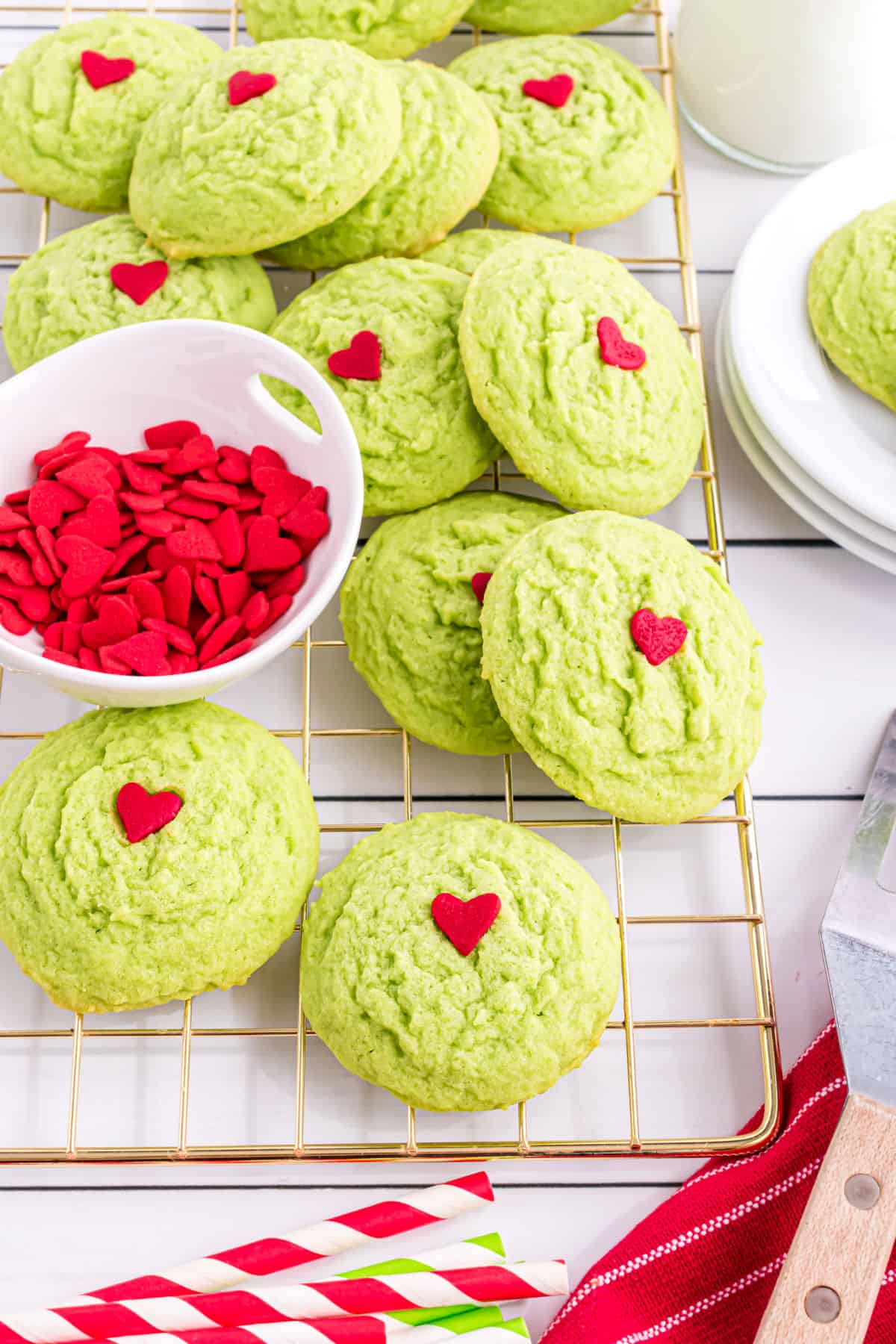 Recipe FAQs
Can I make this grinch cookie dough ahead of time?
Unfortunately, this is one recipe you shouldn't prep ahead of time. Chilling this dough makes it too tough to handle. Please bake the cookies immediately after making the dough!
Can I make these without food coloring?
You CAN make them without the food gel but the color won't be right. If you want the fun Grinch-green look, make sure to use a bit of neon green food coloring!
How big do the heart sprinkles need to be?
I use the largest sized heart sprinkles available. If you want to be cheeky, you can totally use smaller heart sprinkles and just say the Grinch's heart hasn't grown yet!
Do these taste like lime?
The lime gelatin in these cookies gives them a lime flavor, but it's not sour or overwhelming. Everyone who has tasted them loves the hint of tart citrus to brighten up the sweet holiday cookies.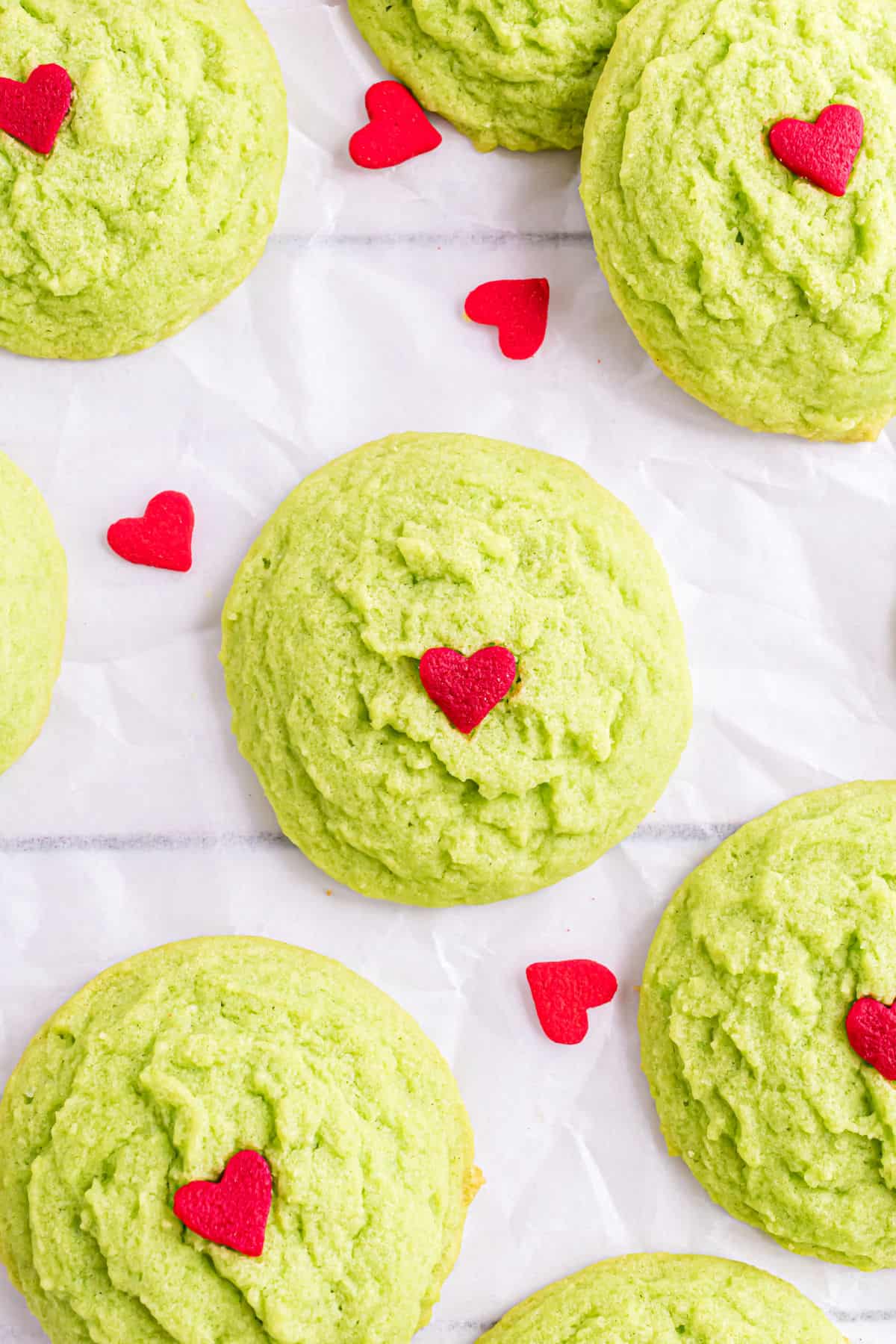 More Easy Desserts
In the words of The Grinch, "Christmas doesn't come from a store" . . . and neither do these adorable Grinch Cookies! Homemade with love, these are an easy and fun addition to your holiday cookie trays.