Melty, spicy, cheesy Crock Pot Chicken Nacho Dip is a flavor bomb that you want at your next party! Slow cooked to ooey-gooey, chicken perfection, easily served as a warm dip for tailgating, or on top of a plate of chips as nachos!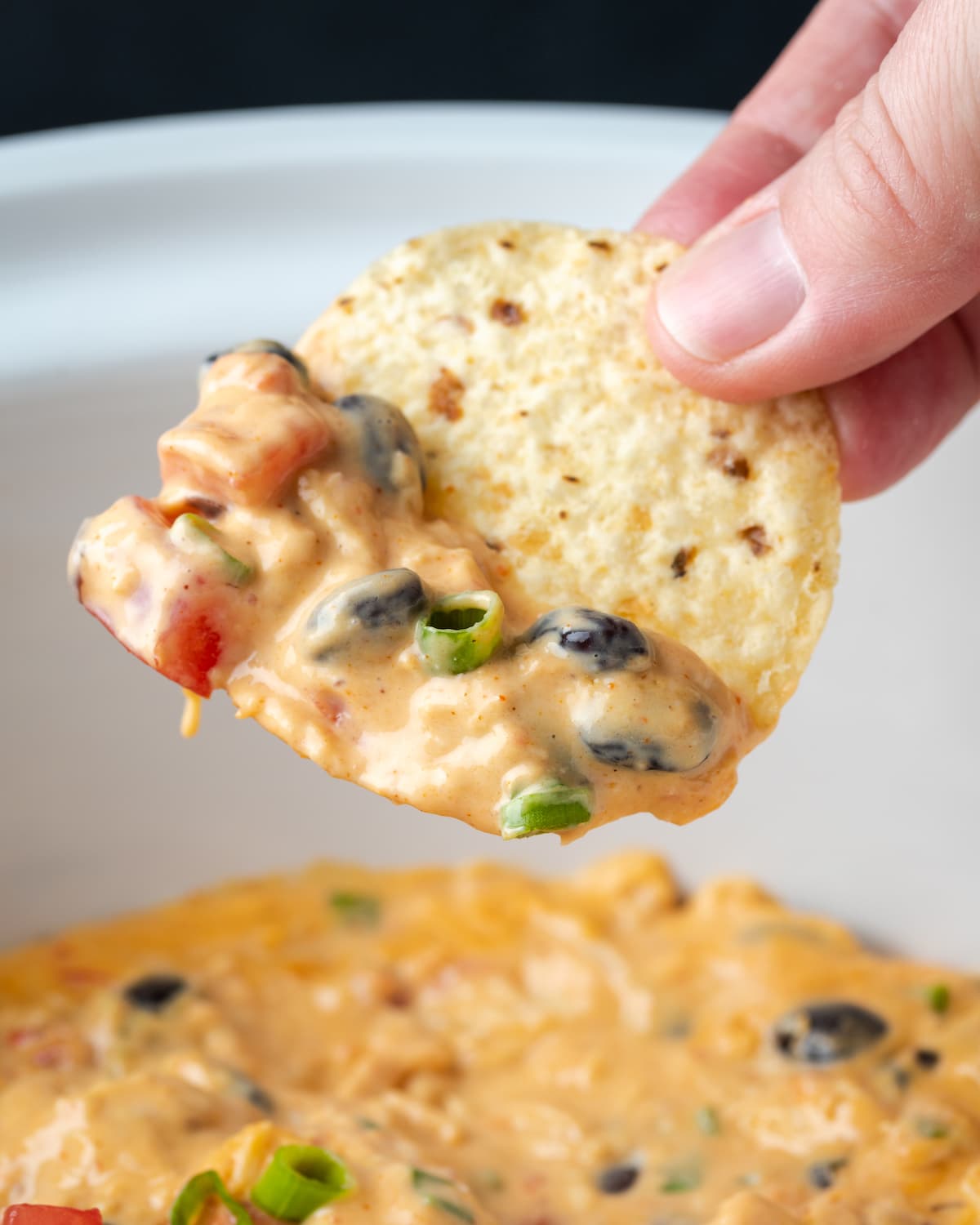 Cheesy Crockpot Chicken Dip Recipe
If you love Tex-Mex, and if you love party dips, do I have the recipe for you! This creamy, chicken dip is like a plate of chicken nachos in your slow cooker. Loaded with tons of cheese, tomatoes and chilies, black beans, and zesty taco seasoning, and juicy shredded chicken?
My slow cooked chicken nacho dip is like your classic cheesy, melty, spicy queso dip recipe, only BETTER. Made in a crock pot, this is a hearty and warm flavor bomb of truly delicious proportions. The dip is ready in an hour or less, and you hardly even have to lift a finger.
Take this warm chicken dip along to parties, make a big batch for the neighborhood potluck, or just enjoy it with the family. You can serve your crock pot nacho dip with chips for dipping, or turn the tables and pour it OVER the chips for quick and easy chicken nachos. Talk about a win-win!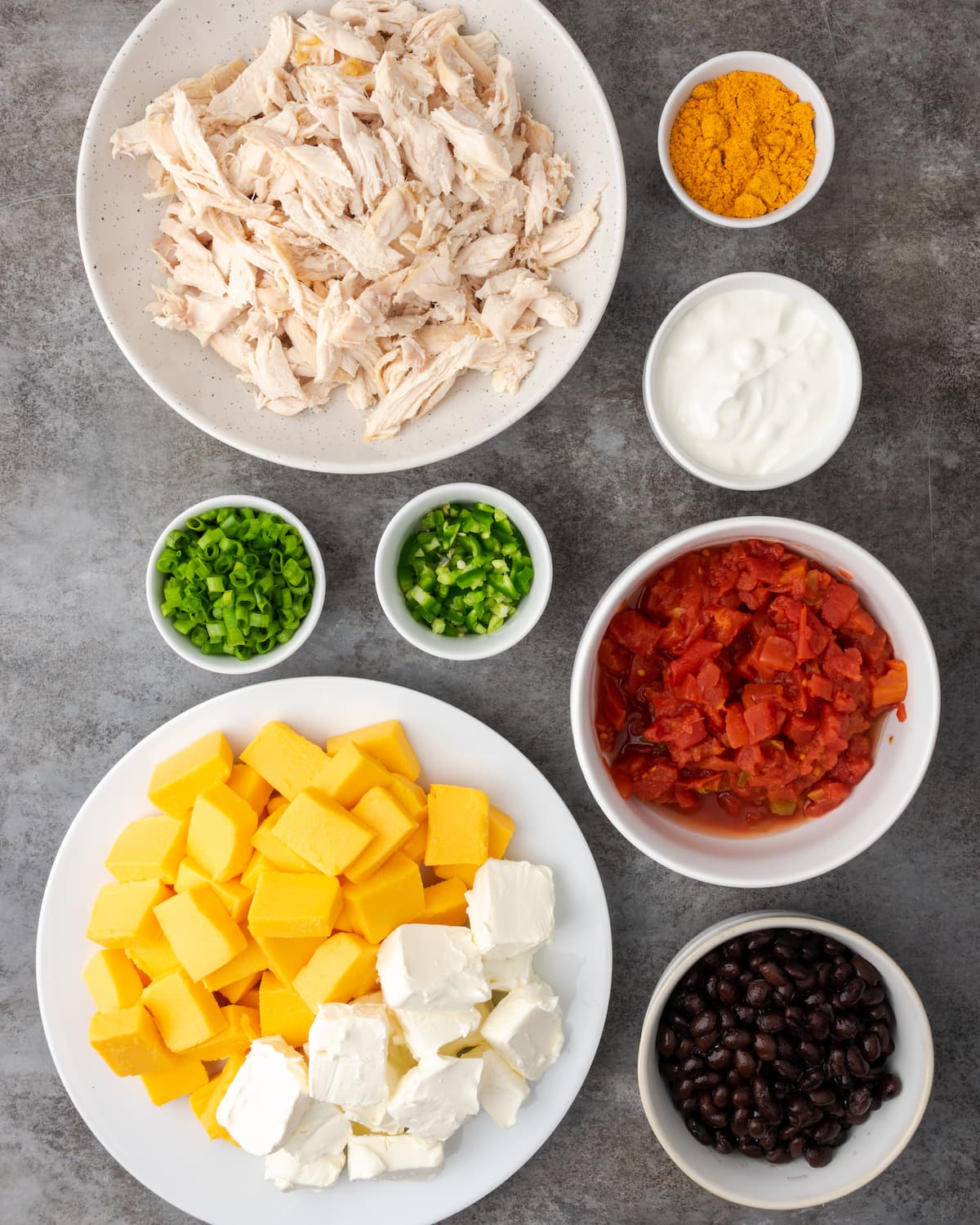 Recipe Ingredients
This recipe comes together in minutes before your crock pot takes charge. You only need a handful of ingredients, which I've rounded up below. Be sure to check out the recipe cards for the full amounts:
Shredded Chicken: You'll need about three cups of cooked, shredded chicken. This is a great way to use up leftover chicken breasts! You can also use a rotisserie from the grocery store and shred the meat with a fork. 
Rotel: One can of tomatoes and chilies. Be sure to drain it well so that your dip doesn't come out runny.
Cheese: This creamy nacho dip gets its smoothness from cubed Velveeta cheese, as well as cream cheese. Make sure to get the cream cheese that comes in blocks (and not the spreadable tub kind), as you'll need to cube it, too.
Sour Cream: For extra creaminess, plus the tangy flavor.
Taco Seasoning: You can find premixed taco seasoning in the spice aisle of most grocery stores.
Black Beans: Feel free to use canned black beans, just be sure to rinse and drain them.
Jalapeño: Fresh or pickled jalapeño peppers give the dip a spicy, Southwestern kick.
Green Onions: For flavor and a bright pop of green.
Optional Garnish: This dip is marvelous garnished with chopped cilantro, diced jalapeno, and diced tomatoes.
How to Make Crockpot Chicken Nacho Dip
The convenience of a crock pot makes this a simple and hands-free, 3-step recipe! Here's how to make this dump-and-go, spicy chicken nacho dip in the slow cooker: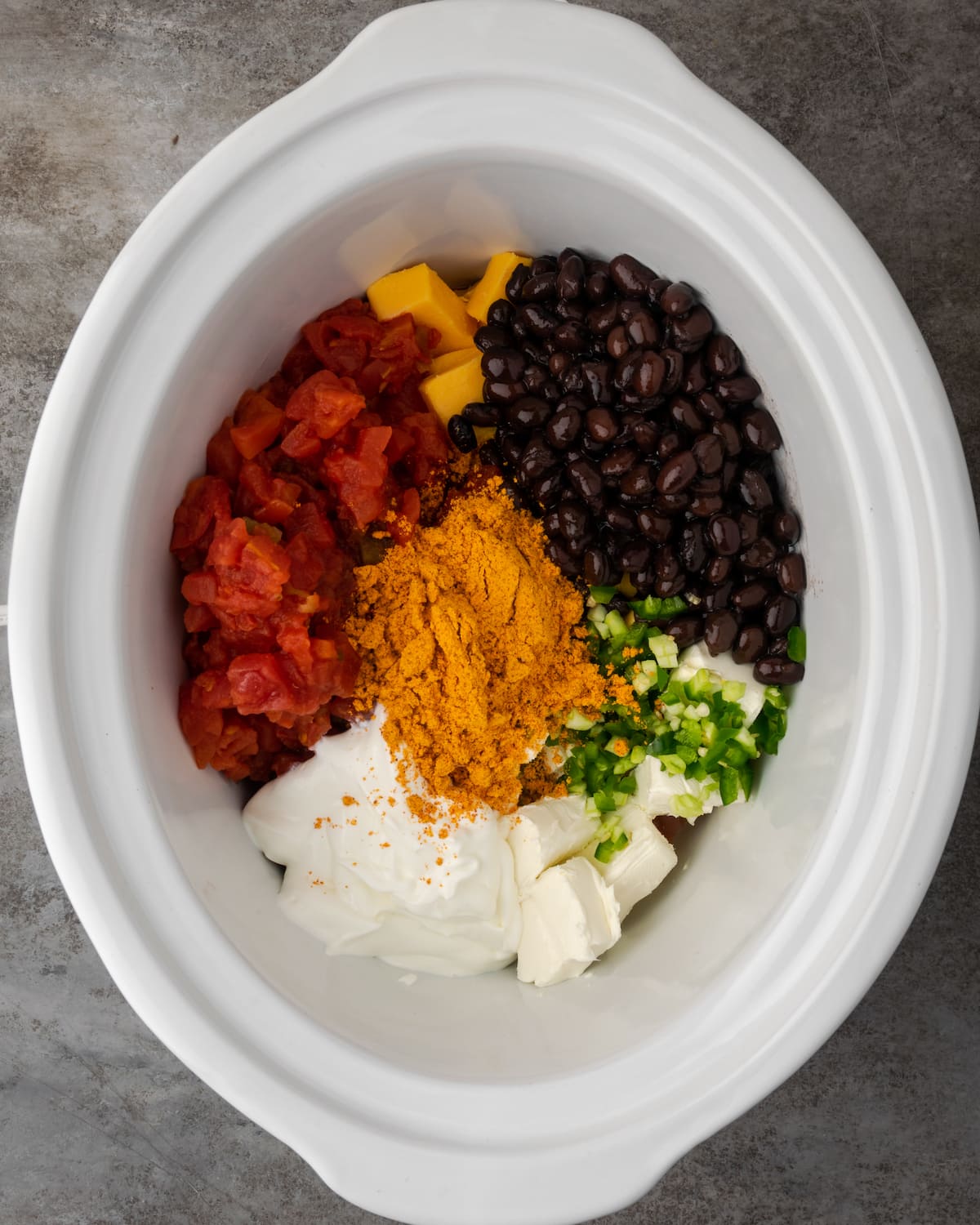 Combine: Add the shredded chicken and the rest of the dip ingredients to the bowl of your slow cooker. 
Cook: Switch the crock pot to cook on high. Cover and leave the dip to cook for about an hour to an hour and a half, or until the cheese is nice and melted. Remember to give it a stir occasionally to get all those zesty flavors mingling. Once the dip is ready, stir in the green onions.
Serve: One of the best parts about this crock pot nacho cheese dip is that you can serve it straight from the crock! This makes it easy to take along to potlucks and get-togethers. Of course, you can choose to transfer it to a dish for serving also. If you're using this dip to make a platter of nachos, spoon or pour it over top your choice of corn or tortilla chips. Then all that's left to do is garnish as desired, and dig in!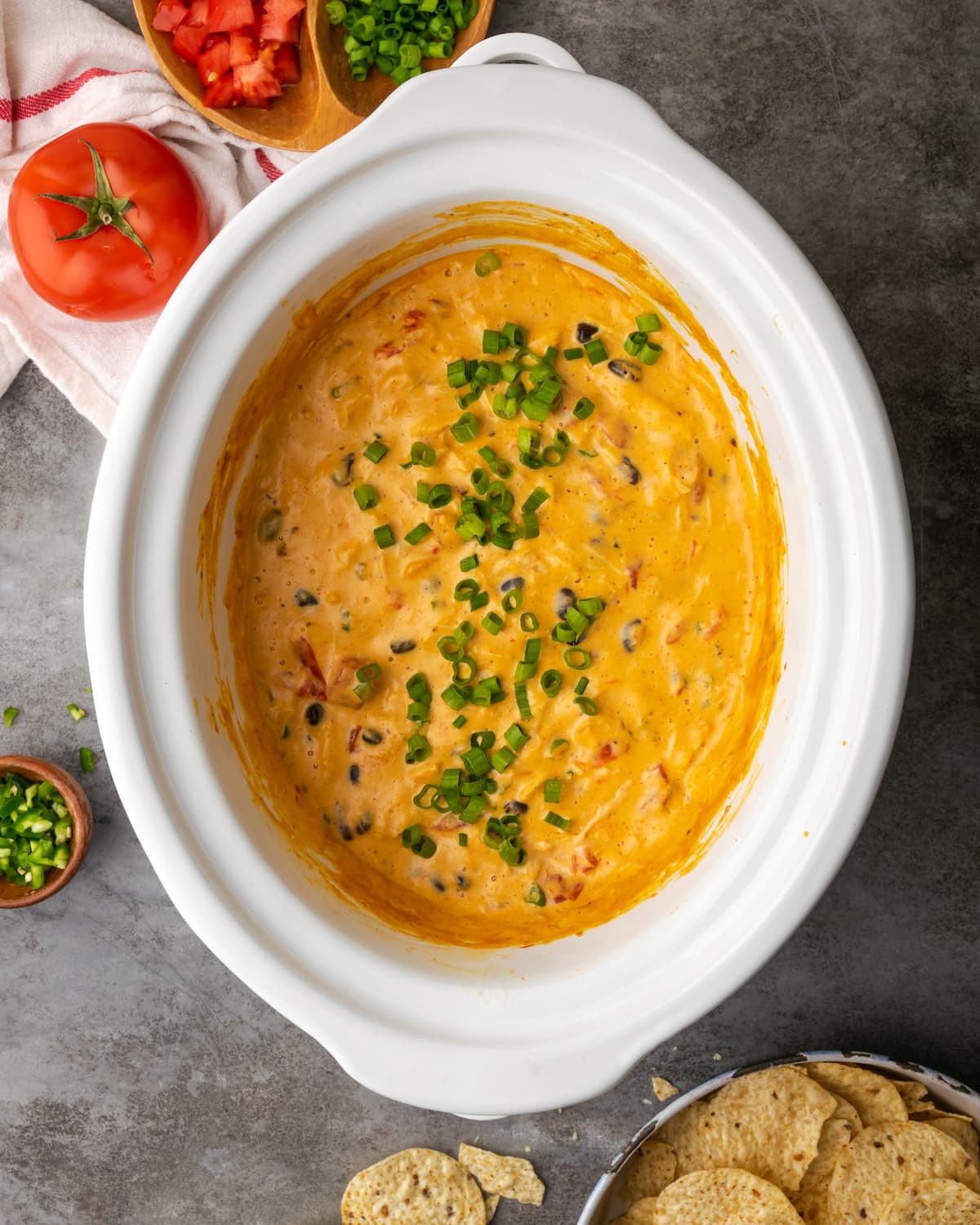 MAKE IT NACHOS!
The great thing about this dip is you can easily turn the tables, pour in top of a tray of tortillas chips and call it nachos! This dip has everything a big plate of nachos has without the assembly and baking. You can even sprinkle a little extra shredded cheese on top and bake if you want to go that extra extra!
Whenever I make this dip into a plate of nachos, my Easy Avocado Salsa is usually close by. It's the best of both worlds between guacamole and salsa – you have to try it! 
Tips for Success
This warm dip recipe is so straightforward, it literally cooks itself! But here are my tips to ensure this slow cooker chicken nacho dip comes out exactly how you want it, every time:
Buy Blocks of Cheese: This dip comes out the nicest when the cheese is cubed by hand, versus buying pre-grated cheese or the like from the supermarket. Pre-shredded cheese often has a waxy coating (to keep it from sticking together) and doesn't melt down as smoothly.
Adjust the Heat: You can easily change up the ingredients or add-ins to suit your desired heat level. For a milder chicken dip, omit the jalapeños and stick with mild Rotel (or use a can of diced tomatoes instead, and leave chilies out of the equation altogether). If you're a sucker for something extra spicy, amp up the jalapeños and throw in a few dashes of cayenne, red chili flakes, or hot sauce.
If the Dip Gets Too Thick: If you notice that your dip is becoming a bit thickened and dry, add in a spoonful of milk at a time to help thin it out again.
Serve Right From the Pot: I can't emphasize enough how convenient this is! Simply switch the crock pot or slow cooker to the "warm" setting, arrange your crackers, etc. in bowls around it, and voilà. Easy appetizer, served! If you notice the top of the cheese dip becoming dry at any point (this sometimes happens when the lid is left off), just give the dip a quick stir.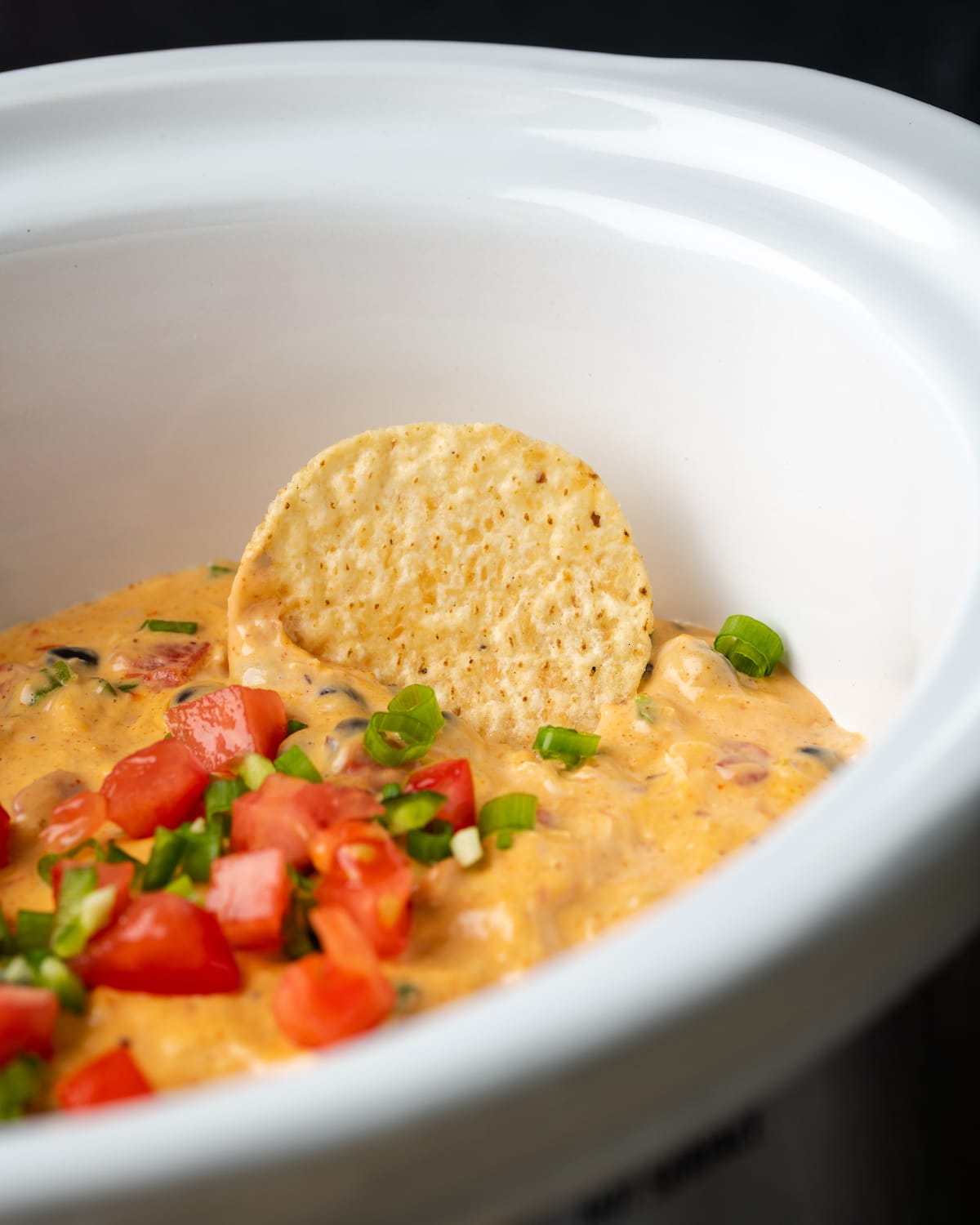 What to Serve with this Dip 
This crock pot chicken nacho dip is a real crowd pleaser, perfect for parties and entertaining. Serve it with corn chips, tortilla chips, pita chips, or your favorite crackers for dipping. I have an awesome recipe for quick and easy Spicy Seasoned Crackers that really brings out the heat in this recipe!
For something a bit more hearty, serve it with sliced French Bread, pita bread, or Fluffy Sour Cream Cornbread. You can even pair it with seasoned potato wedges.
Here are a few more easy party appetizers ideas: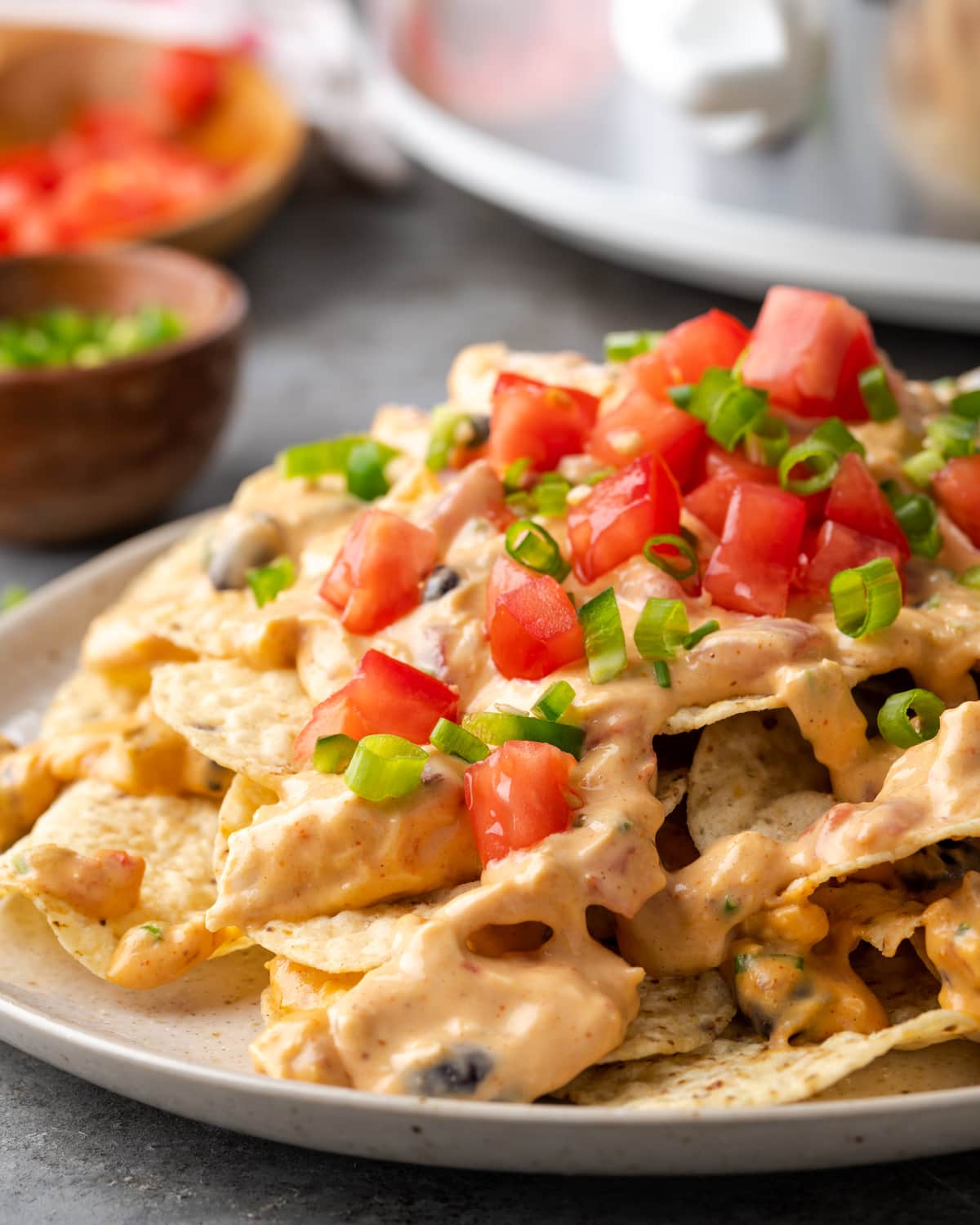 How to Store and Reheat Leftovers
In my experience, there aren't many instances where I find myself with leftovers! This cheesy nacho dip is just that good. On the odd occcasion I'm left with dip to store, I'll transfer it to an airtight container to keep in the fridge. Reheat any leftovers within 3 days, either in the crock pot again or in the microwave (heat in 30-second increments for best results when microwaving).
Looking for more ways to put your leftovers to use? Leftover crock pot chicken nacho dip also makes a tasty condiment to spoon over Fajitas and Taco Burgers, just sayin'.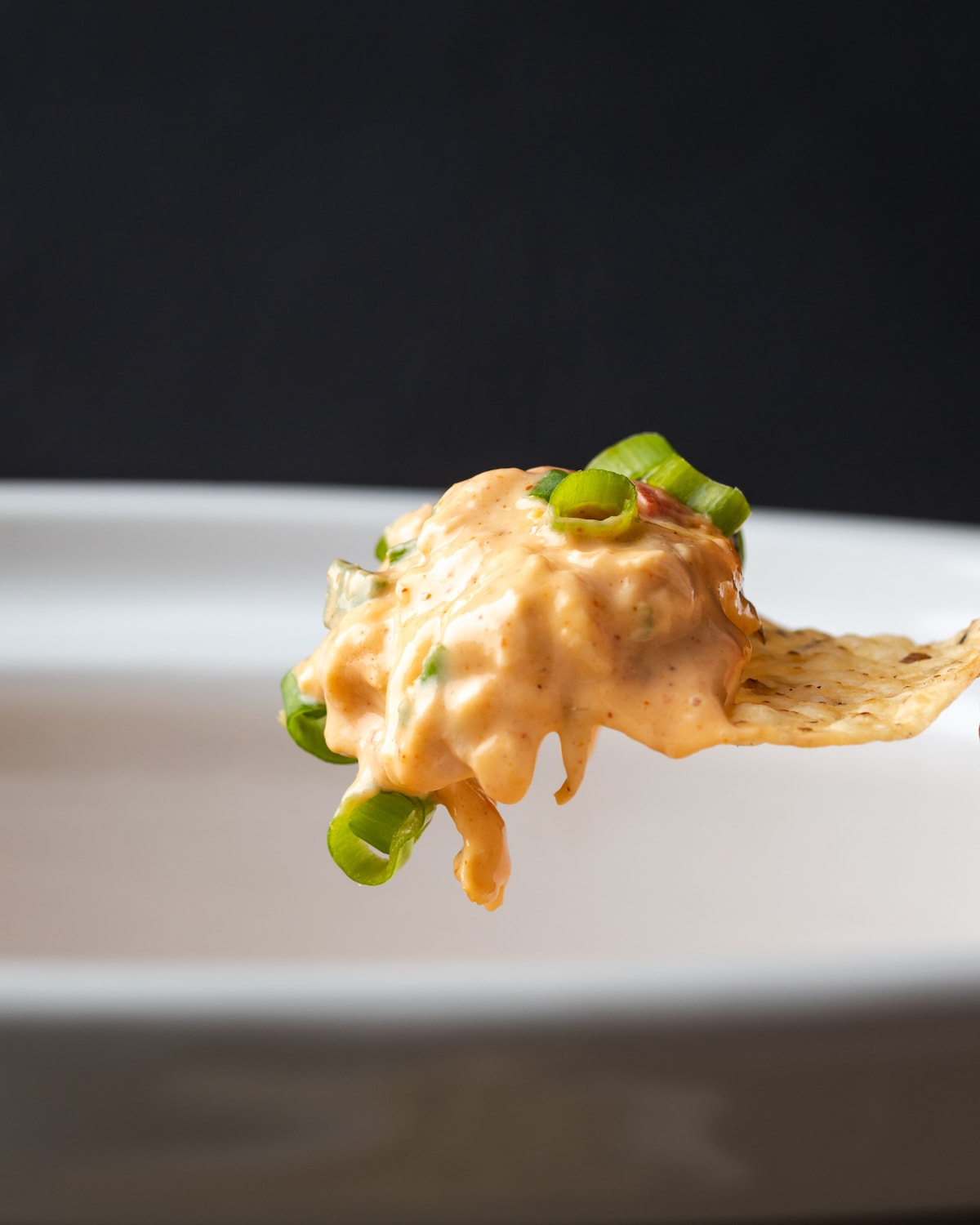 Print
---
Description
Melty, spicy Crock Pot Chicken Nacho Dip is a flavor bomb that you want at your next party! Serve this chicken dip recipe as an easy appetizer with a side of chips or crackers and watch it disappear from the crock. Or, drizzle it over tortilla chips for cheesy and flavorful chicken nachos!
---
3 cups

shredded cooked chicken breast (you can use Rotisserie as well)

1

(14- ounce can) Rotel, drained well

1

(16- ounce) block Velveeta cheese, cubed

1

(8- ounce) block cream cheese, cubed

1/3 cup

sour cream

3 tablespoons

taco seasoning

1 cup

black beans, rinsed and drained

2 tablespoons

diced jalapeno

1/4 cup

diced green onions
Optional garnish – chopped cilantro, diced jalapeño, and/or diced tomatoes
---
Place chicken, Rotel, Velveeta, cream cheese, sour cream, taco seasoning, black beans, and jalapeño into your slow cooker.
Turn the slow cooker onto high cover and cook for 60 – 90 minutes stirring occasionally, until the cheese is melted. Stir in the diced green onions
Serve in the slow cooker or serving dish as a dip, or pour over tortilla chips and serve as nachos. Garnish if desired.
---
Keywords: crock pot dip, nacho cheese dip, chicken dip
Want To Save This Recipe?
Find more recipes like this:
More Party Food Ideas
PIN for later: