Our Blackstone Seared Bluefin Tuna with Togarashi is a special treat and a simple way to enjoy one of the ocean's best-tasting fish! This cooks in minutes, and will likely beat any sushi you've ever had.
Blackstone Seared Bluefin Tuna Steak
Bluefin tuna is a special treat, so if you get your hands on some it is important to get the prep right. Fortunately, this is one of the easiest recipes EVER, and it is fast too. The biggest enemy of great tuna is overcooking it, so use a light hand, a hot cooking surface, and prepare to be amazed.
This recipe works really well with other types of tuna fillets also, so bring out the Yellowfin, Bigeye, and Albacore too.
What is Togarashi?
Togarashi (aka shichimi) is a Japanese 7-Spice blend that is spicy and contains the following ingredients:
Red Chili Peppers
Sichuan Peppercorns
Black Sesame Seeds
White Sesame Seeds
Ground Ginger
Ground Orange Peel
Dried Seaweed
Check out more about the history and uses for Togarashi from Chili Pepper Madness!
We love Togarashi here and use it for a lot of different dishes. Check out our Togarashi Pork Tenderloin, Togarashi Smoked Salmon, Blackstone Togarashi Zucchini Spirals, and the Grilled Salmon Togarashi Rice Noodle Bowl.
In Japan, it is used as a table condiment much like we use salt and pepper. My favorite brands tend to be the ones with no English on the packaging. I use this one and this one most often. The Spice Guy also makes a great domestic blend too.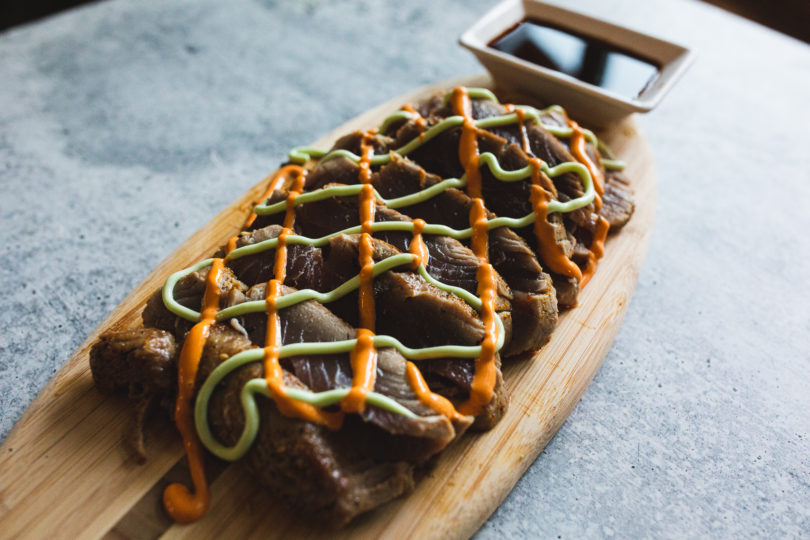 Seared Bluefin Tuna shopping list
Wondering if you have to hit the store? Here's the list of items you'll need to make this recipe. For specific amounts, please refer to the printable recipe card at the bottom of the post.
avocado oil
tuna steak
togarashi
salt
wasabi mayo
sriracha mayo
soy sauce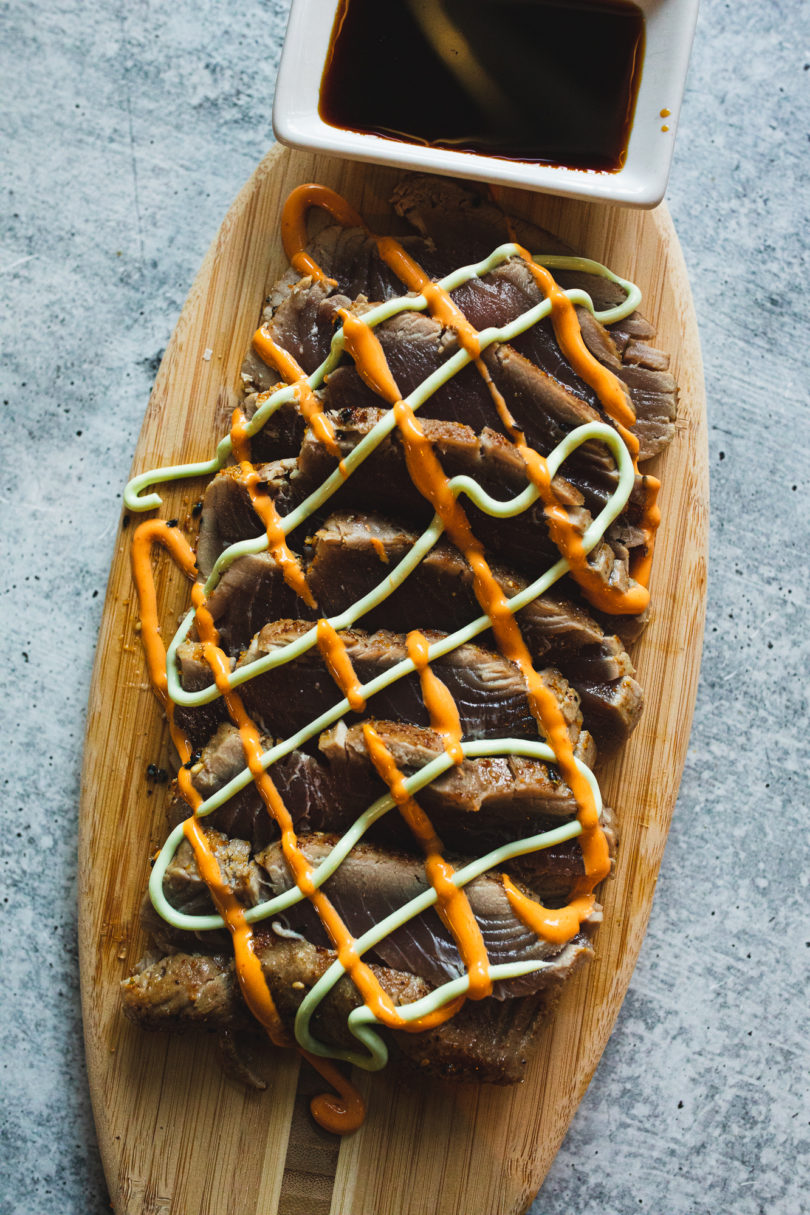 How to make Seared Tuna on the Blackstone
This is just the overview so you can see what you're actually getting into here. When you are cooking, you'll want to use the full recipe at the bottom of the page.
Preheat
Give your Blackstone a good preheating session over medium-high heat. Don't skimp on this part! 10-15 minutes is essential to let the Blackstone come up to temp.
Season
Season the tuna steak liberally with the Togarashi and salt.
Sear
Lay down a thin coat of oil and sear the tuna steak for 30-45 seconds per side.
Slice
Slice the tina into thin pieces. Drizzle with wasabi mayo and sriracha mayo (if desired) and serve with high quality soy sauce for dipping.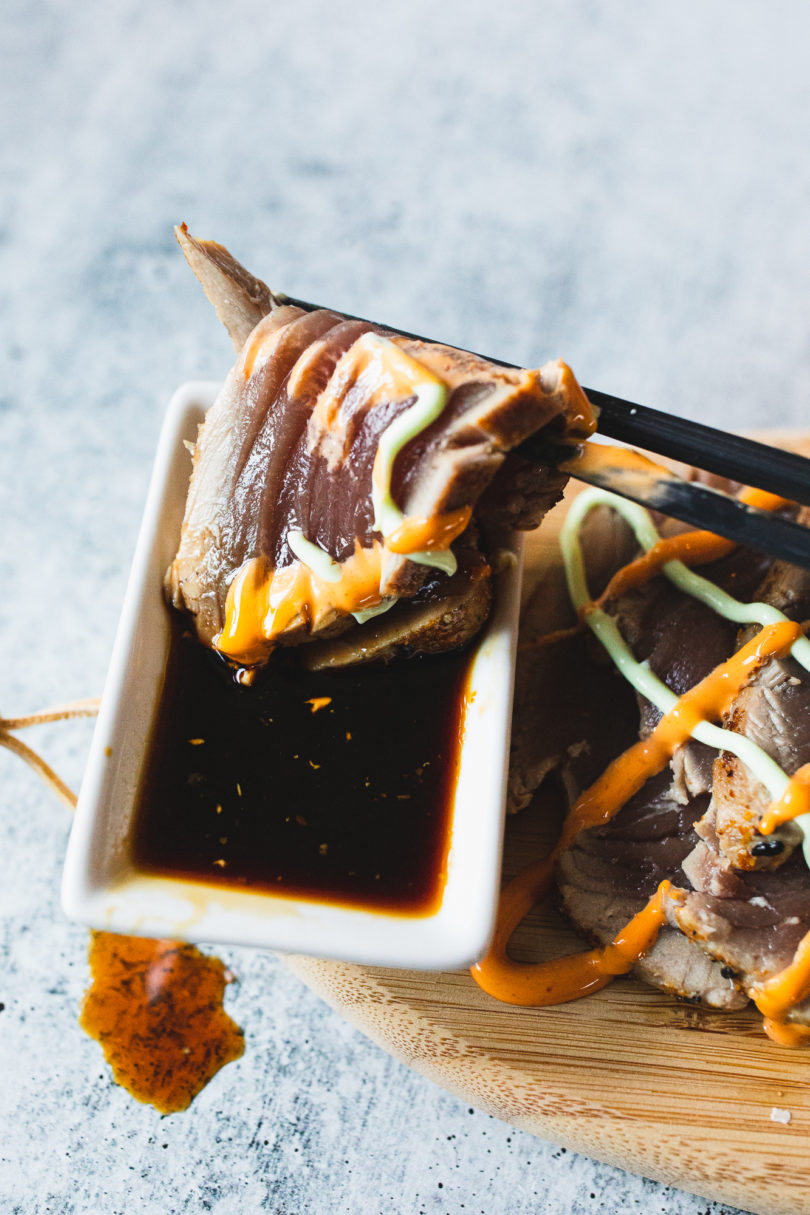 Togarashi Tuna Steak FAQ
How do you store leftovers?
Try not to HAVE leftovers. This is an expensive piece of meat, and like all fish, it is best eaten immediately after you thaw and cook it.
What's the best way to reheat leftovers?
Don't! If there are any leftovers that you don't eat right away, just eat them cold and thank me later.
Are there any substitutions for Bluefin Tuna?
Yes! You can also use Ahi, Yellowfin, or Bigeye tuna for this recipe too, and it'll be awesome.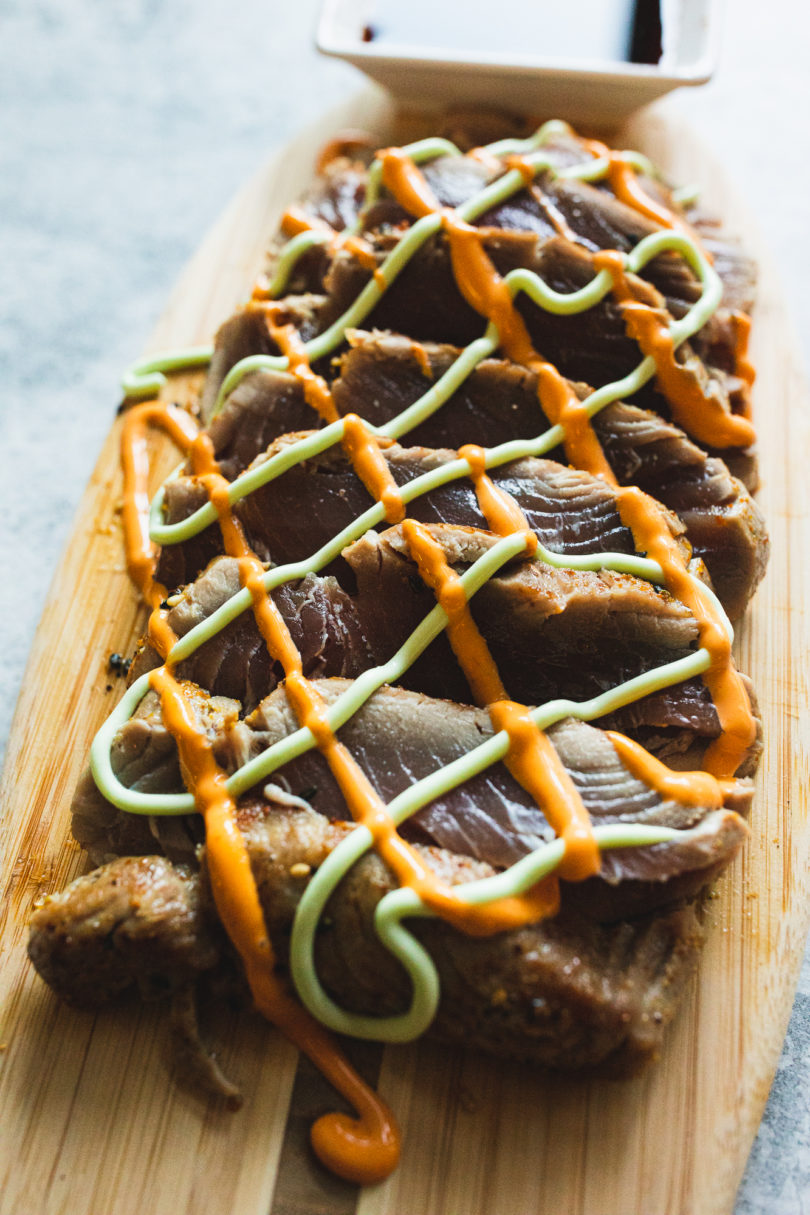 More delicious recipes using fish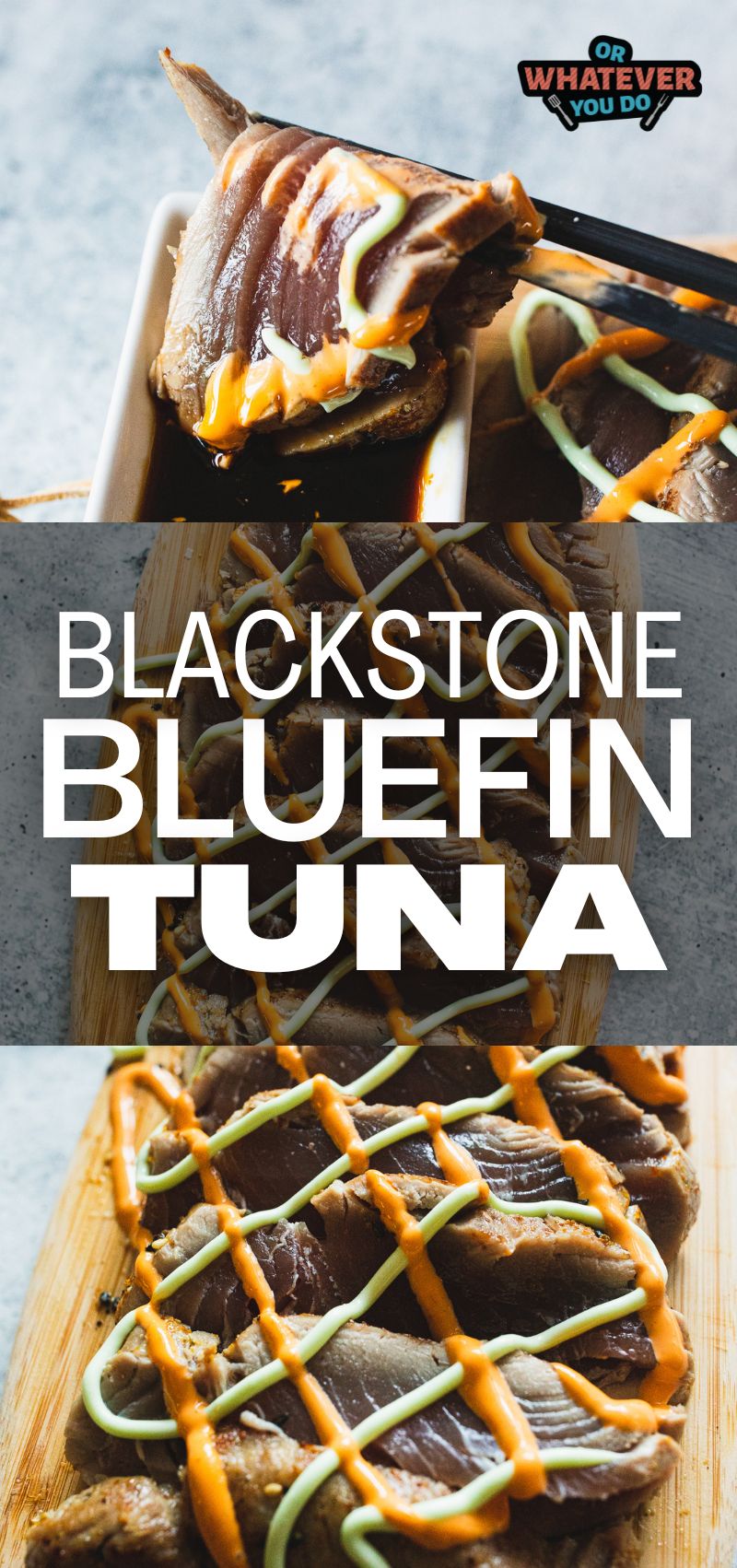 Prep Time
5 minutes
Cook Time
3 minutes
Total Time
8 minutes
Ingredients
1 Bluefin Tuna Steak
1 tablespoon togarashi
1/2 teaspoon salt
1/4 teaspoon olive oil
1 teaspoon wasabi mayo
1 teaspoon sriracha mayo
3 tablespoons high-quality soy sauce
Instructions
Preheat your Blackstone over medium-high heat.
Pat dry your tuna steak and coat with the Togarashi and salt.
Drizzle the olive oil onto the surface of the preheated griddle. Place the tuna onto the oiled section.
Sear for about 30-45 seconds per side.
Remove and let rest for a minute before slicing thinly against the grain.
Drizzle with wasabi mayo and sriracha mayo, if desired. Serve with high quality soy sauce for a little dunking before eating.
Recommended Products
As an Amazon Associate and member of other affiliate programs, I earn from qualifying purchases.
Nutrition Information:
Yield:
3
Serving Size:
1
Amount Per Serving:
Calories: 315Total Fat: 20gSaturated Fat: 7gTrans Fat: 0gUnsaturated Fat: 11gCholesterol: 88mgSodium: 1396mgCarbohydrates: 2gFiber: 0gSugar: 0gProtein: 29g
Nutrition data provided here is only an estimate.