Prime Rib Roast also known as a standing rib roast is a cut of beef most people think is too difficult to cook at home. The truth is cooking Restaurant Quality Prime Rib at home couldn't be easier.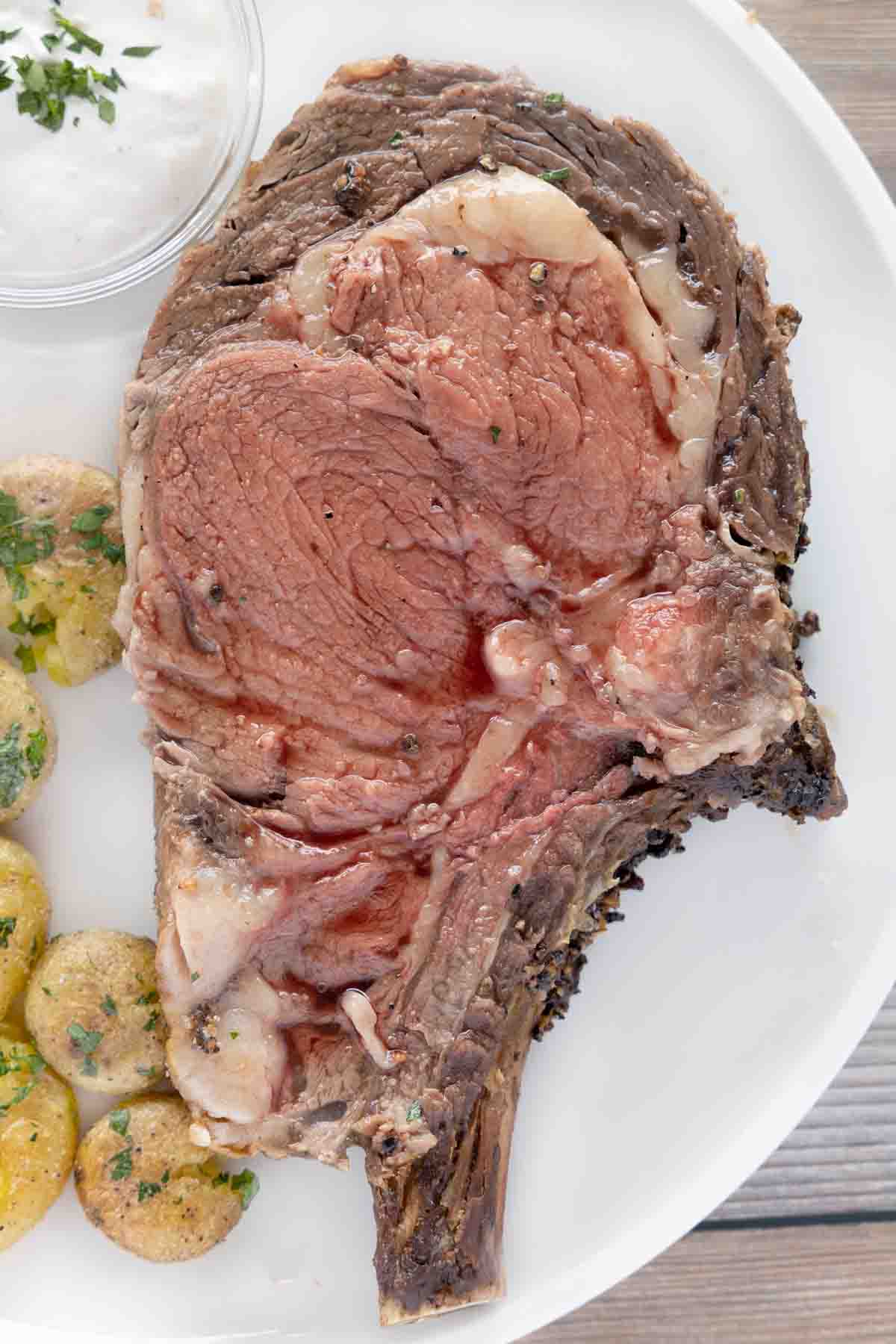 Don't wait for special occasions to make prime rib, it only takes 5 minutes to prep and 2 hours to cook the perfect prime rib roast.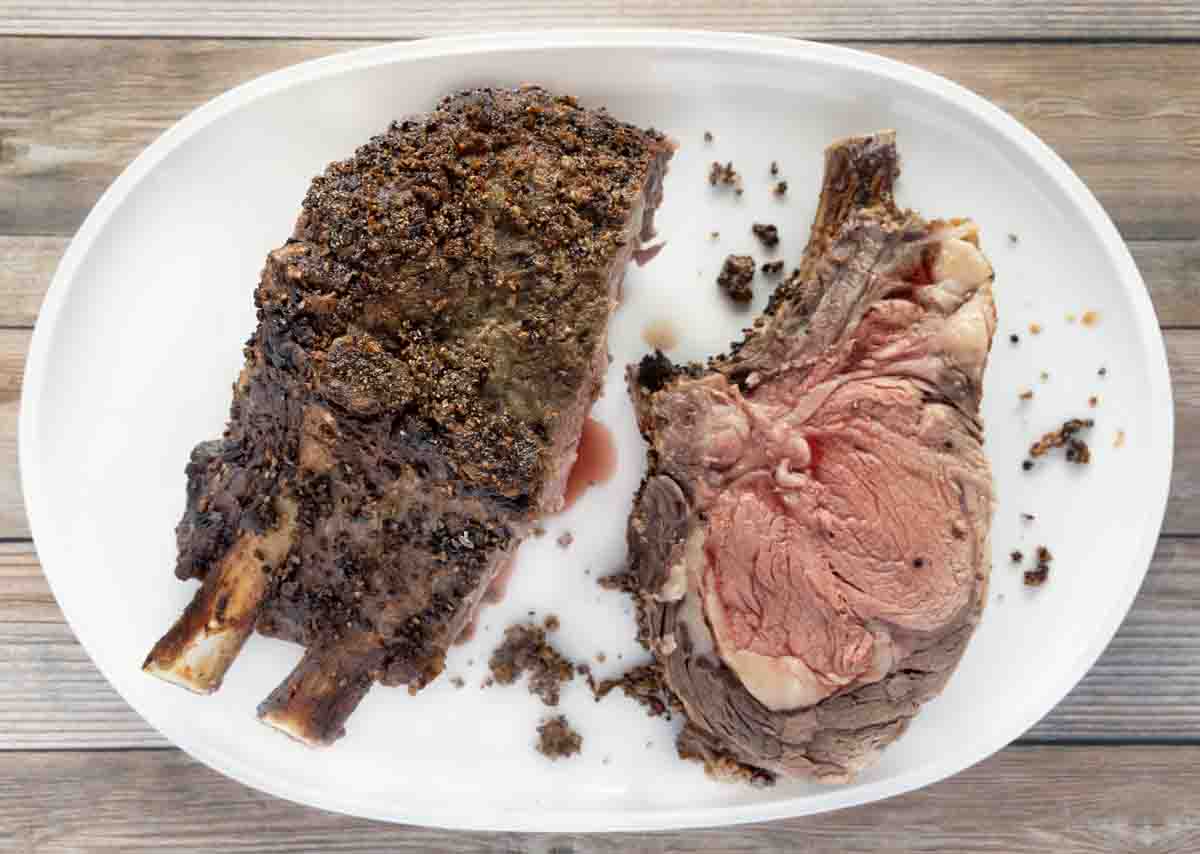 If you have time, let the roast sit in the fridge overnight (or up to 3 days if time permits) to let the seasonings work their magic on the prime rib.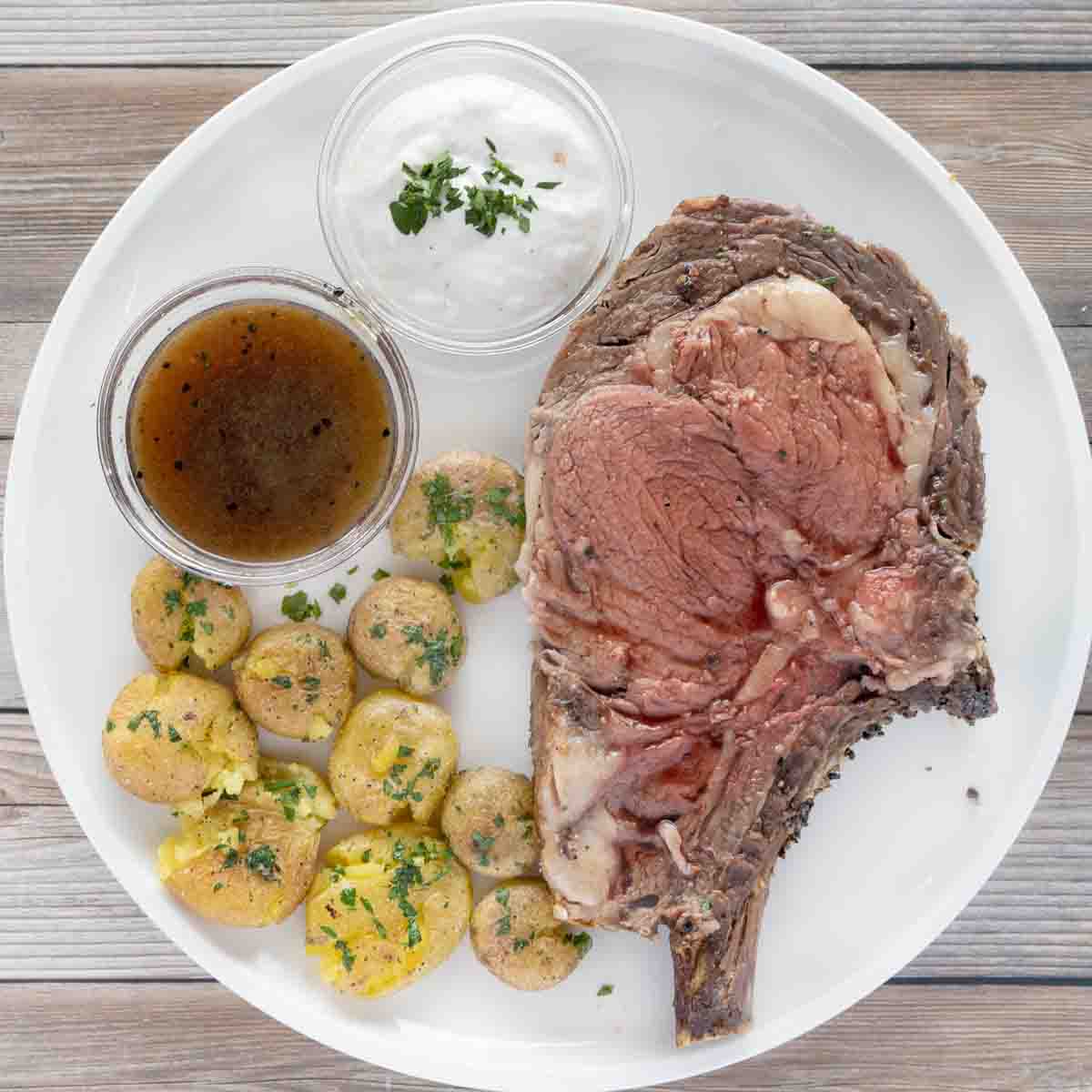 A prime rib roast is definitely the King of Beef, and the wow factor that comes with a cut of perfectly cooked prime rib is about as high as it can get.
Following my easy recipe will yield a perfect prime rib, that's rich, juicy, and tender. It's not only a feast for the belly, its a feast for the eyes as well.
Ingredients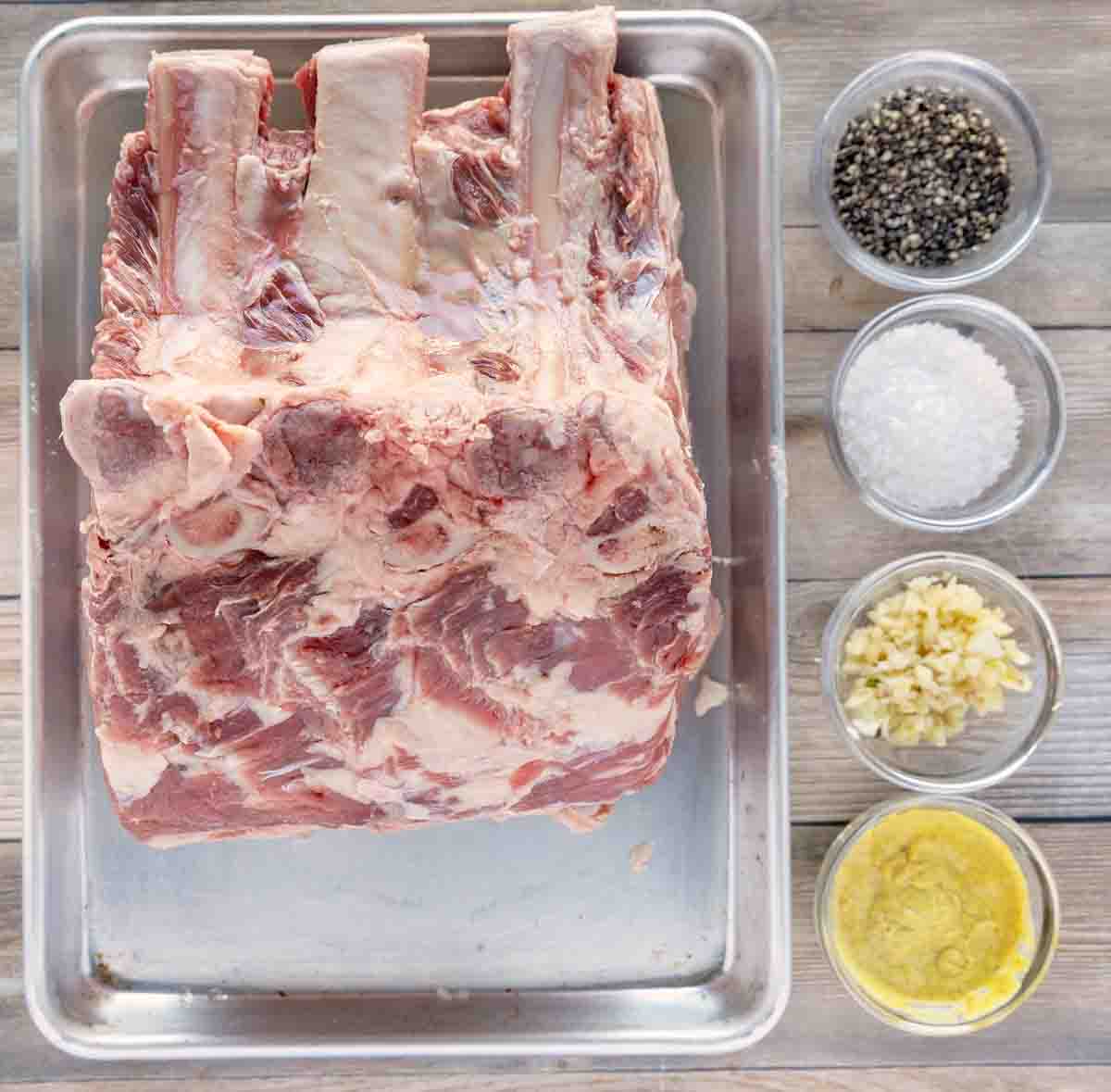 Let's start by gathering the ingredients we need to make a Prime Rib Roast. In Chef Speak this is called the "Mise en Place" which translates to "Everything in its Place."
Not only does setting your ingredients up ahead of time speed up the cooking process, it also helps ensure you have everything you need to make the dish.
*A Prime Rib Roast is considered a "Primal Cut of Beef." A primal cut is a piece of meat initially separated from the carcass of an animal during butchering. Other primal cuts of beef are the loin, chuck, ribs, and round.
How much prime rib do I need?
A bone-in Standing Rib Roast will feed 2 people per bone (about 1 pound per person counting the weight of the rib bones). Use that guideline to plan how big of a roast you need. Of course, the number of sides and types of side dishes you are serving also comes into play. If you are planning a large meal with lots of accompaniments, you can scale back to ½ – ¾ pound prime rib per person.
If you can't find a smaller prime rib roast at your local grocery store, a local butcher can probably help you out.
How do I know when the prime rib roast is cooked?
There is no getting around it, you need a meat thermometer to check on the internal temperature of the standing rib roast. You don't want to keep opening the oven or taking the meat out to check with an instant-read thermometer. Invest in a good thermometer, it's the best way to check the level of doneness of anything you cook in the oven or on the grill.
Roast your prime rib until the thermometer registers:
115-120˚F for rare
125-130˚F for medium rare
135-140° F for medium
145-150 F° for medium well
Please keep in mind that the meat temperature will continue to rise 5-10 degrees when it's resting out of the oven, so don't overcook the roast! 
This post includes affiliate links. As an Amazon Associate, I earn from qualifying purchases.
I absolutely love my Meater Plus | Smart Meat Thermometer It takes all the guesswork out of cooking meats in the oven, on the grill, or in a smoker.
How to prepare a prime rib roast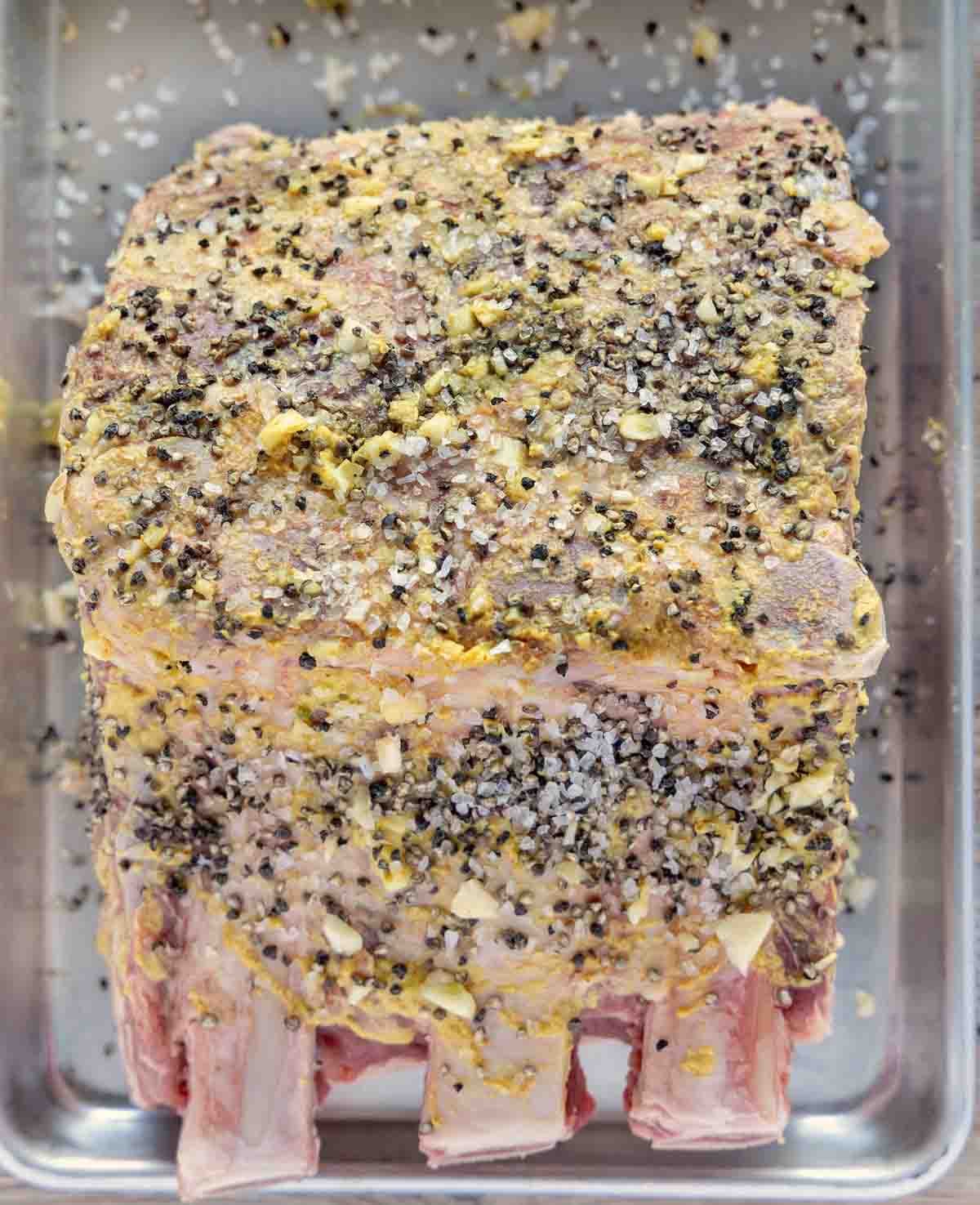 Pat the roast dry using paper towels.
Rub meat with Dijon mustard ( your favorite brown mustard or olive oil).
Season the roast with coarse sea salt, cracked black pepper and minced garlic.
Place roast in the refrigerator uncovered overnight (or up to 48 hours). This allows the surface to dry, which helps the roast brown and maintain juiciness.
How to cook a prime rib roast
The most important thing to remember when roasting a large piece of meat like a standing rib roast is letting the prime rib warm to room temperature before roasting the meat.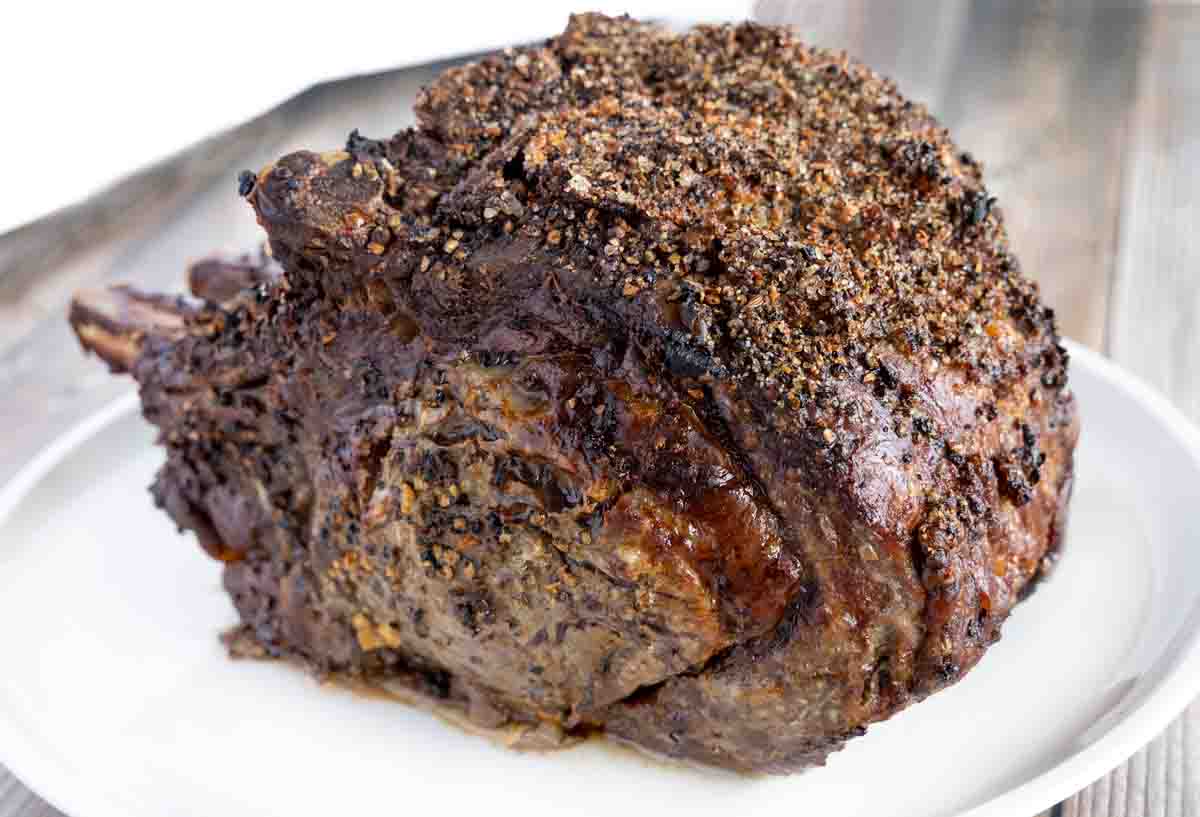 Preheat the oven to 475°F
Place the beef on a roasting pan, fatty side up.
Roast the prime rib roast at 475°F for 25 minutes, then reduce the temperature to 275°F
Let the prime rib continue to cook for 15 minutes per pound of roast.
Use a meat thermometer to check the temperature. Prime Rib should not be cooked beyond Medium doneness.
Remove the roast from the oven and tent the entire roast with foil. Let the meat rest for a minimum of 20 minutes before serving (30-40 minutes is preferable). The meat will continue to cook after taking it out of the oven, and the internal temperature of the meat will increase by 5-10 degrees.
If you need a more well-done piece, use the ends (first cut), they will be more fully cooked. You can also place the cuts of prime rib in a pan with au jus and gently heat the meat to increase the doneness. My wife loves meat, well, well, well-done meat and using the au jus in a saute pan, I was able to serve her a perfectly cooked well done prime rib.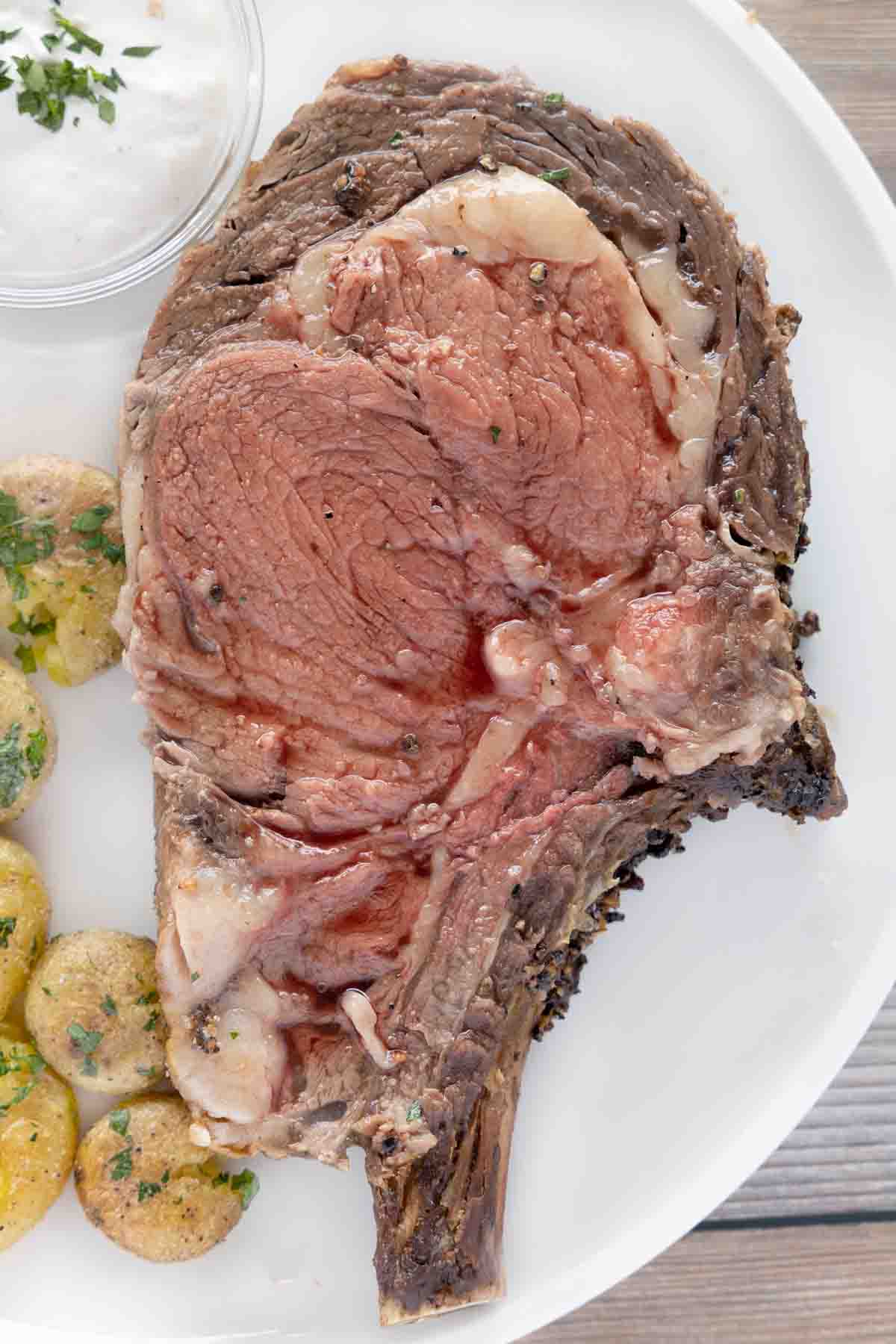 Enjoying a delicious prime rib dinner in your own home really makes a night extra special. Serve it up with homemade horseradish sauce, au jus (see the recipe notes for instructions), smashed potatoes, and your favorite green vegetable.
And if you do have leftovers they make an amazing prime rib sandwich!
Recipe FAQ's
What is prime rib roast?
A prime rib roast also referred to as a standing rib roast is the cut of meat that's taken from the back of the upper ribs of the steer. This section is typically made up of about 7 ribs which is what restaurants use. You can find a smaller 3 or 4-bone roast which is better for home consumption. You really don't want to cook a prime rib roast smaller than that.
What is the best temperature to cook a prime rib?
It's always best to start at a high temperature (450 – 475 degrees is the optimal range). After 25 minutes at this temperature, change to a lower temperature (250 -300 degrees) is used to finish cooking the roast.
One cooking method I have never been fond of is Reverse Sear. It starts out at a lower temperature; lets the roast rest briefly then blasts it at 500 degrees to get the outside crisp. I prefer the traditional method of roasting meats.
Is prime rib the same as a ribeye?
Although a ribeye steak and a prime rib are both cut from the same rib section of the beef, they do have some differences.
The ribeye is cut from between the 6th and 12th ribs, which is considered to be the most tender part of the ribs. It's also more heavily marbled.
The other big difference in taste and tenderness is a cut of prime rib is cut off of a cooked roast, whereas ribeyes are individual cuts seasoned and cooked to order.
More Recipes You'll Love!