This upside down apple pie is incredible! Layers of tart apples are enveloped in a caramel pecan smothered pie crust and finished off with a sweet glaze. Wow!
Rethink classic apple pie with this unique and delicious upside down version.
Not only is the pie loaded with sweet-tart apples, but the delicious caramel pecan layer makes it absolutely exceptional!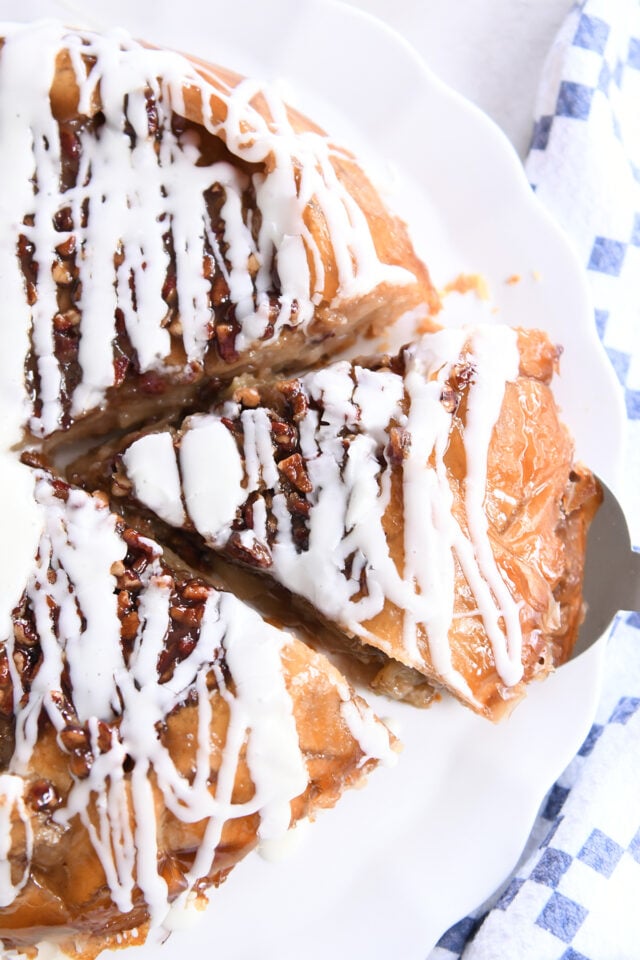 How to Make an Upside Down Pie
I know. It's kind of a weird idea. A pie turned upside down?
But it works, in part, because of that caramel pecan layer. Let's go through the steps together:
Line a deep pie pate with parchment paper or heavy duty foil and grease with cooking spray (don't forget! trust me, I have forgotten the greasing step and it does not end well).
Spread a mixture of butter, brown sugar and pecans in the bottom of the parchment or foil.
Roll out the first pie crust and fit it snugly over the top of the caramel layer.
Fill the pie with the apple mixture (Granny smith apples work best in this pie!).
Top with pie crust, cut a few slits, flute the edges and bake!
Quick Note on Pie Edges
For any double crust pie, I trim the top and bottom crust to about 1/4- or 1/2-inch and fold the bottom crust over the top crust.
As the crust folds up and over, press to seal the two crusts together and then flute the edges!
Important Baking Notes
Baking Tip #1: Place the pie on a foil-lined baking sheet to bake!
That caramel layer, which we love and support with all our hearts, may have a tendency to bubble up while baking and you don't want it ending up on the floor of the oven.
Baking Tip #2: if the edges or top of the pie are over browning, cover with foil or pie shields to continue baking. The apples should be tender before removing the pie from the oven.
The Beauty of This Pie
Don't worry about how this pie looks when it comes out of the oven.
In fact, this is a great pie for beginners, because it doesn't matter if the edges aren't perfect or if the crust is a little cracked or if the caramel gets all oozy doozy.
Once the pie has rested out of the oven for a few minutes, it gets turned upside down and that top crust is never to be seen again! (But you WILL notice how delightfully non-soggy the bottom of the pie is once it is flipped since the top crust bakes up crispier than a normal bottom crust.)
Look at that glorious caramel pecan layer. Oh my. 😍
To Glaze or Not to Glaze
Once the pie has cooled a bit, the simple glaze (literally two ingredients) is drizzled over the top.
You don't necessarily have to glaze the pie, but the little boost of sweetness is glorious with the tart apples and buttery pie crust.
As noted in the recipe, you can use milk OR orange juice for the glaze. Milk lends a creamier note to the glaze whereas the orange juice gives a bright fresh pop to the glaze.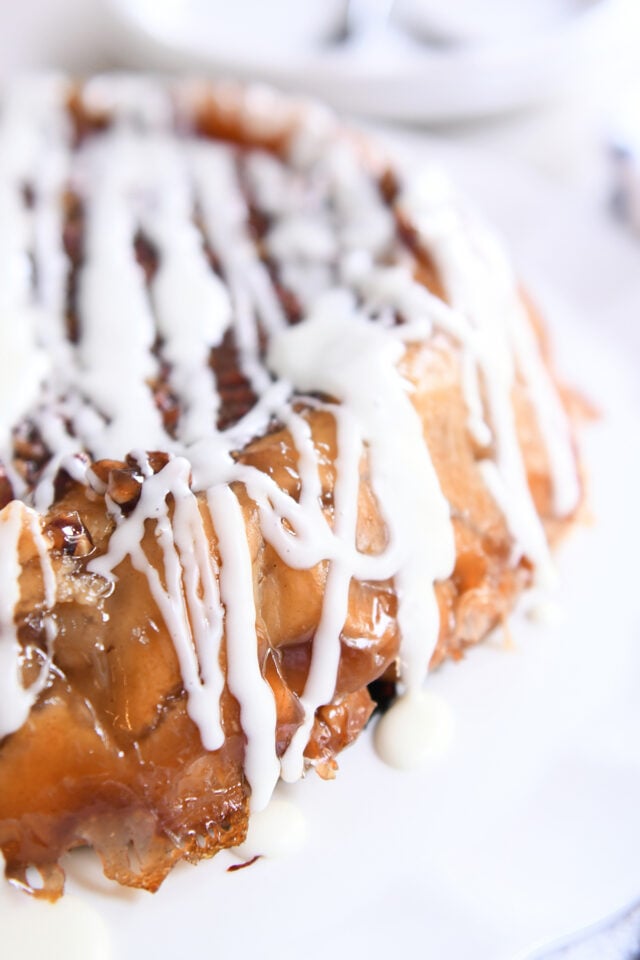 Upside Down Apple Pie Tips
Here are a few additional tips and notes for this incredible pie:
Like most fruit pies, this upside down apple pie slices more cleanly if it's allowed to cool a bit.
It can be made ahead of time and refrigerated. I suggest gently reheating (individual slices or the whole pie) for the best possible tasting experience.
The pecans add a delightful toasty crunch, but they can be left out if desired (just spread the butter and brown sugar in the bottom of the pie plate).
A regular 9-inch pie plate will be too small for this amount of apples. Make sure to use a deep pie plate or reduce the amount of apples in the recipe.
I love everything about this pie!
It's so unique! And while sometimes recipes try so hard to be different that they end up just being weird, this pie succeeds in all the best ways.
It has all the flavors of amazing apple pie with extra bonus points for that caramel pecan layer and the extra delight of throwing caution to the wind and flipping a pie completely upside down.
It's a liberating and beautiful experience.
I hope you love this one!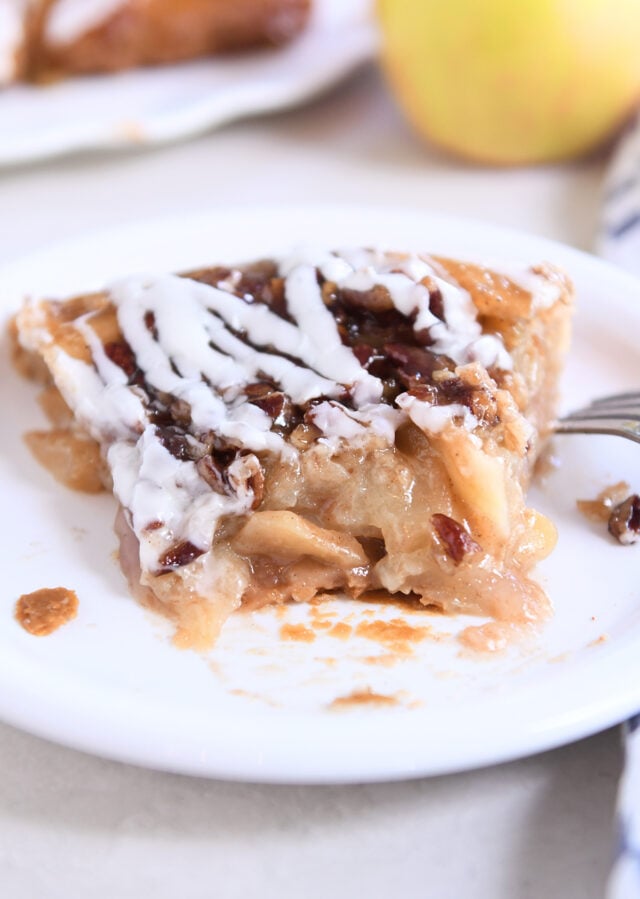 One Year Ago: Easy No-Knead Peasant Bread 
Two Years Ago: Amazing Easy Fluffy Blender Rolls My Thanksgiving Roll 
Three Years Ago: Perfect Homemade Caramel Apples Tons of Tricks + Best Caramel to Use
Four Years Ago: Perfect Small Batch Cinnamon Rolls
Five Years Ago: Easy Homemade French Bread 
Six Years Ago: Harvest Pasta Sauce Trader Joe's Copycat
Seven Years Ago: Peanut Butter Cup Cheesecake with Chocolate Cookie Crust
Eight Years Ago: Easy Homemade Egg Noodles Step-by-Step Pictures Include Food Processor Method or By Hand
Nine Years Ago: Black Bean and Butternut Enchilada Skillet
Ten Years Ago: Peanut Butter Oatmeal Chocolate Chip Cookies
Upside Down Apple Pie
2

unbaked pie crusts (see note)
Caramel Pecan Layer:
¼

cup

(

57

g

)

butter, melted (I use salted)

½

cup

(

106

g

)

lightly packed light or dark brown sugar

¼ to ½

cup

(

20-60

g

)

chopped pecans
Apple Filling:
8

cups

(

790

g

)

peeled and thinly sliced tart apples, like Granny Smith (see note)

1

cup

(

212

g

)

granulated sugar

⅓

cup

(

47

g

)

all-purpose flour

2

tablespoons

melted butter

1

teaspoon

ground cinnamon

¼

teaspoon

ground nutmeg

Pinch salt
Glaze:
½

cup

(

57

g

)

powdered sugar

1

tablespoon

milk or orange juice (see note)
Preheat oven to 375 degrees F. Line a 9- or 9.5-inch deep pie plate with parchment paper or heavy duty foil. Grease with cooking spray (important!).

In a small bowl, stir together the 1/4 cup melted butter and 1/2 cup brown sugar. Spread evenly across the bottom of the lined pie plate. Sprinkle pecans across the top.

Roll out one pie crust and place it on top of the caramel nut mixture, pressing snug against the bottom and sides.

In a large bowl, combine the apples, sugar, flour, 2 tablespoons melted butter, cinnamon, nutmeg and salt. Toss until evenly and well combined.

Fill the pie crust with the apple mixture.

Roll out the second pie crust and place it over the apples. Trim both crusts to about 1/4- to 1/2-inch all the way around. Fold up the bottom crust over the top crust and press to seal. Flute the edges.

Cut four slits on top of the pie.

Place the pie on a foil-lined baking sheet. Bake for 50-60 minutes until the apples are tender and crust is lightly golden (cover edges of the pie near the end of baking time to prevent over browning, if needed).

Cool the pie for 10-15 minutes before carefully inverting onto a serving platter or into another pie plate. Remove the parchment or foil.

Whisk together the glaze ingredients and drizzle over the pie. Serve warm or at room temperature.
Pie Crust Recipe: I alternate between this flaky pie crust and this sour cream pie crust. Both are fantastic recipes and can be used in this recipe (or use your favorite homemade recipe or store bought pie crusts). 
Apples: I've made this pie several different times with different varieties of apples and it is by far the best when made with a tart apple like Granny Smith. 
Orange Juice: orange juice gives a tart freshness to the glaze if you want to use that instead of milk (milk lends a creamier flavor and texture). 
Serving: 1 serving, Calories: 557kcal, Carbohydrates: 89g, Protein: 4g, Fat: 23g, Saturated Fat: 9g, Cholesterol: 23mg, Sodium: 248mg, Fiber: 5g, Sugar: 59g
Follow @MelsKitchenCafe on Instagram and show me the recipes you are making from my blog using the hashtag #melskitchencafe. I love seeing all the goodness you are whipping up in your kitchens!
Recipe Source: slightly adapted from this recipe
Disclaimer: I am a participant in the Amazon Services LLC Associates Program, an affiliate advertising program designed to provide a means for me to earn fees by linking to Amazon.com and affiliated sites. As an Amazon Associate I earn from qualifying purchases.