Extra easy cinnamon apples made on the stovetop in about 15 minutes! Enjoy these buttery cinnamon-laced apples over ice cream for dessert, spooned over pancakes and waffles for breakfast, or as a deliciously sweet side. Jump to the Cinnamon Apples Recipe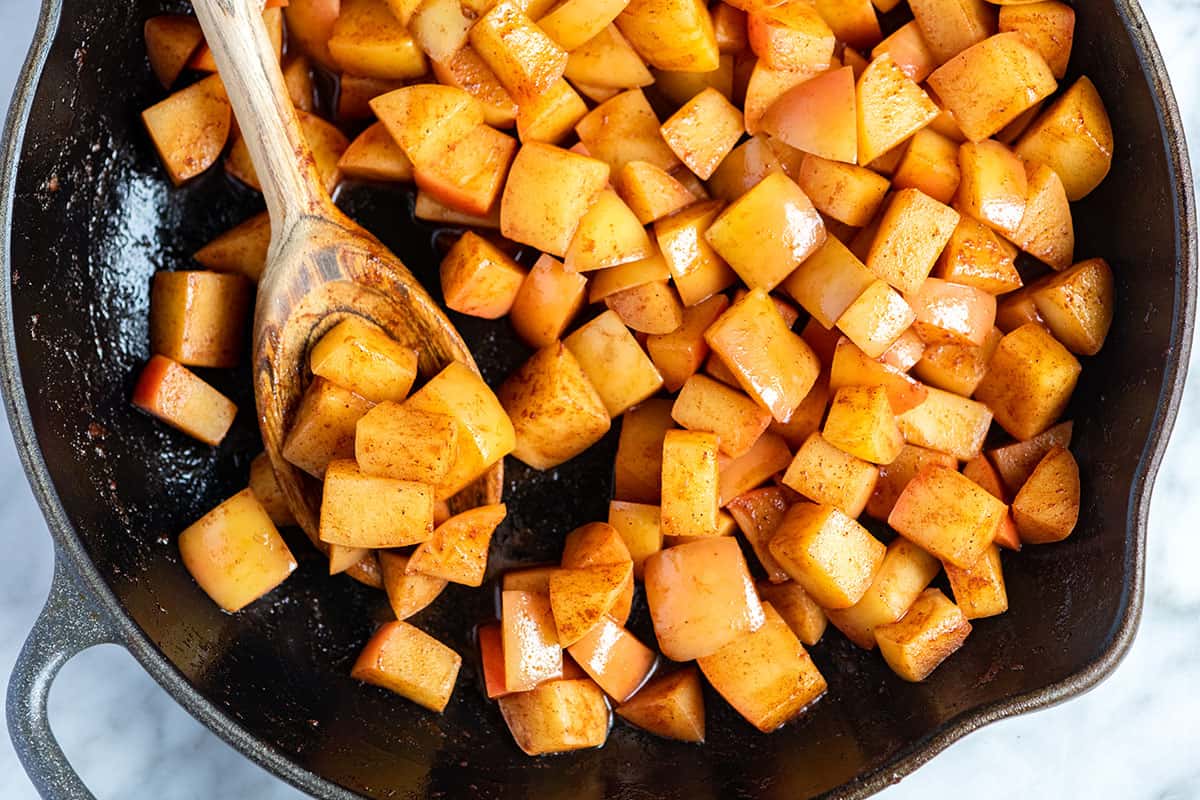 Why We Love These Cinnamon Apples
Since we sauté the apples on the stove, this recipe comes together fast. The apples taste like your favorite apple pie, and these apples last for days in the fridge. You can keep them simple and use ground cinnamon or take our advice and stir in a couple more baking spices. A little nutmeg and cardamom go a long way in making these the best-tasting cinnamon apples we've made. Have I convinced you yet?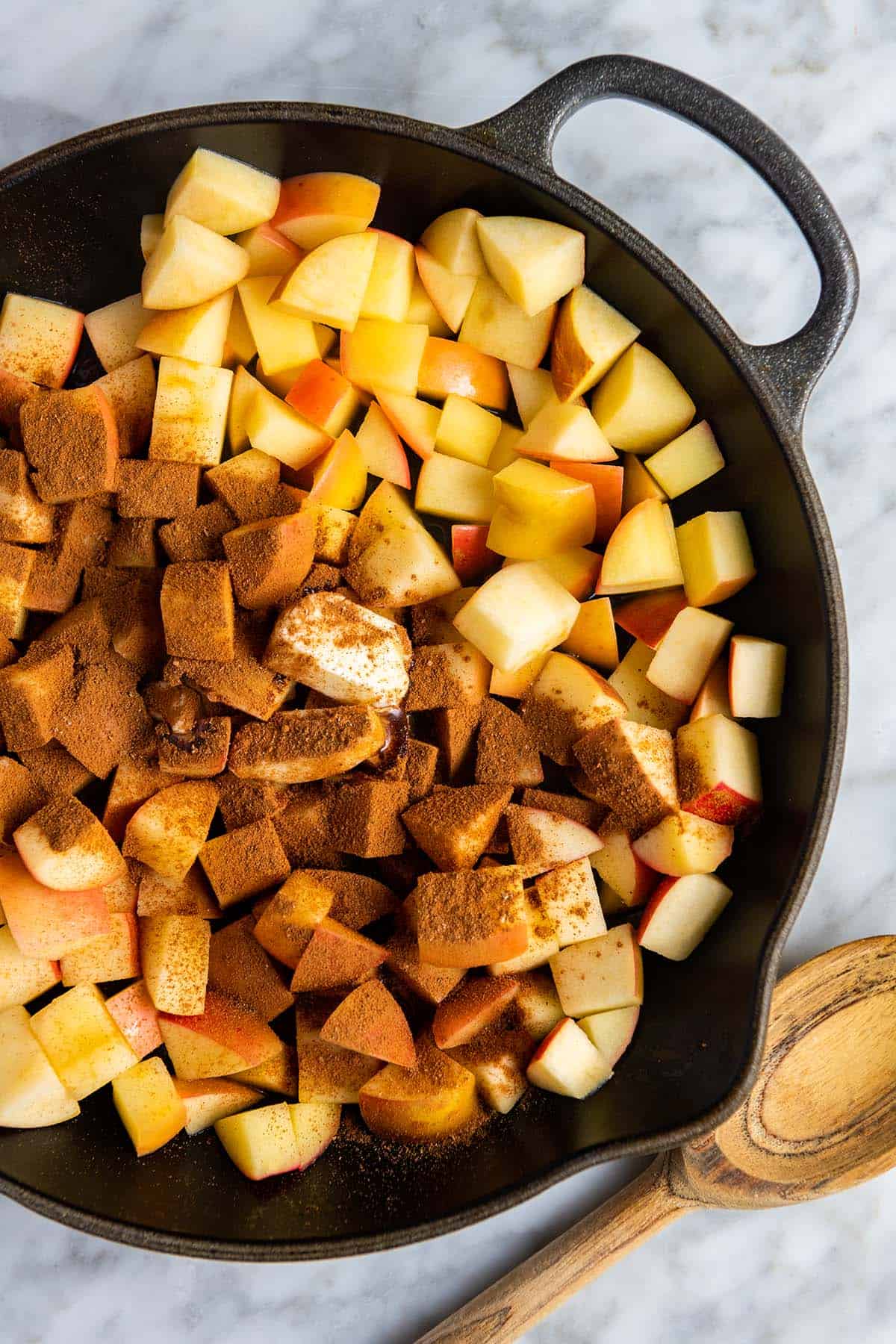 While we are on the subject of cinnamon and apples, you might want to look at more of our apple recipes: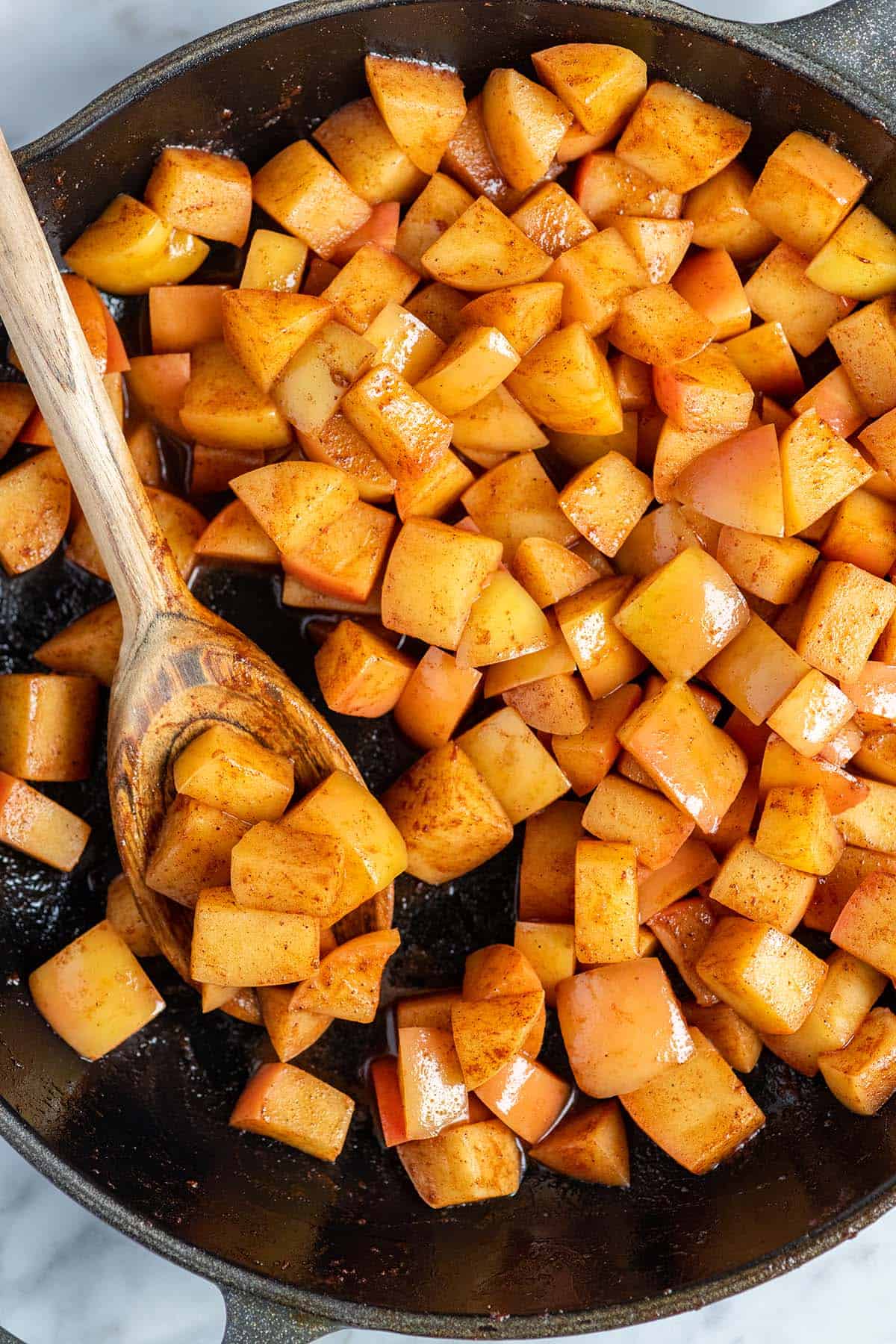 Frequently Asked Questions
Do I need to peel the apples?
Peeling for these cinnamon apples is entirely up to you. I love leaving the peel intact, but for softer cooked apples, consider removing the peel. If you plan to serve this to younger kids, you might find peeling is best (my toddler prefers these peeled).
What apples should I use?
You can use any variety of apple in this recipe. I like my sautéed apples to have a bit of texture, so I reach for firmer varieties like Honeycrisp, Fuji, and Granny Smith. For softer, more melt-in-your-mouth apples, try Golden Delicious.
How long do cinnamon apples last?
Store these stovetop cinnamon apples in an air-tight container in the fridge for up to 5 days. You can also freeze them for a couple of months.
How do you serve the apples?
These are delicious by themselves. We also love them with the following:
Extra Easy Cinnamon Apples
Extra easy cinnamon apples made on the stovetop in about 15 minutes! Enjoy these buttery cinnamon-laced apples over ice cream for dessert, spooned over pancakes and waffles for breakfast, or as a deliciously sweet side.
Makes 4 cups
You Will Need
1 ¾ pounds apples, 5 to 6 small
1 teaspoon lemon juice or apple cider vinegar
2 tablespoons water, plus more as needed
2 tablespoons butter or vegan butter
1 ½ teaspoons ground cinnamon
1/4 teaspoon ground cardamom, optional
1/8 teaspoon fresh grated nutmeg, optional
1/2 teaspoon vanilla extract
1/2 tablespoon to 1 tablespoon maple syrup, optional
Directions
Choose whether or not you want to peel the apples. We prefer our apples with the peel. However, for softer cinnamon apples, peel them.

Core and cut the apples into bite-size pieces, 3/4-inch to 1-inch cubes. For slices, slice the apples into 1/4-inch thick slices.

Toss the apples, lemon juice (or vinegar), and two tablespoons of water into a wide skillet over medium-high heat. Cover the skillet with a lid (or tent them with aluminum foil). Cook, covered, for 3 to 4 minutes.

Uncover the apples, and stir in the butter, cinnamon, optional spices (cardamom and nutmeg), and vanilla extract.

Cook, while stirring, until the butter melts and the apples soften to your liking, 3 to 5 minutes more. For more saucy apples, stir in 2 to 3 tablespoons more water. Simmer the water until it thickens and coats the apples. Taste, and then adjust with maple syrup.
Adam and Joanne's Tips
Nutrition Per Serving: Serving Size 1/2 cup / Calories 80 / Total Fat 3.1g / Saturated Fat 1.8g / Cholesterol 7.6mg / Sodium 1.5mg / Carbohydrate 14.2g / Dietary Fiber 2.7g / Total Sugars 10.4g / Protein 0.3g
AUTHOR: Adam and Joanne Gallagher