Having a repertoire of great salad recipes is key. This is a list of many of the best salads I've prepared over the years. You'll see a mix of chopped salads, green salads, plus grain and pasta salads. They all have an emphasis on fresh, whole, seasonal, plant-based ingredients. Enjoy!
One of my favorite genres of salad. Chopped salads tend to be intensely flavored, varied in texture, and packed with ingredients. They often feature a strong dressing, and are a great way to use up odds and ends in your refrigerator.
Lime & Blistered Peanut Coleslaw
This feather-light, mayo-free, coleslaw recipe uses blistered peanuts, cherry tomatoes, and lime vinaigrette and is perfect alongside fajitas, or whatever you have coming off the grill.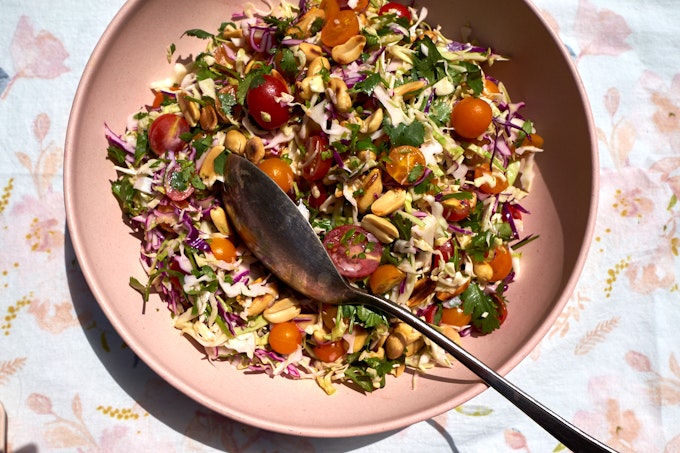 Spicy Rainbow Chopped Salad with Peanuts
Everyone loves this beautiful rainbow chopped salad made with blood oranges, crispy shallots, peanuts, and a creamy, red curry dressing. Give it a try!
Cucumber Salad
A refreshing chopped cucumber salad loaded with peanuts, spices, toasted coconut, and chiles.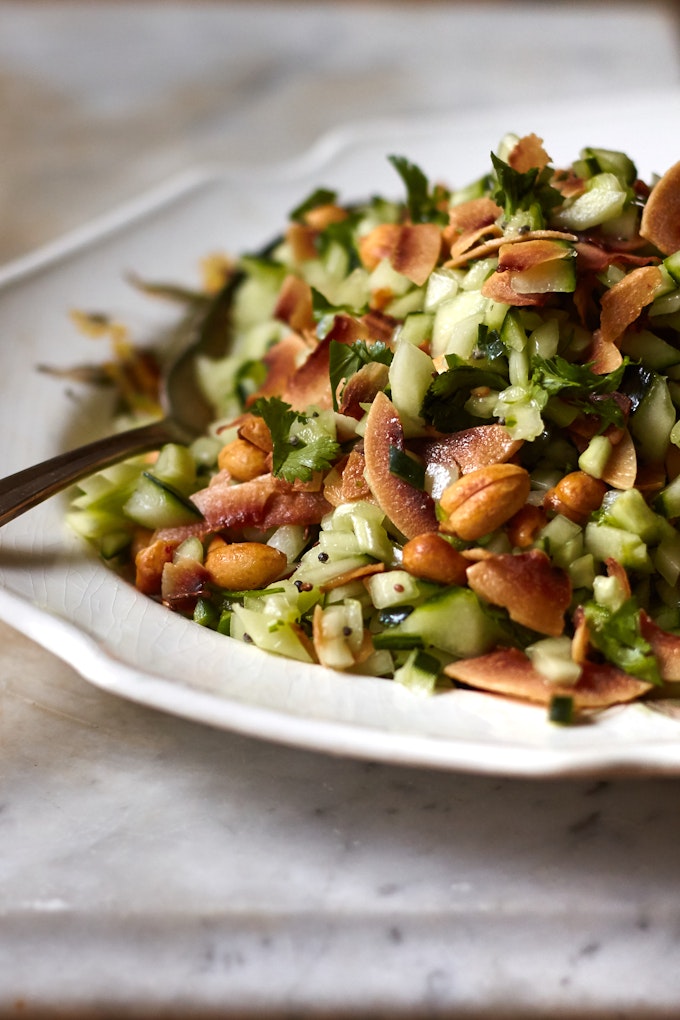 A Good Shredded Salad
A shredded salad with lots of cabbage and scallions, tossed with soy sauce, honey, and cilantro, and amount of crunch toasted peanuts, and celery.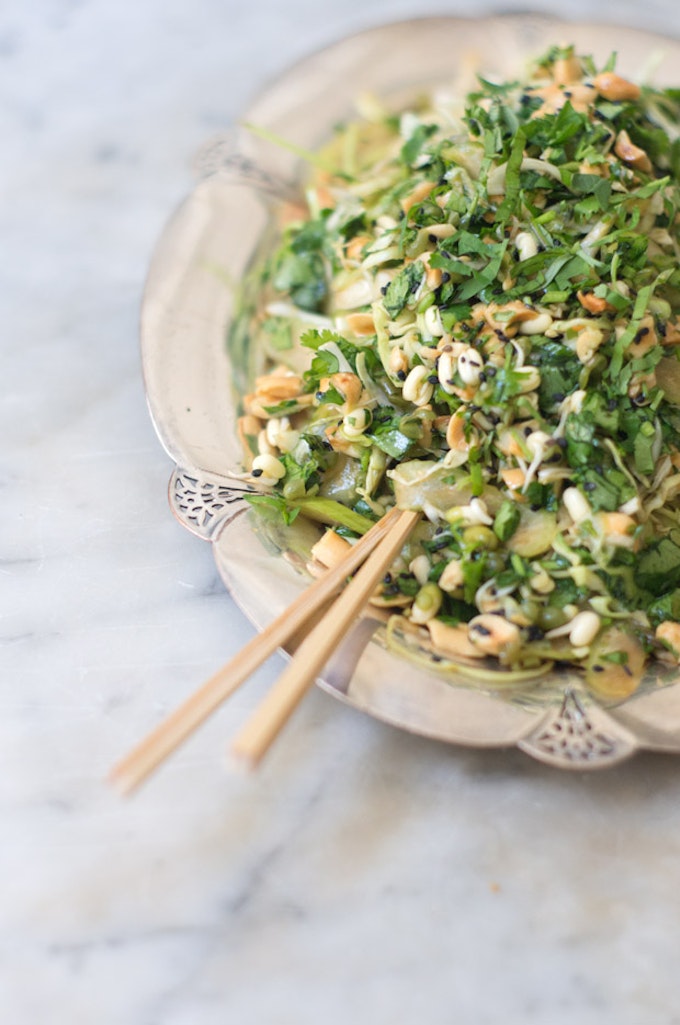 Heirloom Apple Salad
The sort of hearty apple salad I love – heirloom apples, shaved celery, and toasted nuts of your choosing. The dressing is creamy and spiked with rosemary, garlic and champagne vinegar.
Spicy Sesame Coleslaw
I love the coleslaw up above, but I love this one even more and make it constantly. A feathery slaw made from shredded green and red cabbages, apples, carrots, and scallions tossed with a spicy sesame dressing. If you've ever had asparagus or spinach goma-ae at a Japanese restaurant you'll recognize the inspiration for the dressing.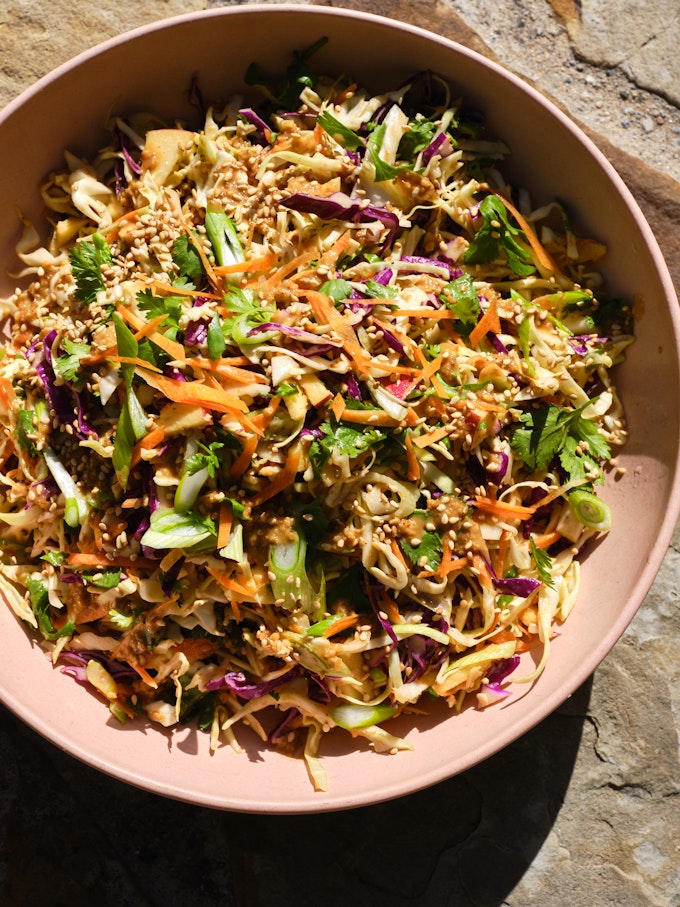 The key to great salads is buying fantastic salad greens. Or even better (and less expensive), grow your own if you have the space. For the best salad foundation, look for vibrant leaves that aren't sad or wilted, and pass on bagged and packaged lettuces.
Grilled Wedge Salad with Spicy Ranch Dressing
A delicious, crisp grilled wedge salad topped with a spicy ranch dressing, chives, and nuts. An all-time favorite summer salad.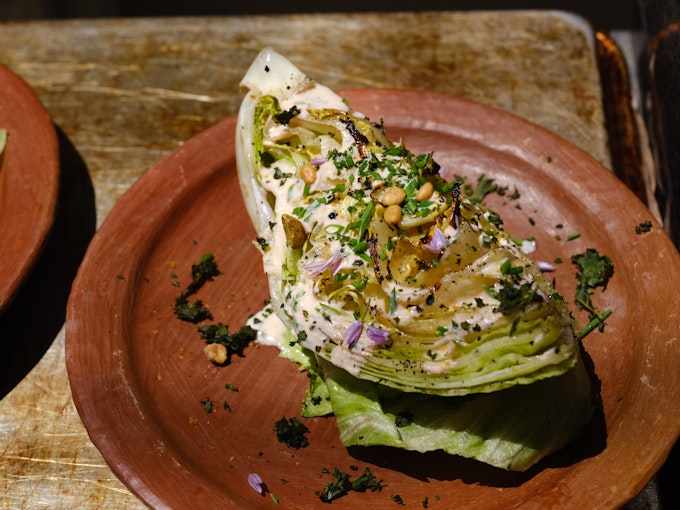 Anna's California Miso Avocado Salad
A California-inspired Miso, Avocado, & Lima Bean Salad from A Modern Way to Eat, by Anna Jones. Seasonal greens and beans are tossed with an assertive, creamy miso dressing and topped with ripe, creamy avocado.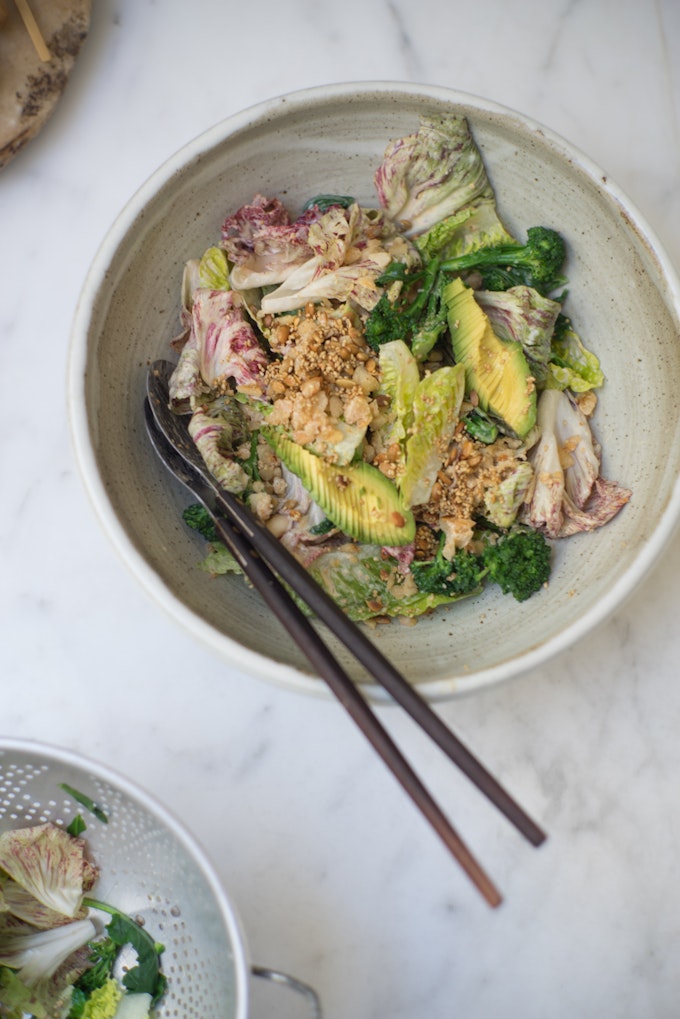 Genius Kale Salad
There is a special kale salad recipe in the Food52 Genius Recipes cookbook. A single kale salad that ran the gauntlet, beating out all others, for a slice of limelight.

The Greenest Salad
A shredded green salad bulked out with blanched broccoli, avocado, pistachios, a bit of feta cheese, and tossed with a tarragon balsamic vinaigrette.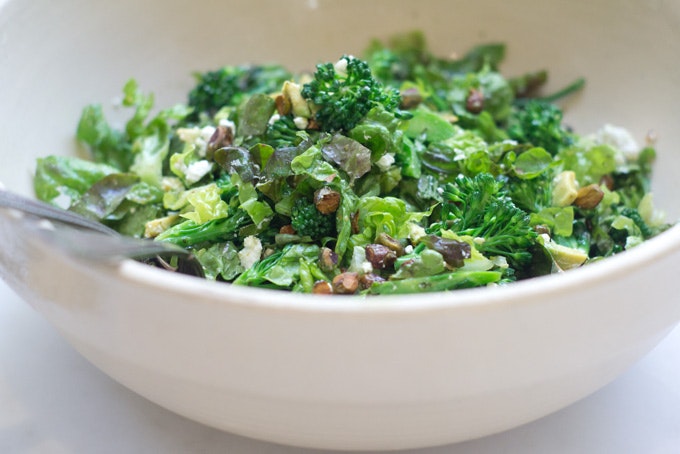 An Ideal Lunch Salad
Chickpeas, celery, black olives, pepitas, avocado, blanched broccoli. Full of crunch & substance, it's a salad that can stand up to a few hours in a container without collapsing.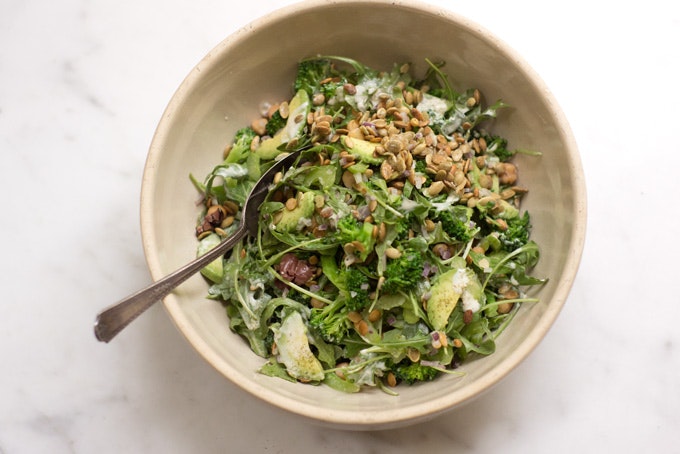 Lacinato Kale and Pecorino Salad
A base of finely shredded Lacinato kale to which and abundance of toasted pecans, pecorino cheese, and shredded Brussels sprouts are added. A strong lemon-tahini dressing is leveraged to brighten things up and take the raw edge off of the kale.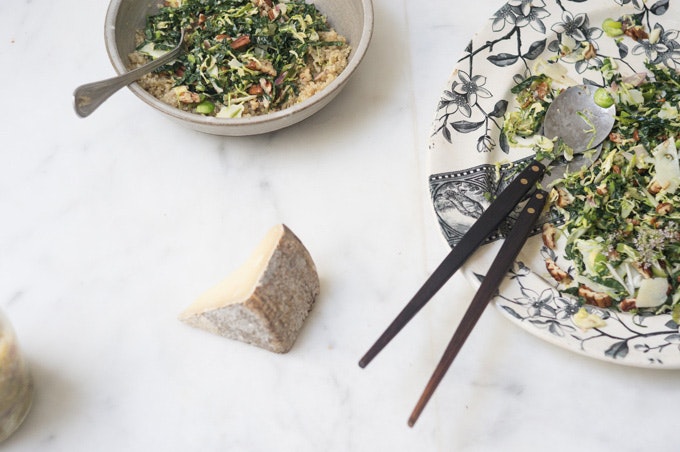 Arguably peak salad season, summer salads feature all the magic coming out of backyard gardens and local markets. These salad recipes help you work through tomatoes, cucumbers, zucchini, corn, and beautiful stone fruits. Many are meal-worthy, helping to keep your kitchen cool during the hottest weather.
Grilled Zucchini & Bread Salad
A bread salad made with summer veggies and torn pieces of toasted multi-grain bread, grilled zucchini, chickpeas, and a simple, garlic-forward ponzu dressing.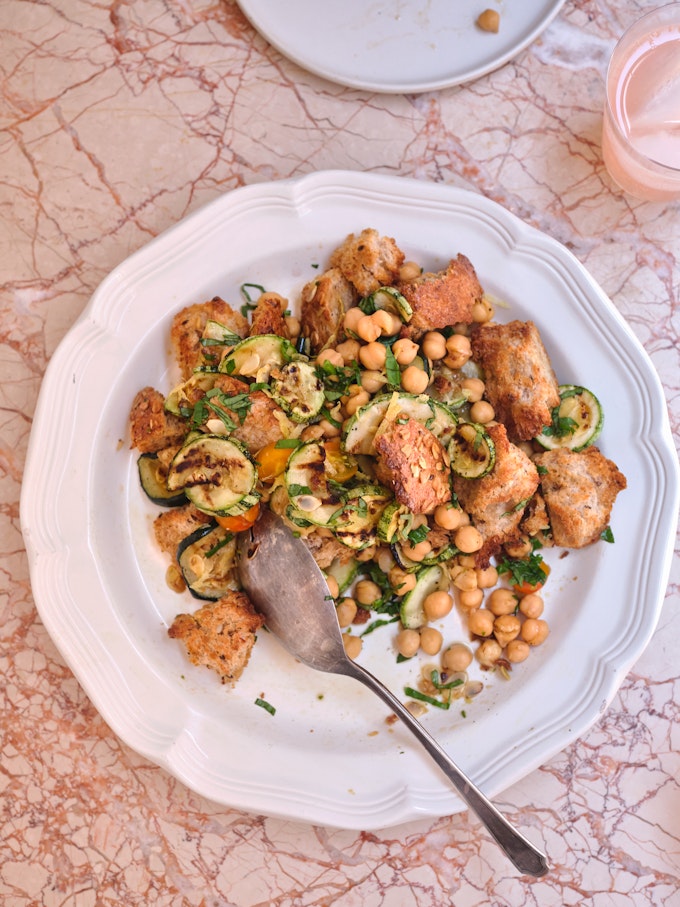 A Really Great Coconut Corn Salad
Butter a skillet add corn, fresh thyme, red onions, toasted almonds and coconut, and finish with a squeeze of lemon or lime juice…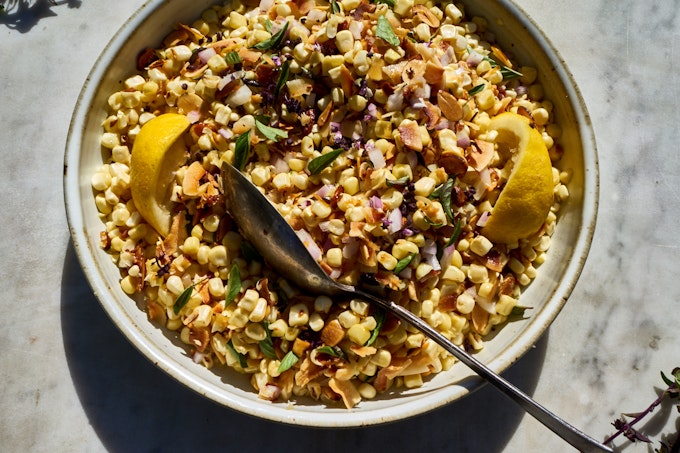 Heirloom Tomato Salad
My favorite tomato salad this year – made with roasted and ripe tomatoes, capers, mozzarella, almonds, and chives. I occasionally boost with a bit of goat cheese.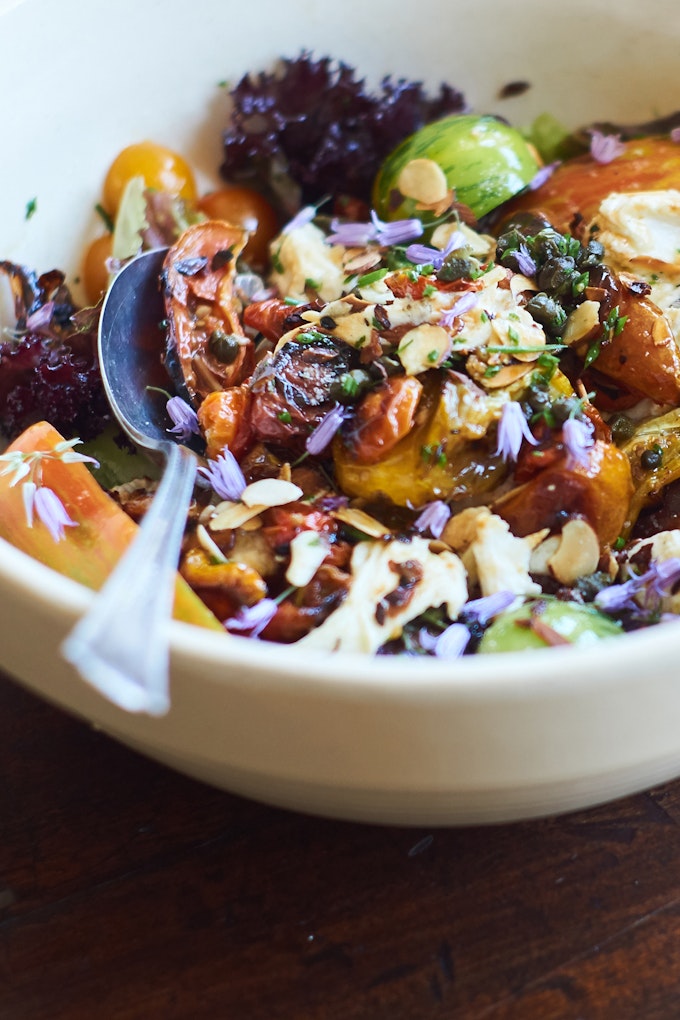 Fruit Salad with Thai Herbs
A summer fruit salad – berries, peaches and pluots drizzled with a citrusy lemongrass and honey dressing, topped with toasted walnuts, and lots of mint.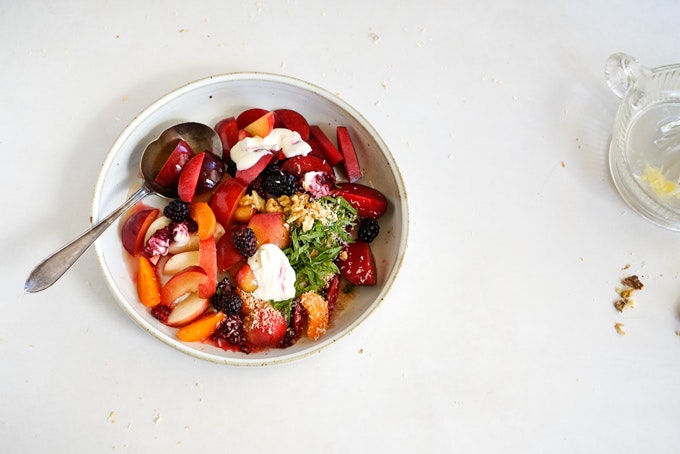 Easy Tomato & Pasta Salad
Pasta salad extraordinaire – tomatoes & pasta in an A+ one-bowl dish. Whole-grain pasta, baby kale, basil, and the best tomatoes you can get your hands on.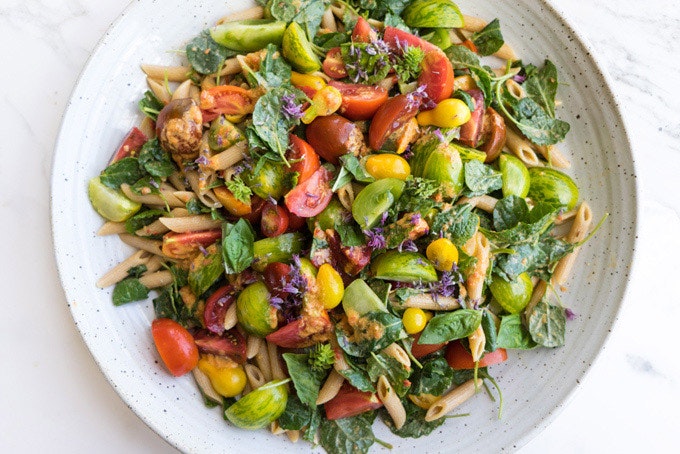 Joshua McFadden's Cucumber Salad
A ringer of a cucumber salad. The main players: cucumbers, ice-bathed scallions, toasted walnuts, mint, rose, and a vinegar-spiked yogurt dressing.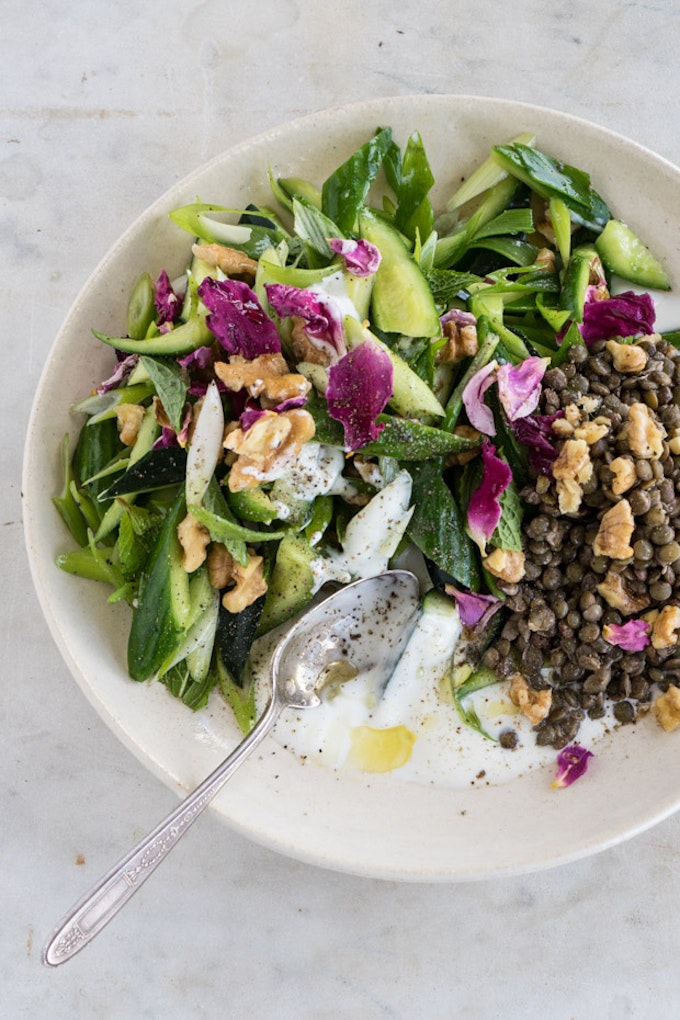 Na'ama's Fattoush
A beautiful fattoush recipe and a preview of Yotam Ottolenghi and Sami Tamimi's new book, Jerusalem.

Pluot Summer Salad
This salad is pluot based, with toasted ginger, garlic, and shallots. It is drizzled with a simple lime soy sauce dressing, and is generously flecked with herbs – in this case, mint, basil, and cilantro.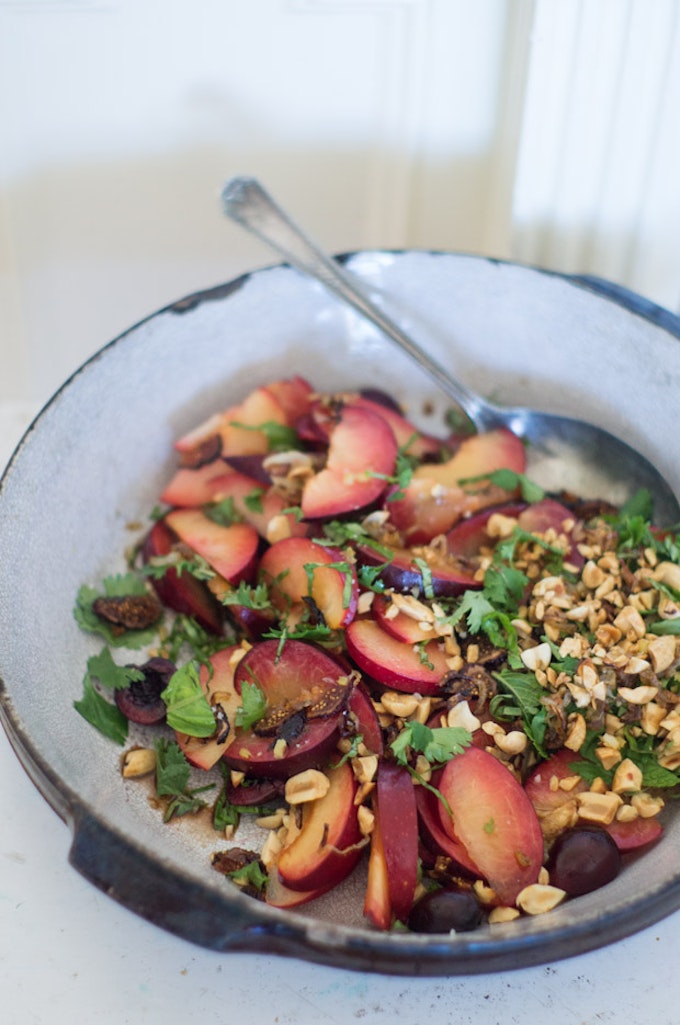 A handful of favorite salad recipes featuring pasta, noodles, fresh ingredients and super bold flavors.
Sriracha Rainbow Noodle Salad
This is a noodle salad you'll crave every day. A radiant, color-flecked tangle of noodles, cabbage, shredded carrots, pickled sushi ginger, and an abundance of cilantro, basil, and scallions.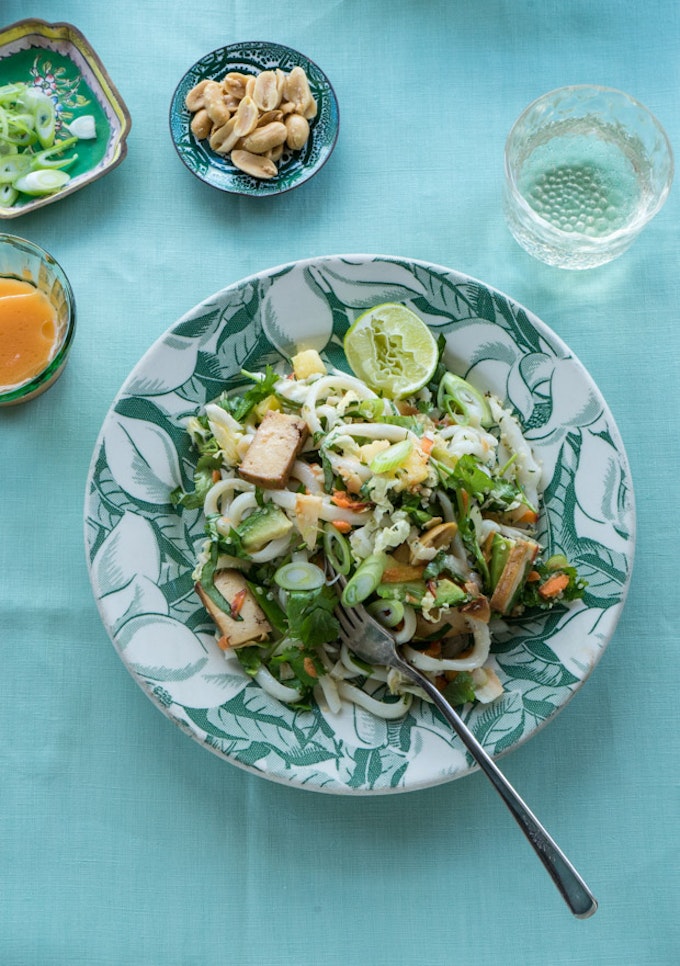 Hazelnut & Chard Ravioli Salad
Plump raviolis tossed with toasted hazelnuts, lemony chard, and caramelized onions are at the heart of this ravioli salad recipe.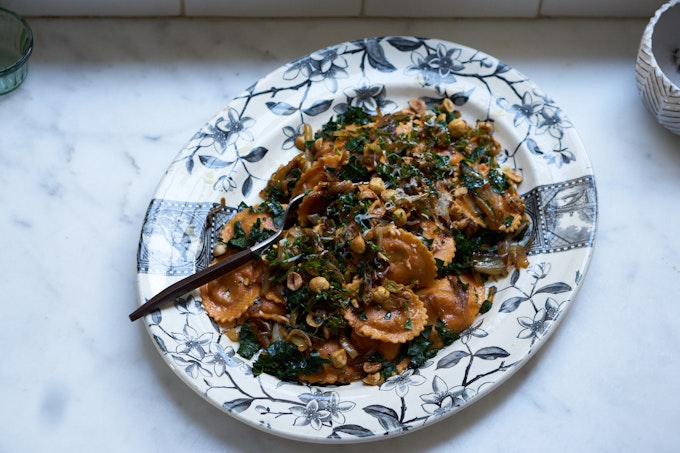 Classic Macaroni Salad
A fresh take on classic macaroni salad. It hits all the notes of your favorite old-fashioned macaroni salad, but gives you a few nutritious options to explore as well.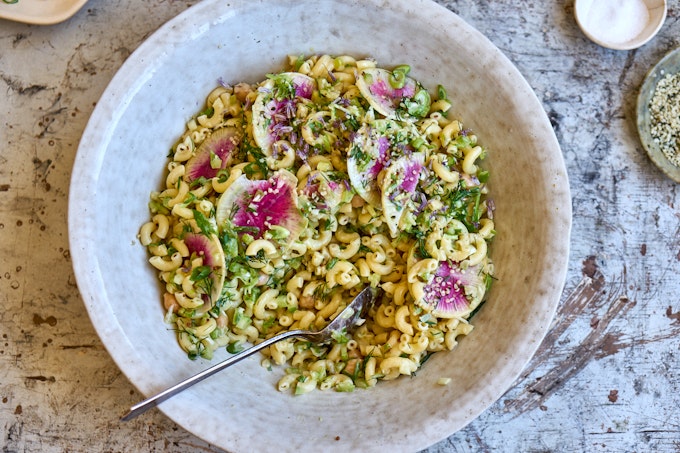 Pomelo Noodles
Being nice to your future self & and simple lunch salad made with noodles, edamame, greens, ponzu dressing, peanuts, and pomelo.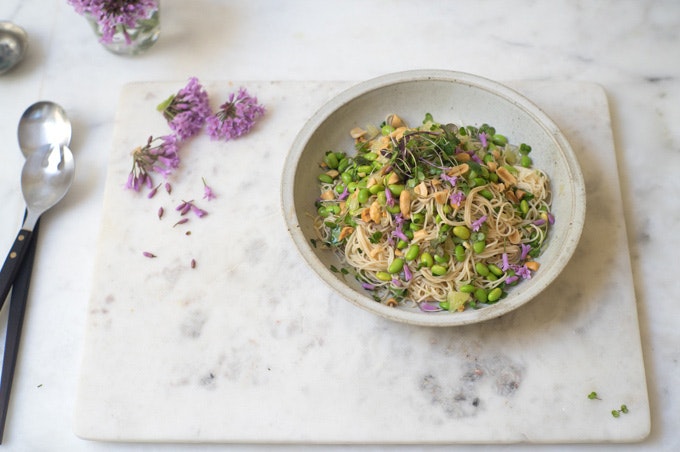 These are the salad recipes to turn to when you need something that can travel. The kinds of salads that can handle a picnic or potluck.
Tempeh Taco Salad
All the things you love about a taco, in salad form. Tempeh taco salad – crushed tortilla chips bring the crunch, black beans and crumbled tempeh coated with taco seasoning brings the substance, and a strong, smoked paprika-apple cider dressing pulls everything together.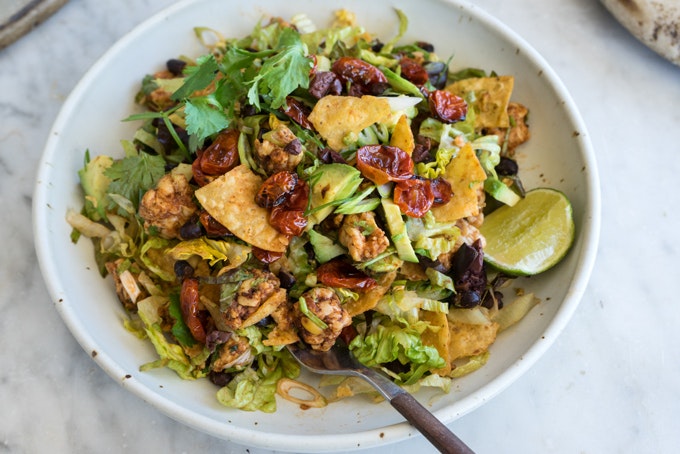 California Barley Bowl
I made this Megan Gordon's beautiful California Barley Bowl for a family brunch last week. From her inspiring new cookbook, Whole Grain Mornings.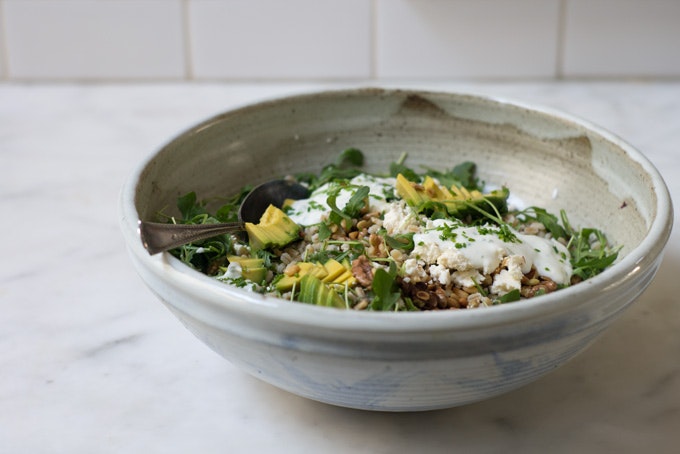 Mung Yoga Bowl
The kind of bowl that keeps you strong – herb-packed yogurt dolloped over a hearty bowl of mung beans and quinoa, finished with toasted nuts and a simple paprika oil.
Garlic Lime Lettuce Wraps
Not a salad per se, but a lot of my favorite salad components at play here. Ginger and garlic tempeh rice, folded into lime-spiked lettuce wraps with lots of herbs, cucumber, and carrots.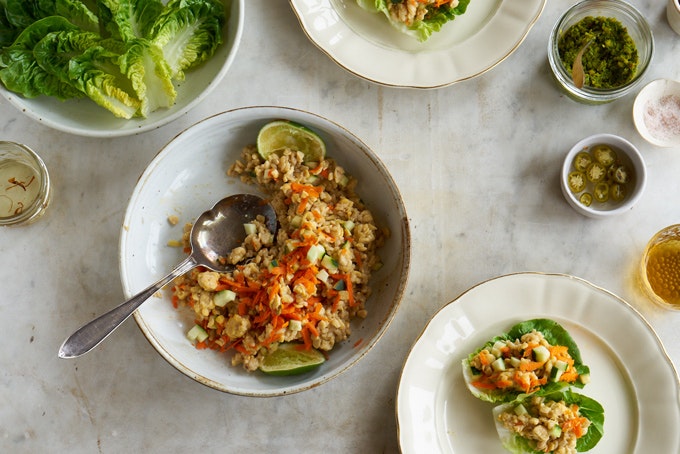 Herbal Rice Salad with Peanuts
An herb-packed rice salad recipe with peanuts, toasted coconut, and a strong boost of fresh lime.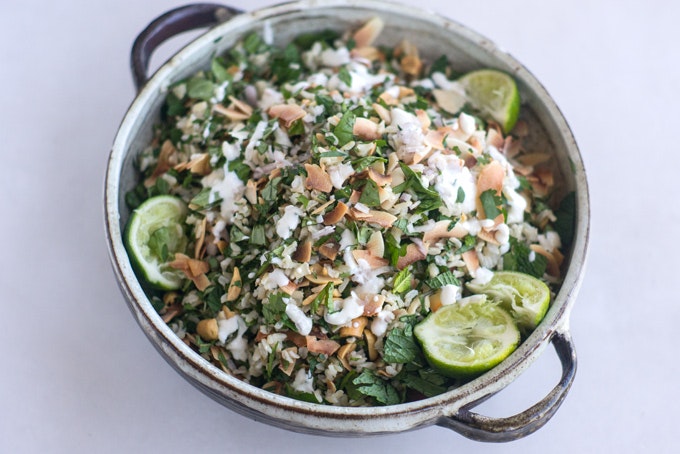 Carrot, Dill & White Bean Salad
Warm, coin-shaped slices of pan-fried carrots, white alubia beans, and chopped dill tossed with a tangy-sweet lemon shallot dressing.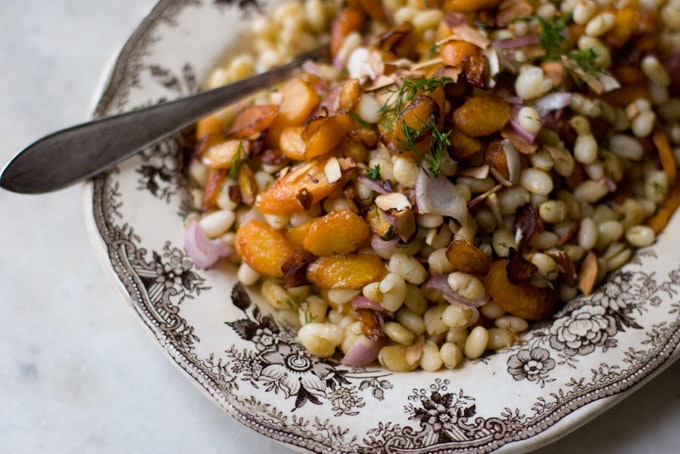 Bar Tartine Cauliflower Salad
A beautiful cauliflower salad from the new Bar Tartine cookbook – a crunchy, hearty mixture of cauliflower, seeds, chiles, radishes, chickpeas, and green onions slathered in an enveloping garlicky yogurt dressing.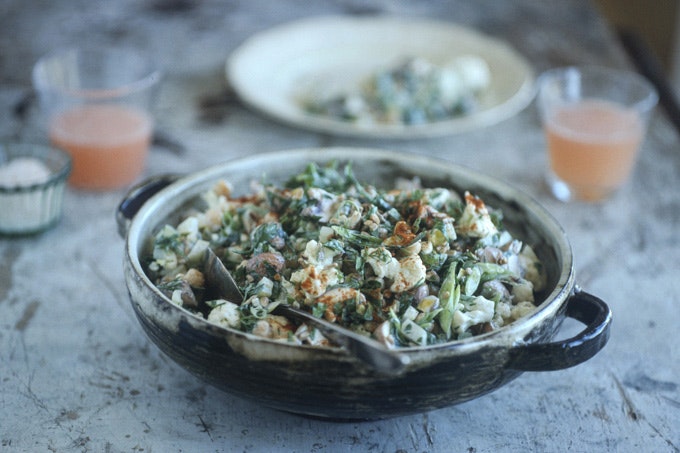 Rainbow Cauliflower Rice Bowl
Lightly cooked cauliflower is chopped, then tossed, with turmeric, cumin, cayenne, and a touch of ghee. Then you add sliced avocado, hard-boiled eggs, toasted seeds, rainbow chard stems, lettuces. It's beautiful and delicious.
Last Minute Everything Bagel Noodle Bowl
A perfect one-pot meal. Noodles, tofu, and broccoli boiled in one pot, drained, tossed with splashes of olive oil and ponzu, plus a generous showering of everything bagel seasoning to finish it all off.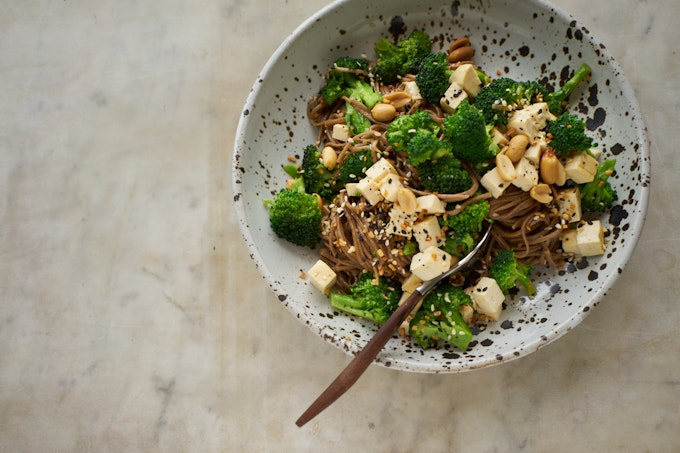 An Exceptional Salad with an Unusual Coconut Oil Dressing
Coconut oil dressing was just one of the brilliant ideas that jumped out at me from the pages of Julia Sherman's new Salad For President cookbook. You can also make a spinach salad version of this gem.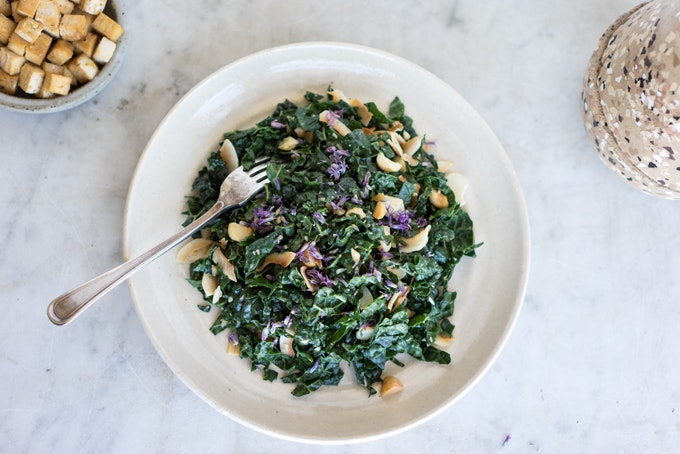 A Maximalist Potato Salad
Tender potatoes are loaded with chiles, chopped herbs, garlic & whatever bright, fresh vegetables you have on hand.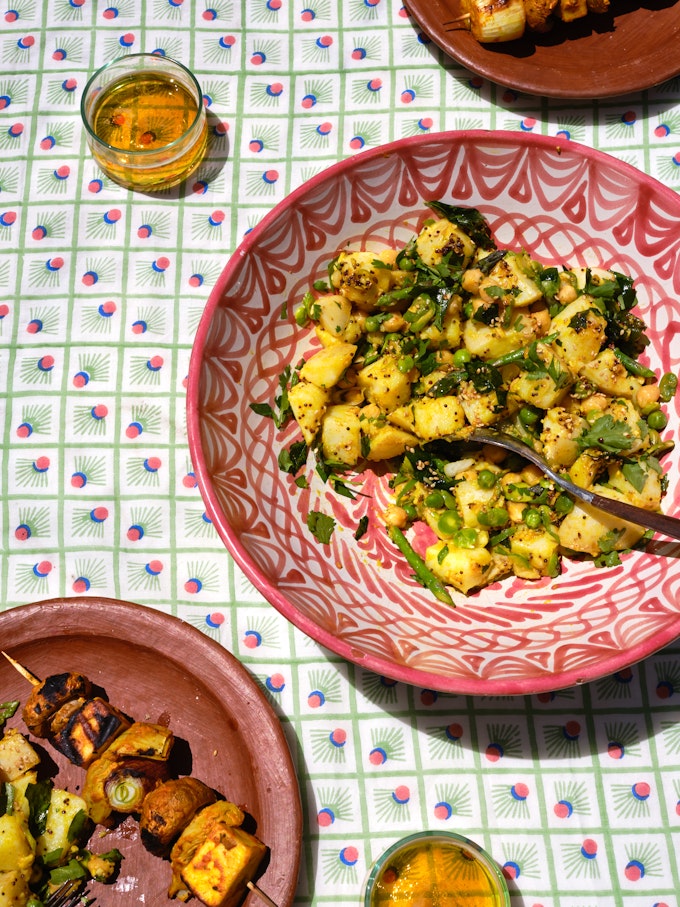 Spring Roll Salad
Imagine a spring roll without the wrapper and you've got this salad. A familiar chorus of flavors – sweet, sour, tangy, hot, and nutty all projected onto a mound of serpentine rice noodles and seasonal vegetables with a peanut dressing and lime splash.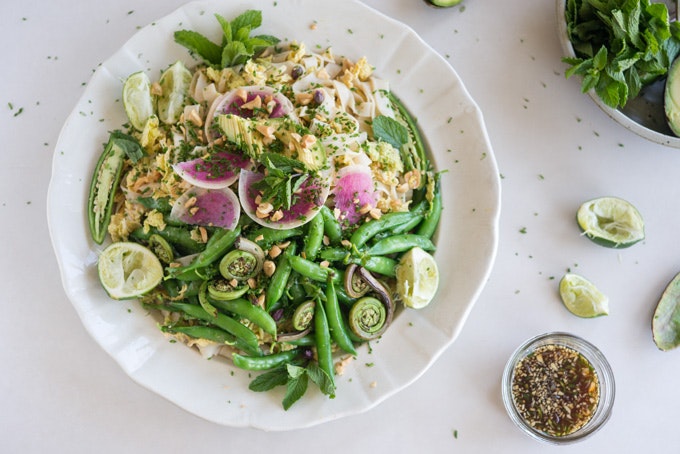 Lazy Day Peanut Noodle Salad
A peanut noodle salad recipe featuring soba noodles punctuated with spring onions, tofu, peanuts, and asparagus.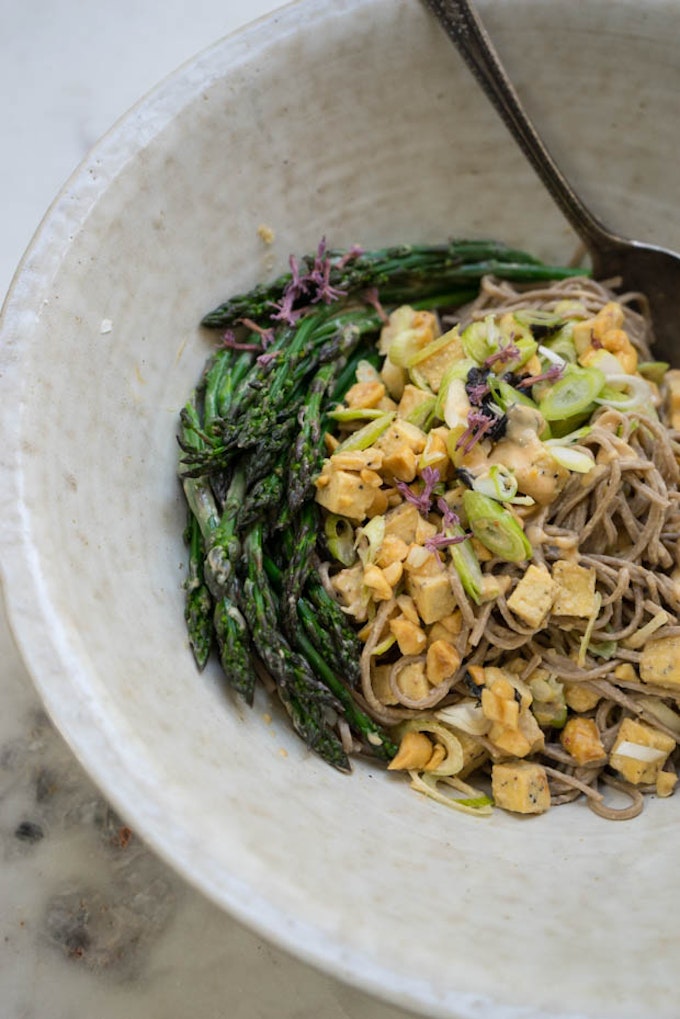 Asparagus Panzanella
A simple asparagus panzanella – a quick, mustard buttermilk dressing accents good asparagus, alongside crusty shards of toasted bread, and a dusting of sesame seeds. Shred a hard boiled egg over the top for a more substantial meal.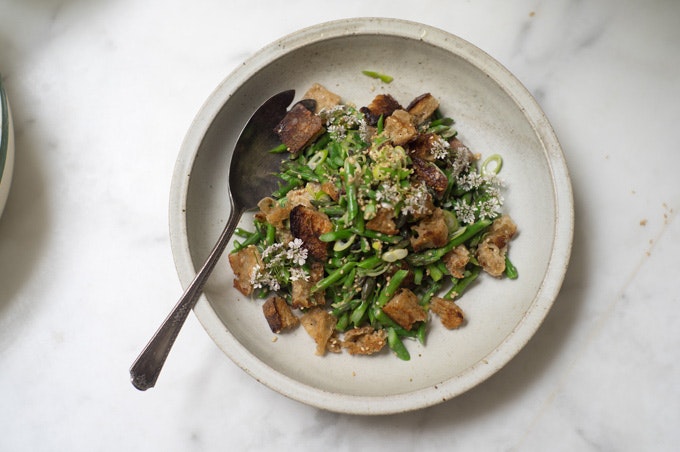 Cocagne Bean & Artichoke Salad
The bean & artichoke salad I made to take to Easter this year – pickled celery, chopped kalamata olives and toasted walnuts, along with tender artichokes, and lots of the white cocagne beans I picked up at my neighborhood farmer's market.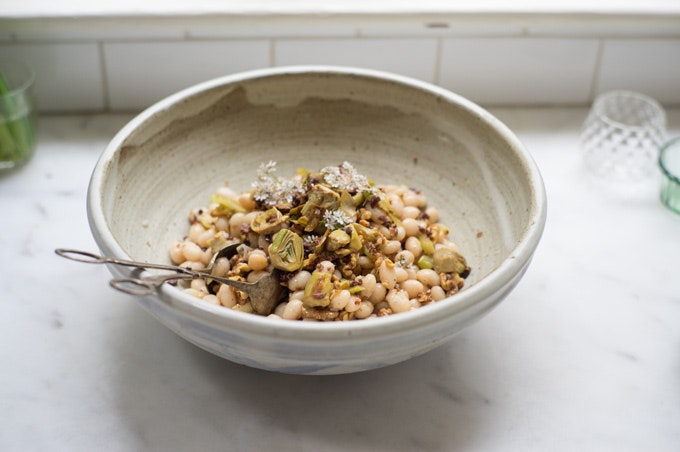 Ayocote Bean & Mushroom Salad
A wintery bean salad made with gorgeous Rancho Gordo ayocote negro beans, and pan-fried hedgehog mushrooms.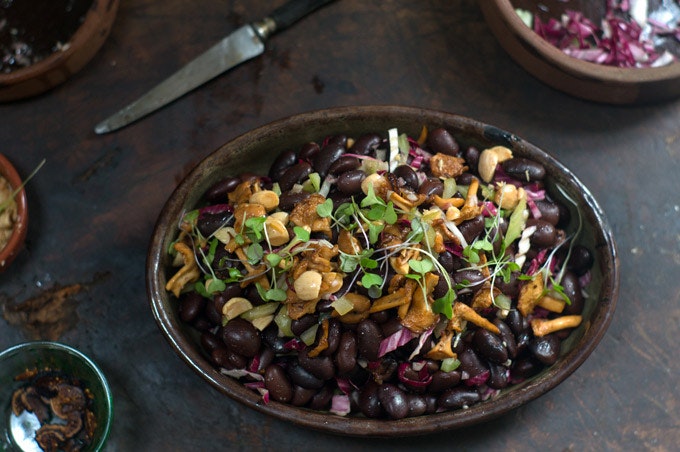 Coconut Quinoa Bowl
A quirky, unique bowl of quinoa, with a couple of secrets. And the next time you have leftover quinoa (other other favorite grain) give it a try – coconut, garlic, almonds, kale, topped with salted yogurt and avocado.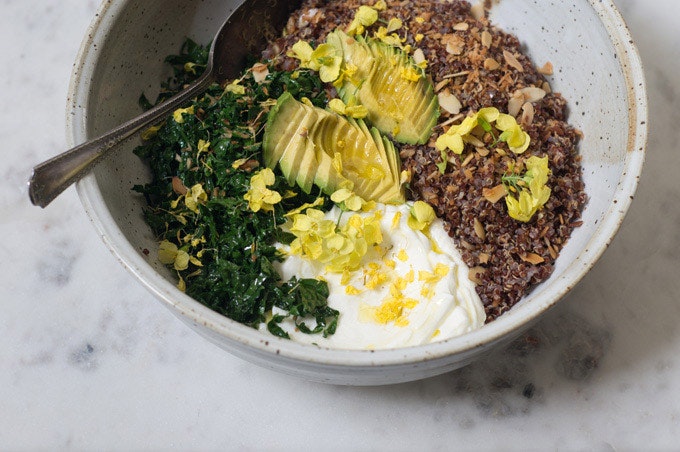 Zucchini Agrodolce
A pretty, summer-centric zucchini agrodolce – shredded zucchini doused with a garlic infused agrodolce splash of vinegar, honey, and olive oil, tossed with toasted coconut and walnuts for crunch, red onion for bite and assertiveness, a couple of chopped dates, and tiny greens or herbs threaded about.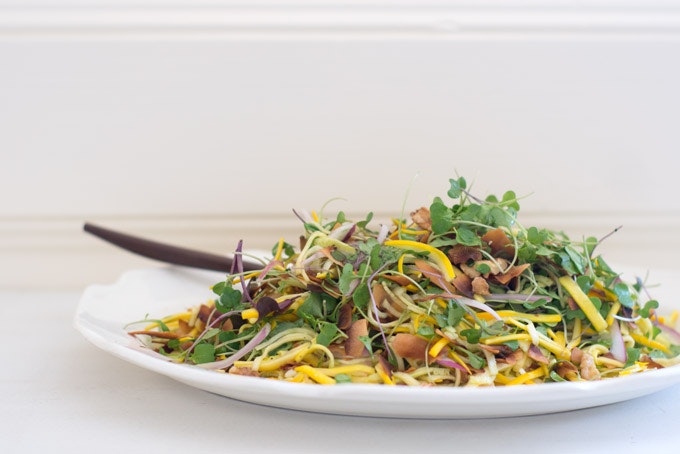 Blue Kale Studio Salad
A vibrant spring salad – butter lettuce, saffron almonds, blue kale micro greens.
Shredded Egg Salad
Shredding hard-boiled eggs on a box grater makes a light, fluffy, bright egg salad, and I must say, a nice alternative to chopped, heavily dressed versions of the classic.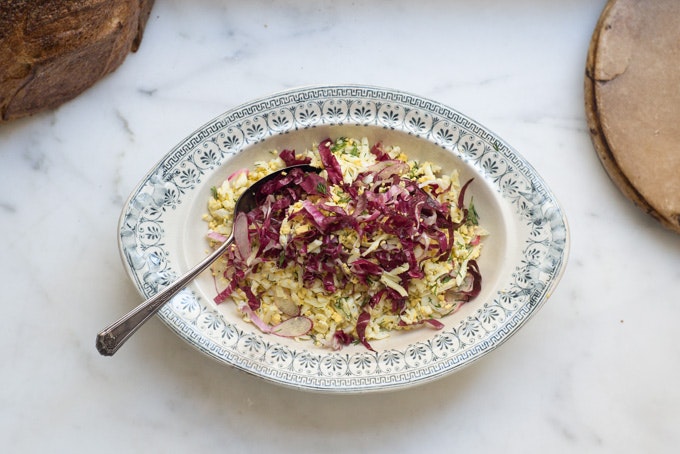 A Good Winter Salad
A simple salad made with crunchy lettuces, a garlicky, melted lemon butter dressing, and shaved endives, delicata squash, avocados, and pepitas. Tastes so good!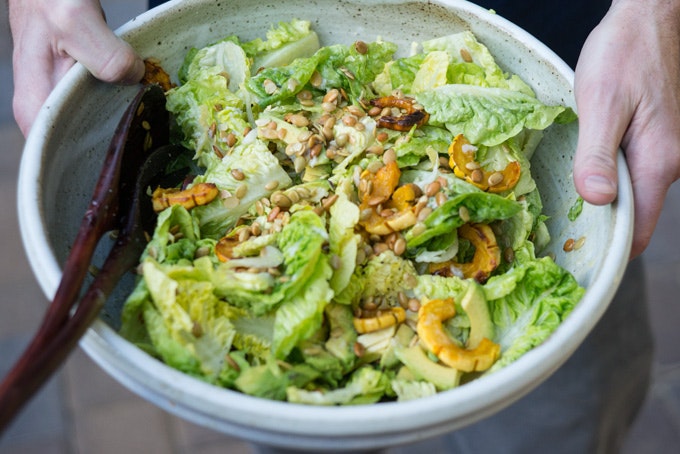 Avocado Salad
Thinly sliced avocado arranged over simple lentils, drizzled with oregano oil, toasted hazelnuts, and chives.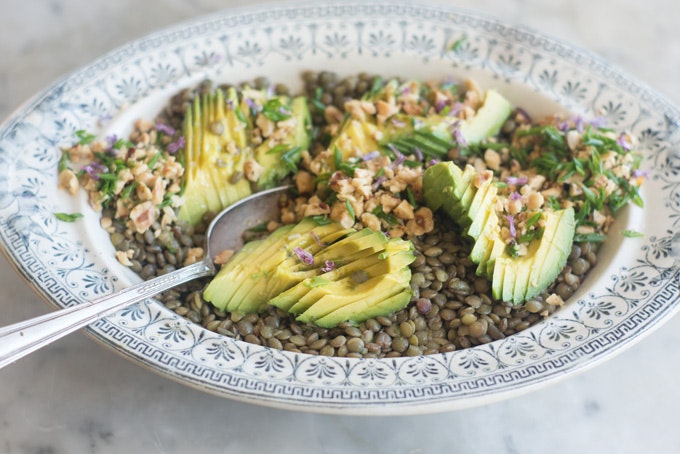 Cilantro Salad
Simply cilantro leaves and stems tossed with a simple shallot-forward soy sauce dressing, plus peanuts, and asparagus. If you're at all a cilantro fan, you have to try this.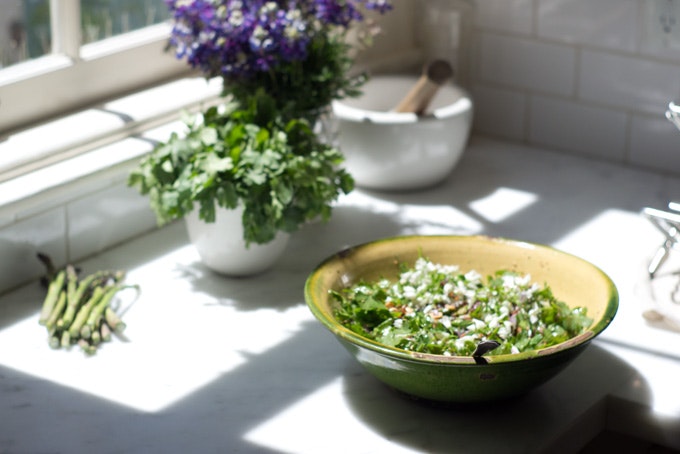 Buttermilk Asparagus Salad
Simple side – asparagus tossed with a garlicky buttermilk dressing, perky radish sprouts, lots of fresh cilantro, and a handful of cooked posole.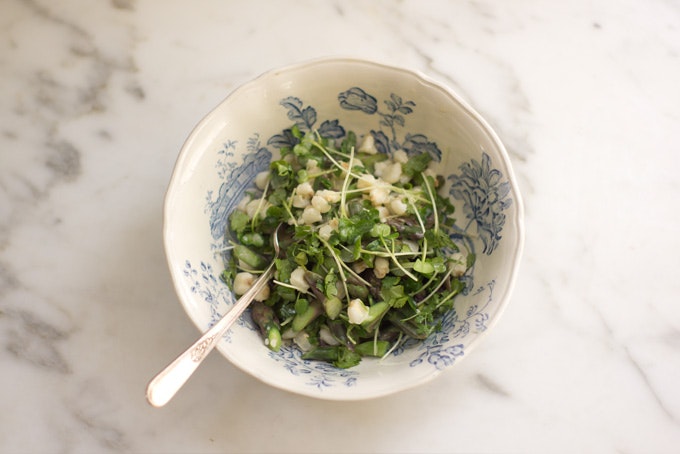 Moroccan Carrot and Chickpea Salad
A beauty of a carrot salad – tricked out with chickpeas, chunks of dried pluots, sliced almonds, and a toasted cumin dressing.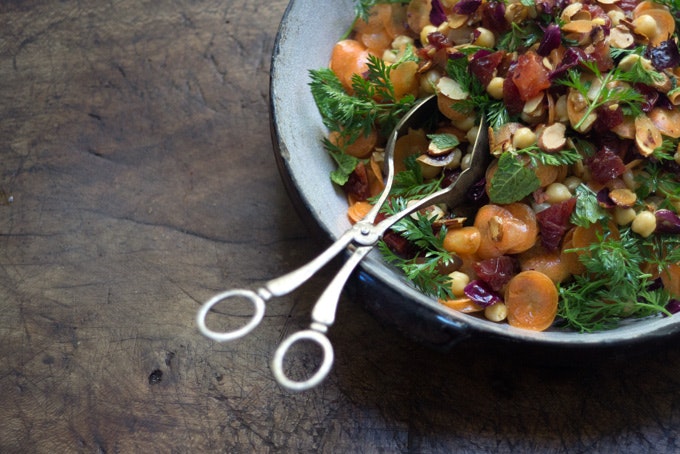 An Exceptional Ginger Carrot Dressing
Blender dressings are great, in part, because they're fast. Everything into one container, puree, and you're set. This one is great – carrots, turmeric, coconut milk, shallot, and ginger come together into a dressing perfect for everything from green salads to grain salads.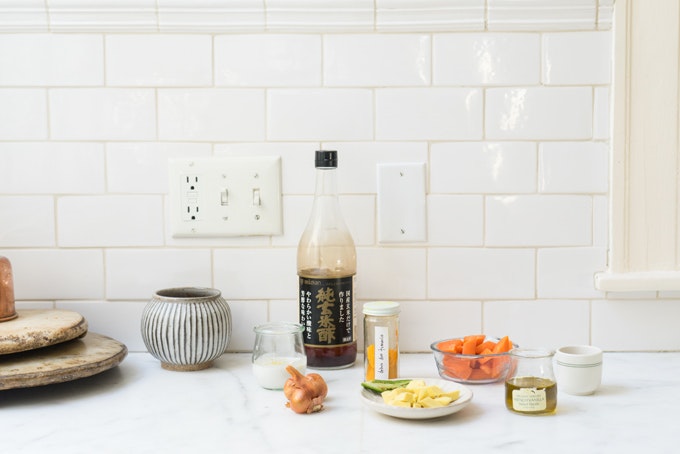 Five Minute Avocado Dressing with Herbs and Spinach
If you love a good avocado dressing, you've got to give this one a try. It is fragrant with fresh herbs, seasoned with miso, and boosted with spinach.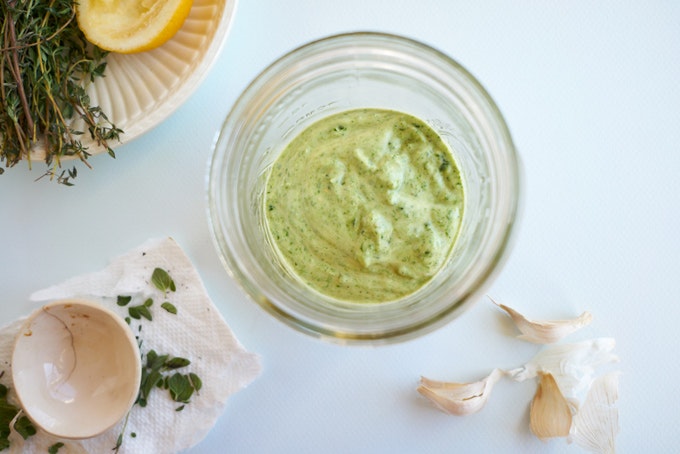 Salad Booster
I often carry a small vial of this spiced kale and nori medley in my purse, refilling it every few days. Nutrient-dense and delicious, you use it as a healthful seasoning for salad, vegetables, stir-fries…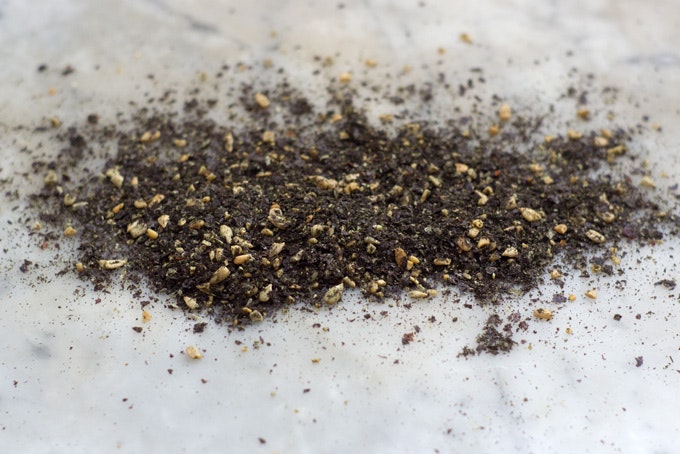 Seven Great Blender Dressings to Keep on Hand
Use these dressings on salads, grain bowls, inside spring rolls, spread on sandwiches, and spooned onto tacos.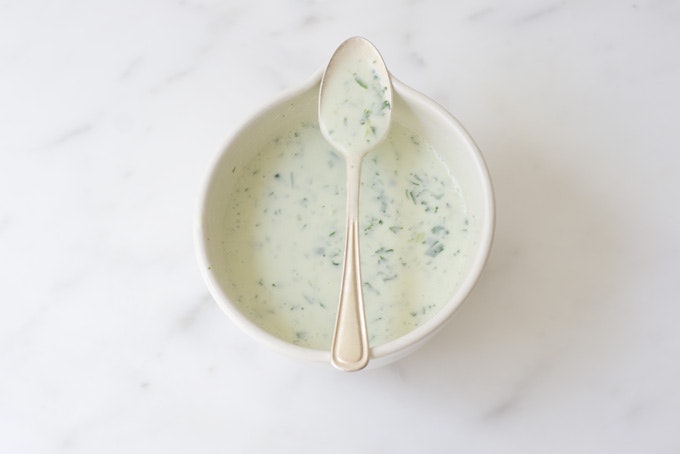 Shallot Vinaigrette
A shallot vinaigrette made with rosé wine in place of vinegar.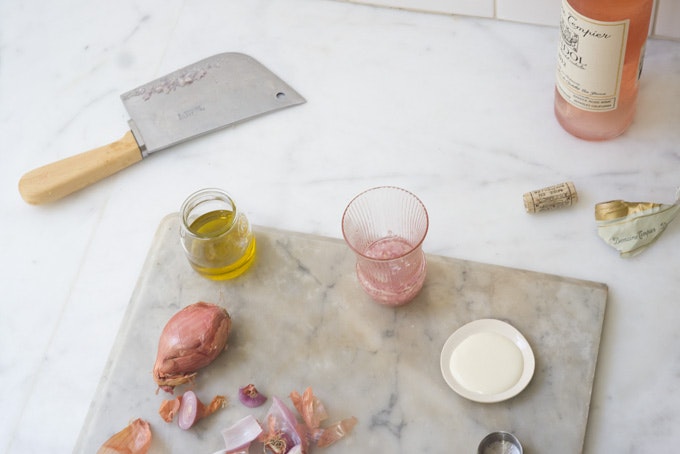 Enjoy the salad recipes! I hope there are a few here that make their way to your table through the year. I have a special fondness for the Spicy Rainbow Chop Salad. And this Cilantro Salad shifted how I think of cilantro. And this is the best bean salad with a tangy-sweet lemonade-ish dressing. Don't miss the favorite salad dressings that are listed at the bottom as well, and give the wedge salad below a go with any of them in place of the spicy ranch!