Have your fill of these 25 Healthy Thanksgiving Recipes that are just as good for you as they are delicious! You'll love these easy meal ideas, from the Thanksgiving turkey itself to tasty holiday side dishes, appetizers, and desserts made healthier with wholesome ingredients.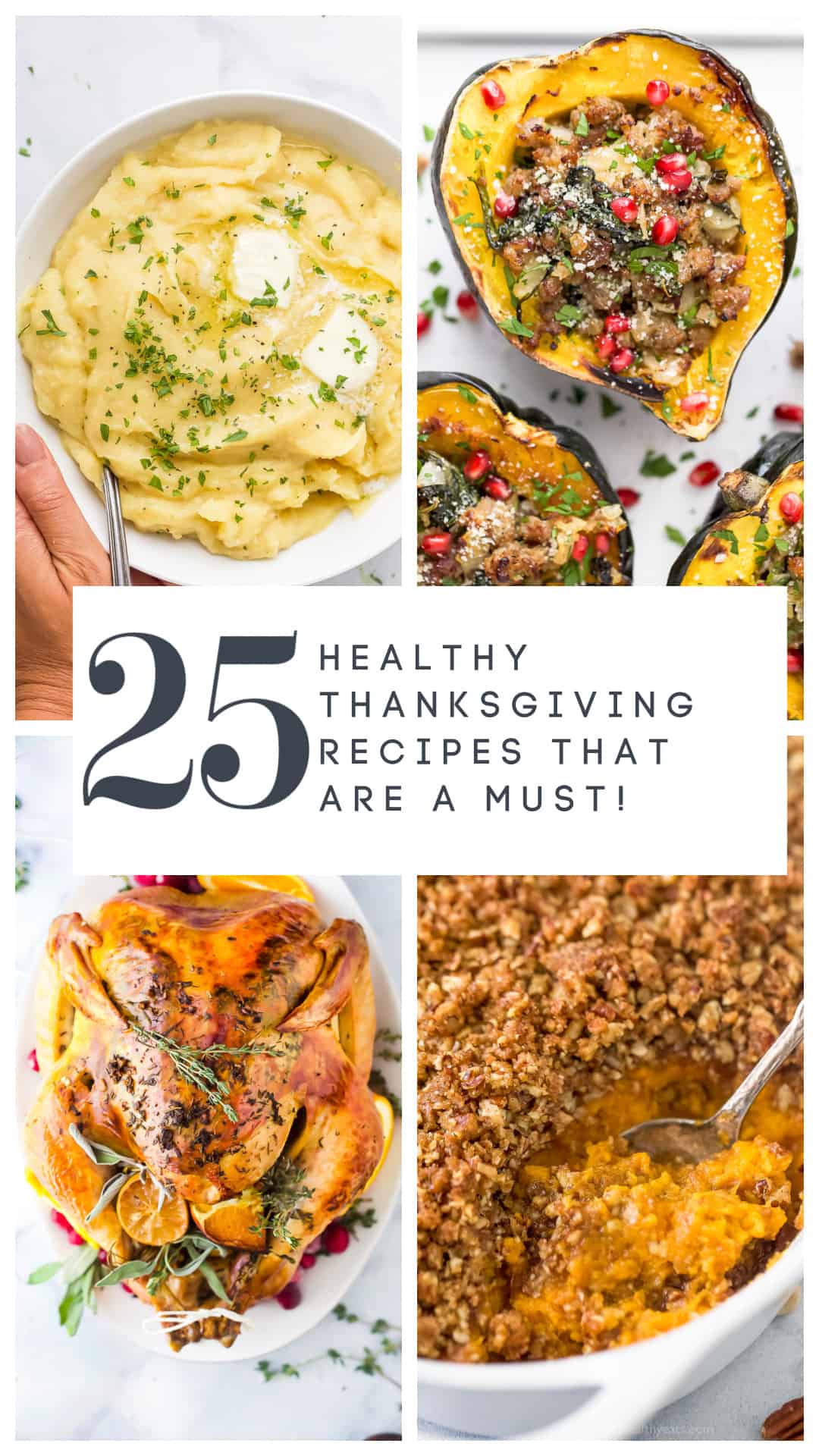 Easy and Good-For-You Thanksgiving Recipes
Thanksgiving is nearly upon us! I think it's safe to say, Thanksgiving is basically my Super Bowl. There are turkeys to buy, menus to plan, holiday appetizers to prep, and desserts to bake.
Amidst all the feast planning and fall baking, it's easy to be swept up in the indulgence of it all. This is why I'm sharing some of the healthy Thanksgiving recipes that I'm bringing to the table this year.
From Thanksgiving turkey recipes to side dishes, to easy appetizers and fall desserts, these recipes are just as perfect for indulging – because they're good for you, too!
Why You'll Love These Recipes
So, what makes these some of the best Thanksgiving recipes?
Lighter, healthier ingredients. With a few minor swaps, add-ins, and substitutions, many of our Thanksgiving favorites are even more nutritious! That's the goal of these health-conscious recipes.
Friendly for different diets. Many of the recipes below are perfect if you're catering to gluten-free or dairy-free diets this year.
Easy, tasty cooking. These Thanksgiving recipes don't sacrifice flavor in the name of fewer carbs and calories. You'll be just as full and satisfied with these healthier recipes, I promise!
25 Healthy Ideas to Try
Below I've rounded up a bunch of my best, healthy Thanksgiving meal ideas. These holiday recipes are lightened-up favorites, from side dishes to easy appetizers and cocktails (and more!), made with fresh and wholesome ingredients.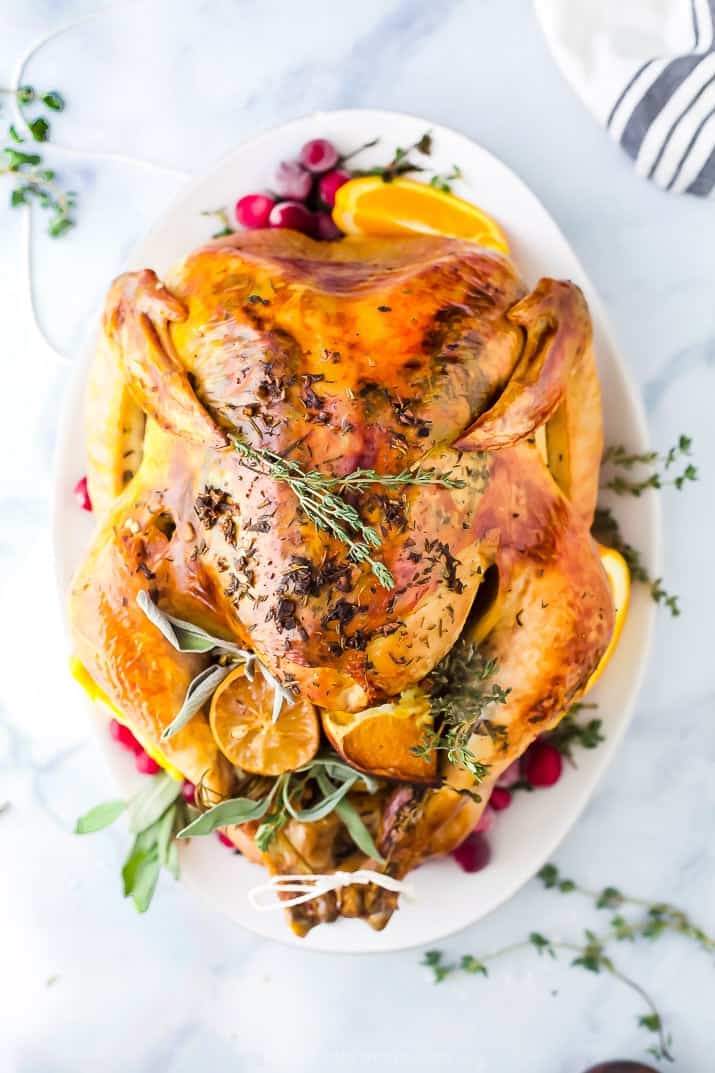 Easy, No-Fuss Thanksgiving Turkey Recipe
There's no need to brine this turkey! This is the best and juiciest low-maintenance Thanksgiving bird you'll ever carve. Slathered in garlicky herb butter, this easy turkey recipe browns up to super savory perfection.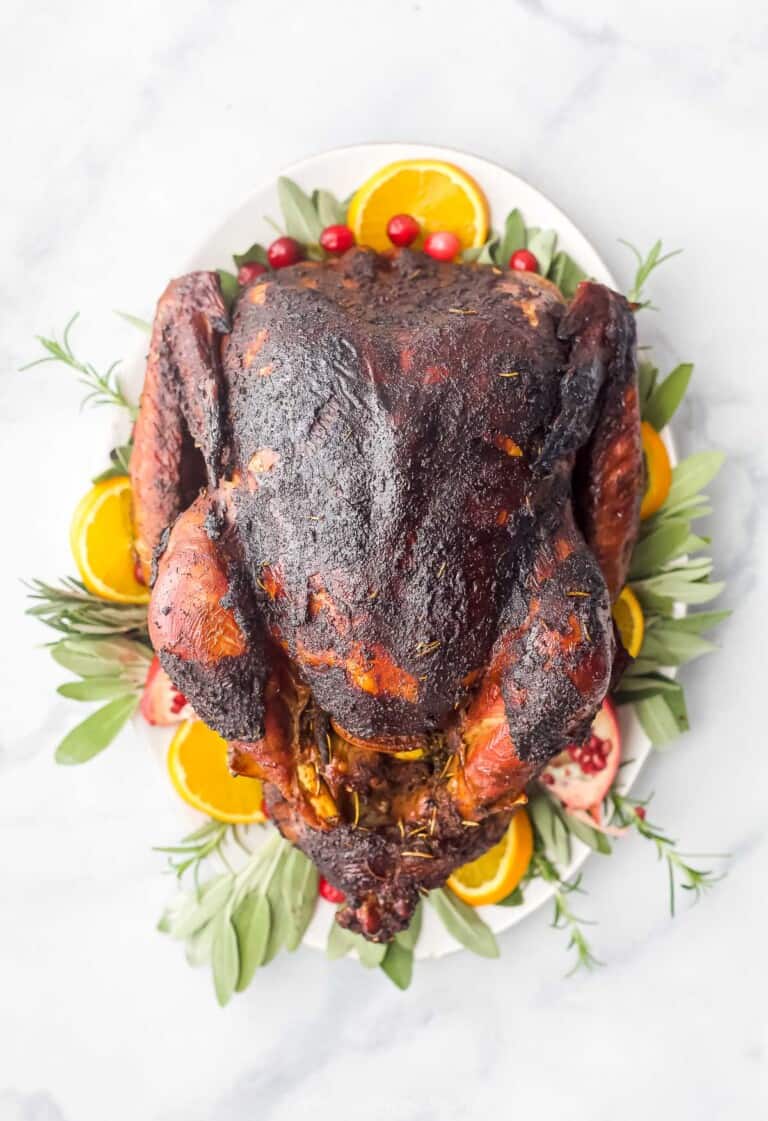 Epic Maple Smoked Turkey Recipe
Fire up your smoker for the most epic Thanksgiving turkey ever! This is a beginner-friendly, healthy smoked turkey recipe that sees a whole turkey covered in a sweet n' spicy maple rub and packed full of citrus before smoking.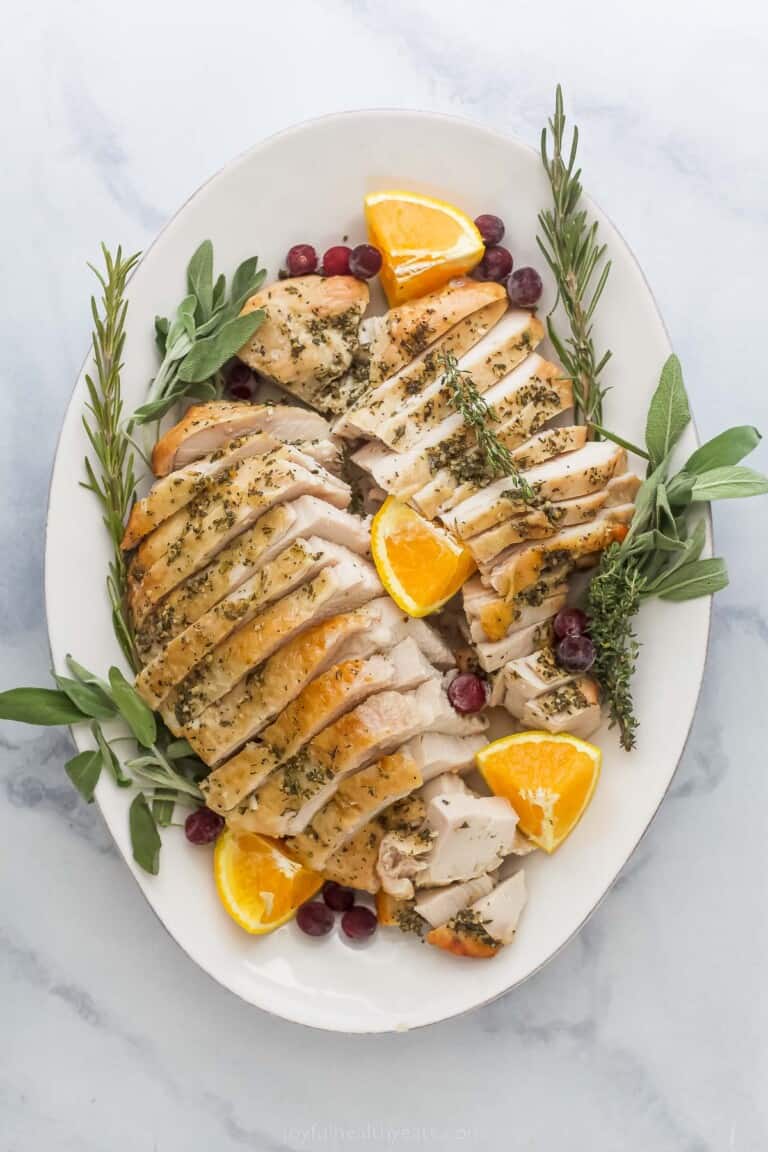 Garlic Herb Oven Roasted Turkey Breast
Want to enjoy Thanksgiving turkey without cooking an entire bird? This oven roasted turkey breast recipe is an easy way to get that! Cook tender, juicy turkey breasts in your oven, then serve with a simple herb compound butter + your favorite Thanksgiving side dishes.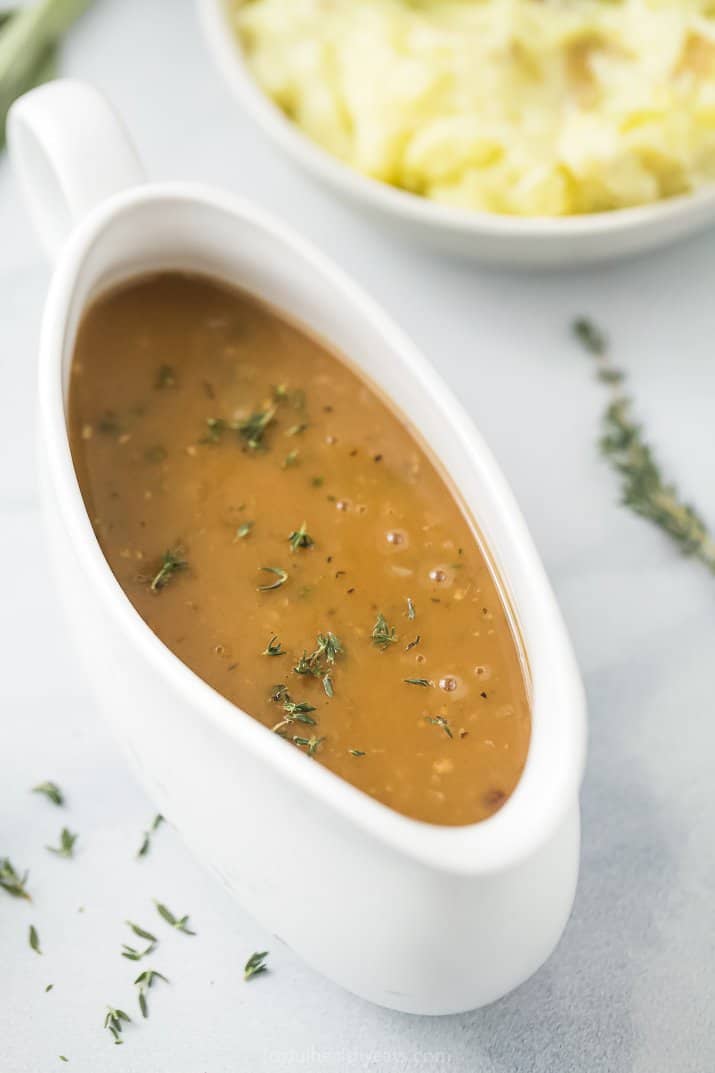 Turkey Gravy Recipe Without Drippings
Enjoy smooth and savory homemade turkey gravy that's full of flavor, minus the drippings! This easy brown gravy recipe is ready in just 15 minutes, but you can also make it ahead to save time on the big day.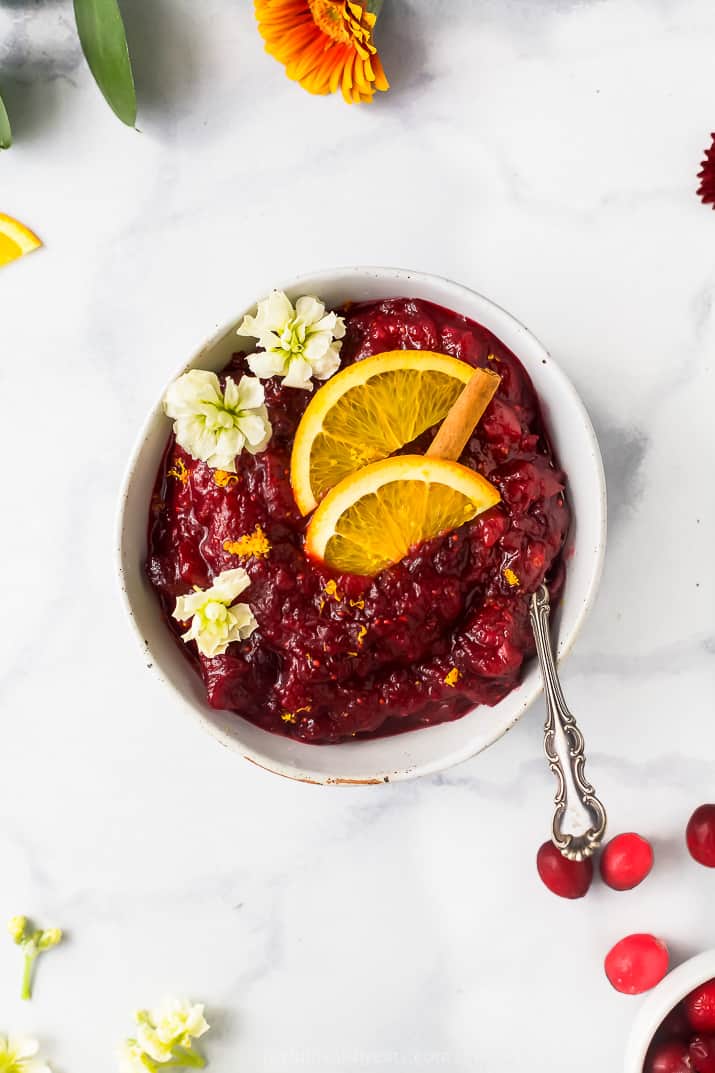 Homemade Maple Cranberry Sauce
Just six ingredients are all you need to make the very best homemade cranberry sauce, without the bucketload of sugar! This healthy cranberry sauce recipe is naturally sweetened with maple syrup, bursting with zesty orange flavor and a hint of toasty cinnamon.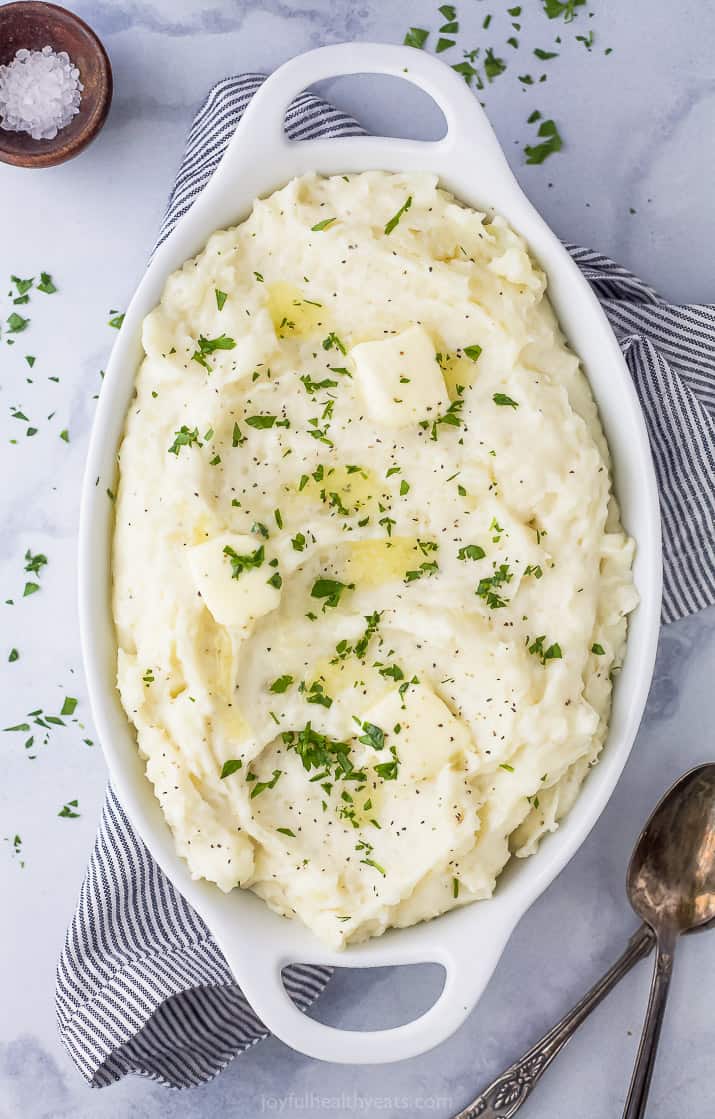 The Best Creamy Mashed Potatoes
These are quite possibly the easiest homemade mashed potatoes that are SO delicious and creamy. My garlic mashed potatoes are ready in just 30 minutes and are always a huge hit at the holidays.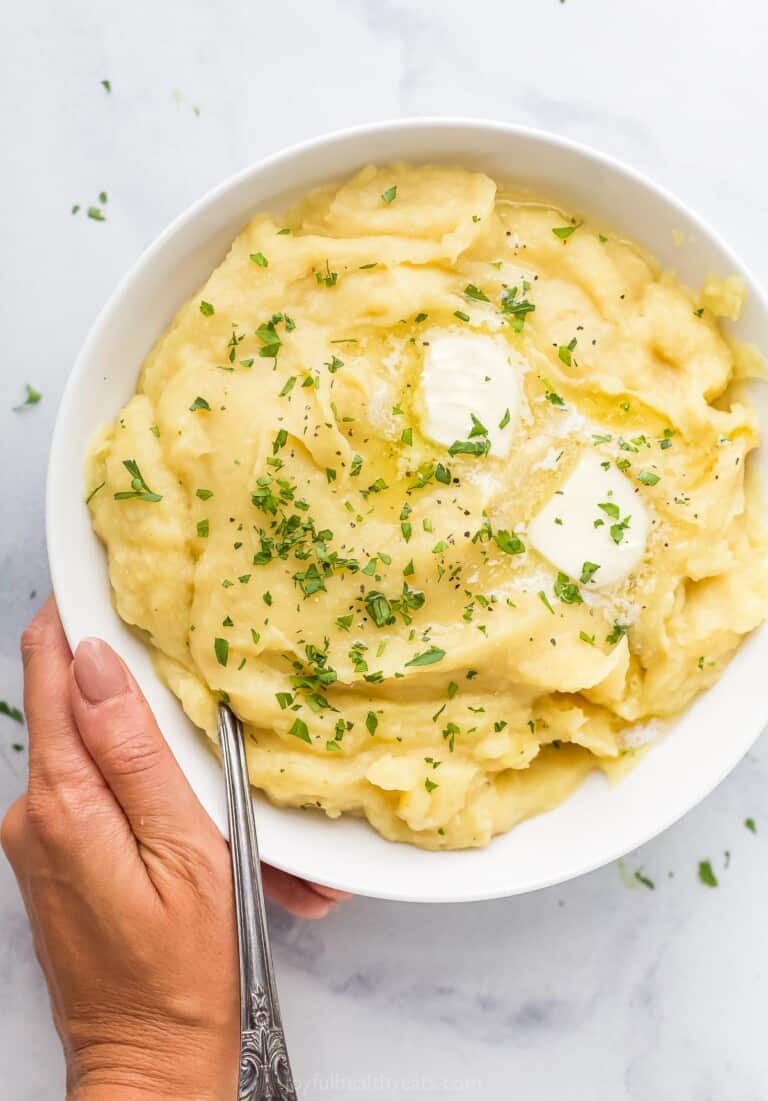 Creamy Parsnip Puree Recipe
Allow me to introduce one of my favorite vegetable side dishes: creamy and garlicky parsnip puree! If you're after a Thanksgiving side that's ready in a hurry, tastes amazing, and is gluten-free and healthy to boot, these pureed parsnips are a real winner.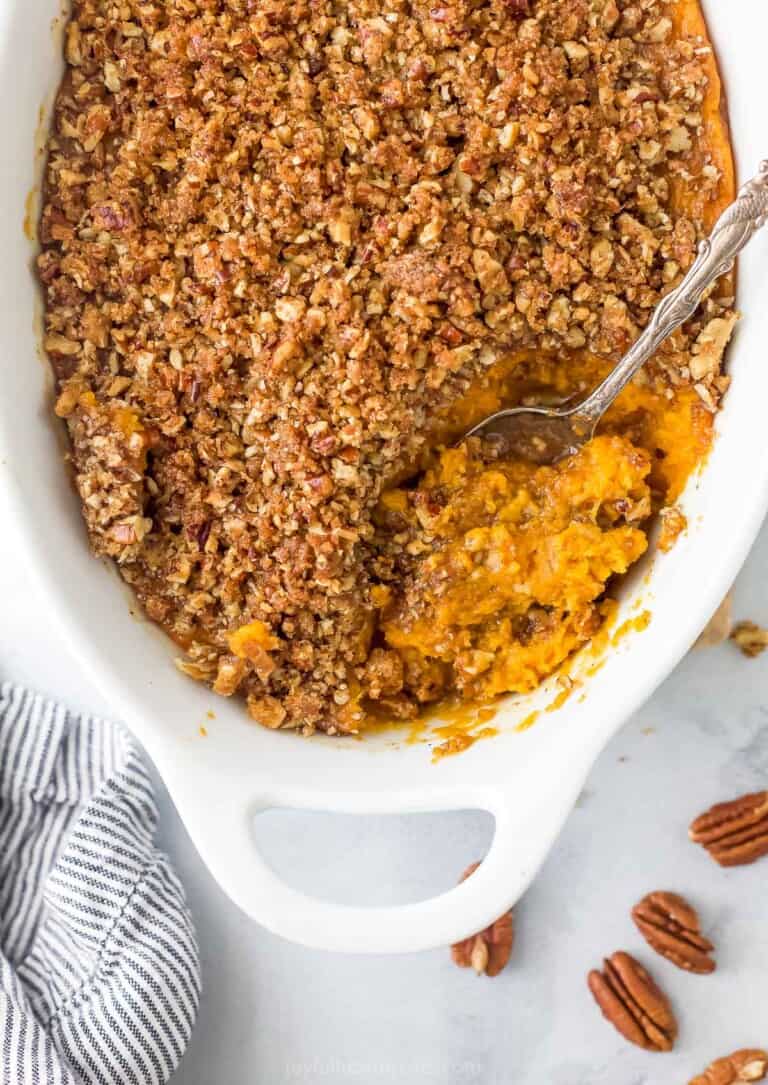 Sweet Potato Casserole with Pecan Streusel
Is any Thanksgiving meal complete without a sweet potato casserole? This one is a classic, made from creamy mashed sweet potatoes topped with crisp pecan streusel for a satisfying crunch in every bite.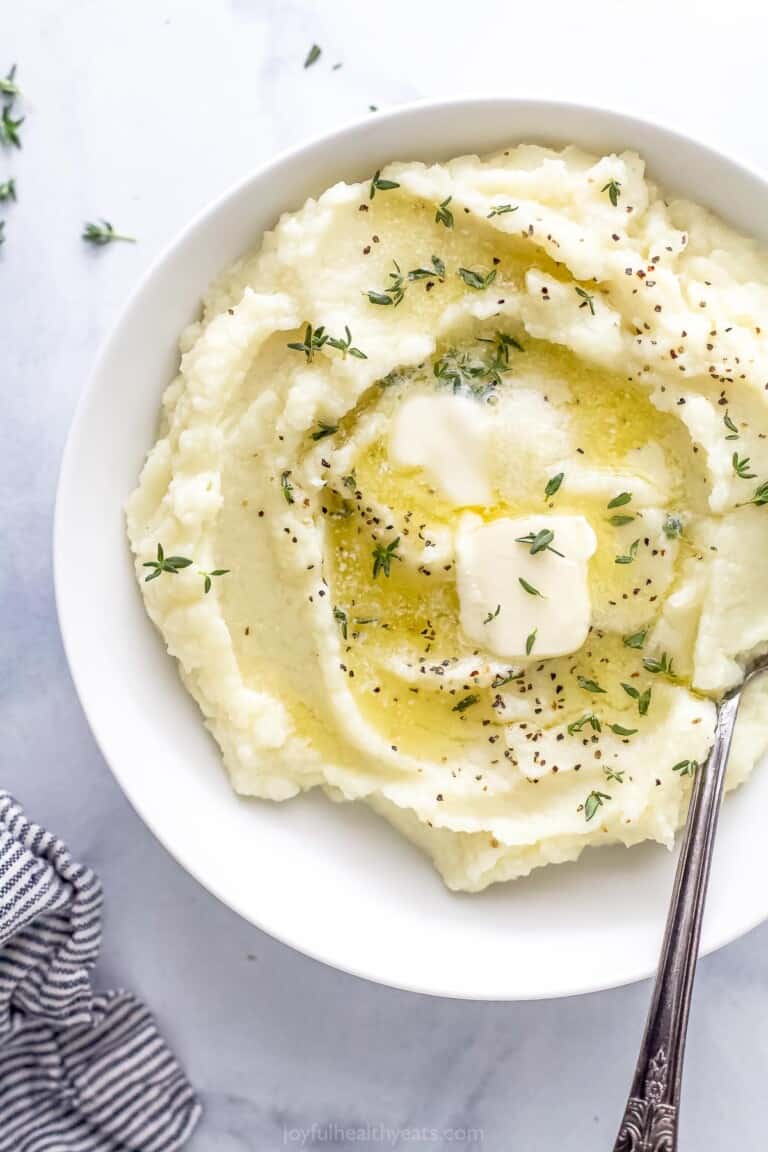 3 Ingredient Mashed Cauliflower
If you're looking for the absolute BEST low-carb alternative to mashed potatoes, try this easy 3-ingredient cauliflower mash! My mashed cauliflower is the ultimate keto side dish that's still loaded with flavor.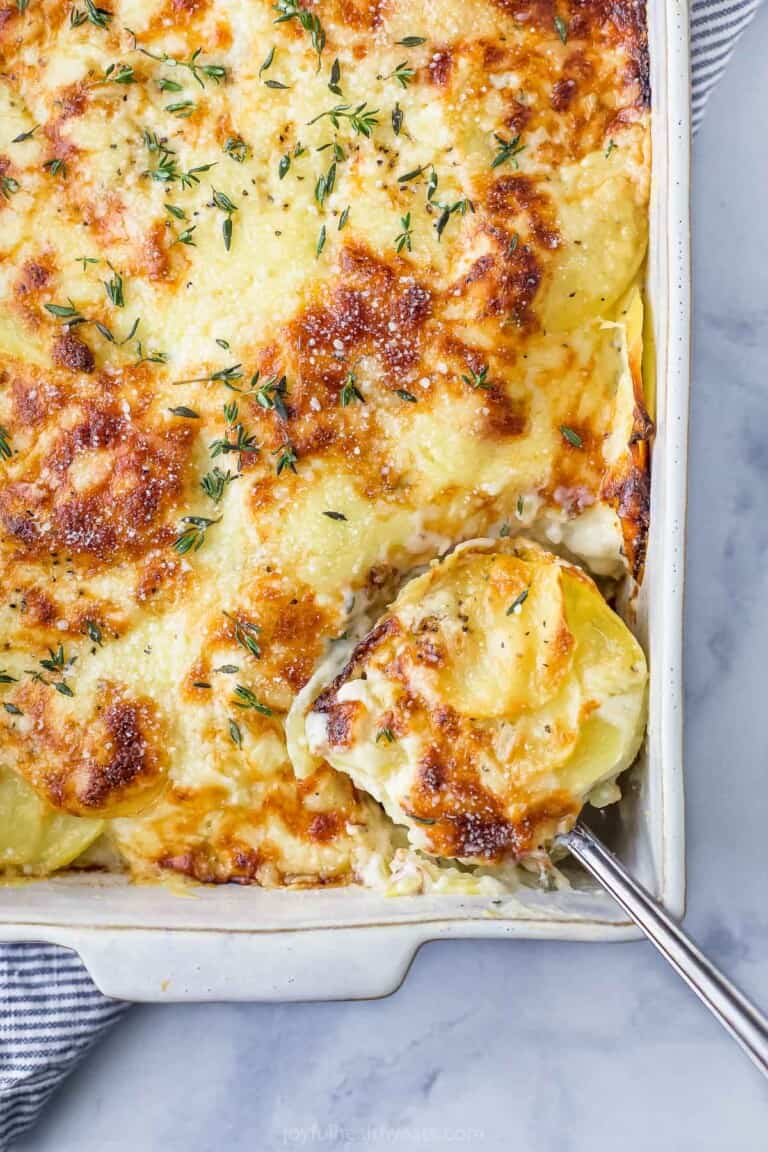 Easy Cheesy Scalloped Potatoes
Enjoy all the cheesy, creamy, saucy deliciousness of classic scalloped potatoes, only healthier! This classic yet lightened-up Thanksgiving potato recipe is hands-down one of our all-time favorites. You'll see why!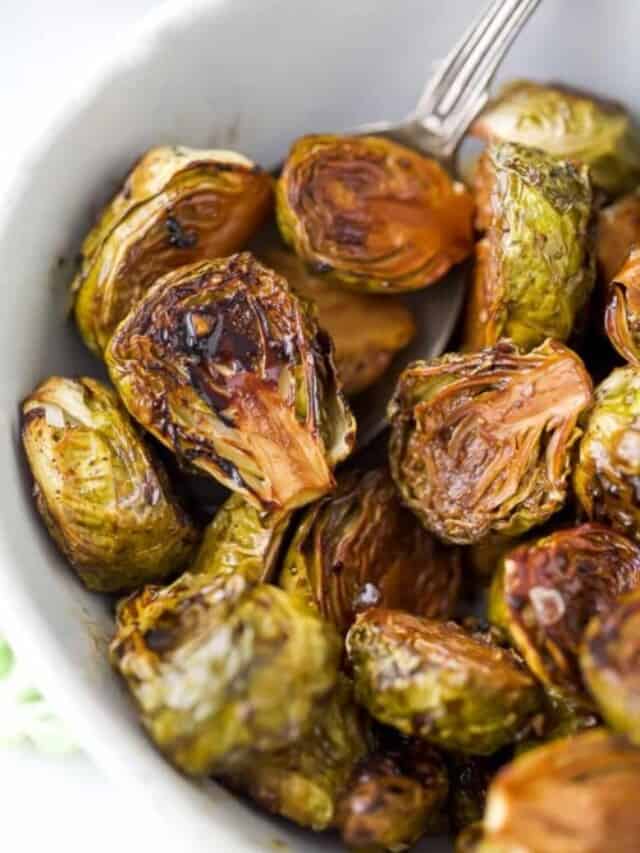 Crispy Oven Roasted Brussels Sprouts Recipe
Hear me out, Brussels sprouts doubters! My crispy balsamic Brussels sprouts are a simple yet flavor-loaded veggie side that roasts up easily and tastes incredible. You'll never want to make them any other way!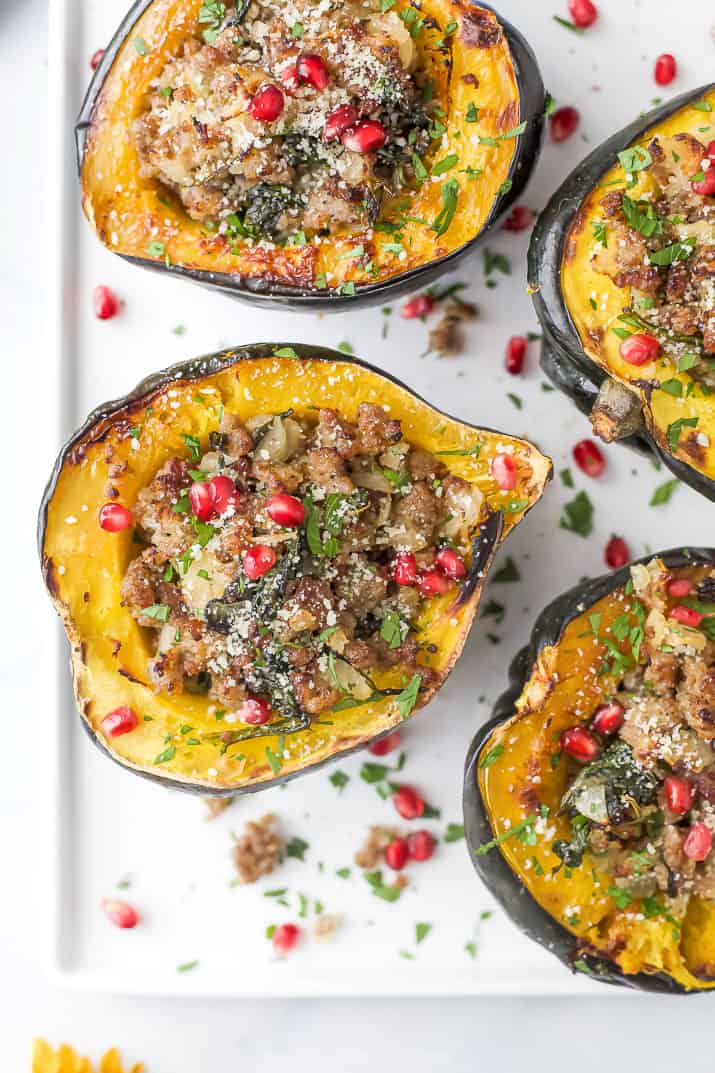 The Best Apple Sausage Stuffed Acorn Squash
A delectable fall side dish idea for roasted acorn squash that's filled with sweet-savory apple and sausage stuffing. Of course, we can't forget the bursts of juicy pomegranate seeds! Trust me, your Thanksgiving menu NEEDS this recipe!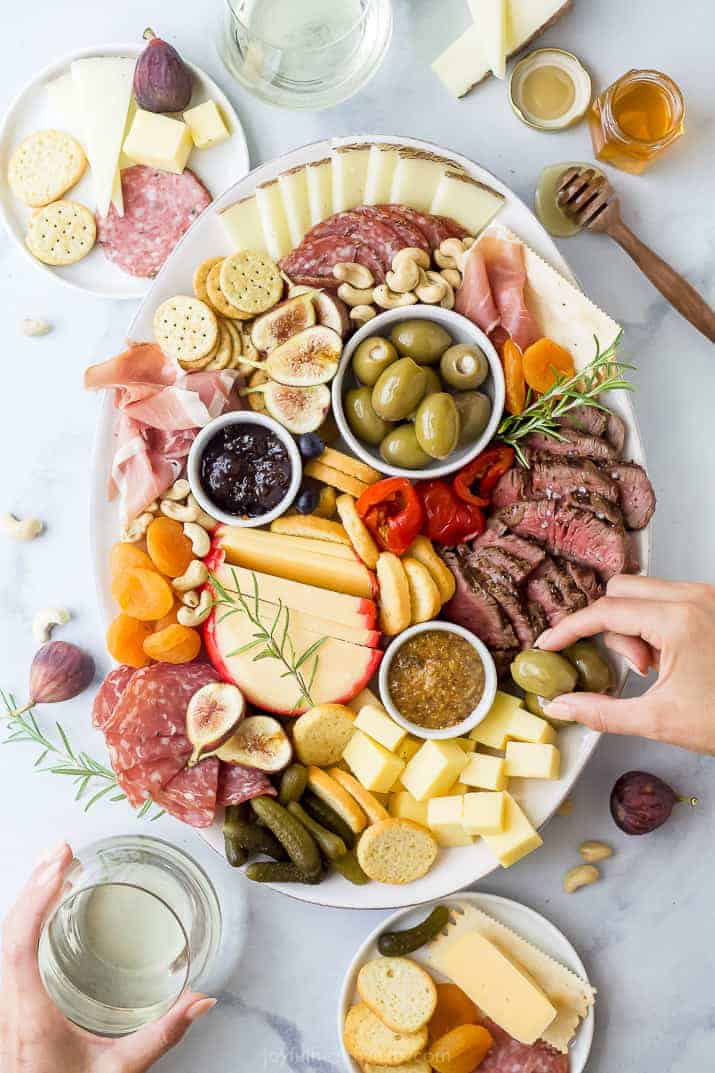 Easy & Gorgeous Charcuterie Board Ideas
Charcuterie boards are such a classy, variety-filled way to welcome guests over the holidays! Check out these easy ideas for the best charcuterie boards, there's honestly something for everyone.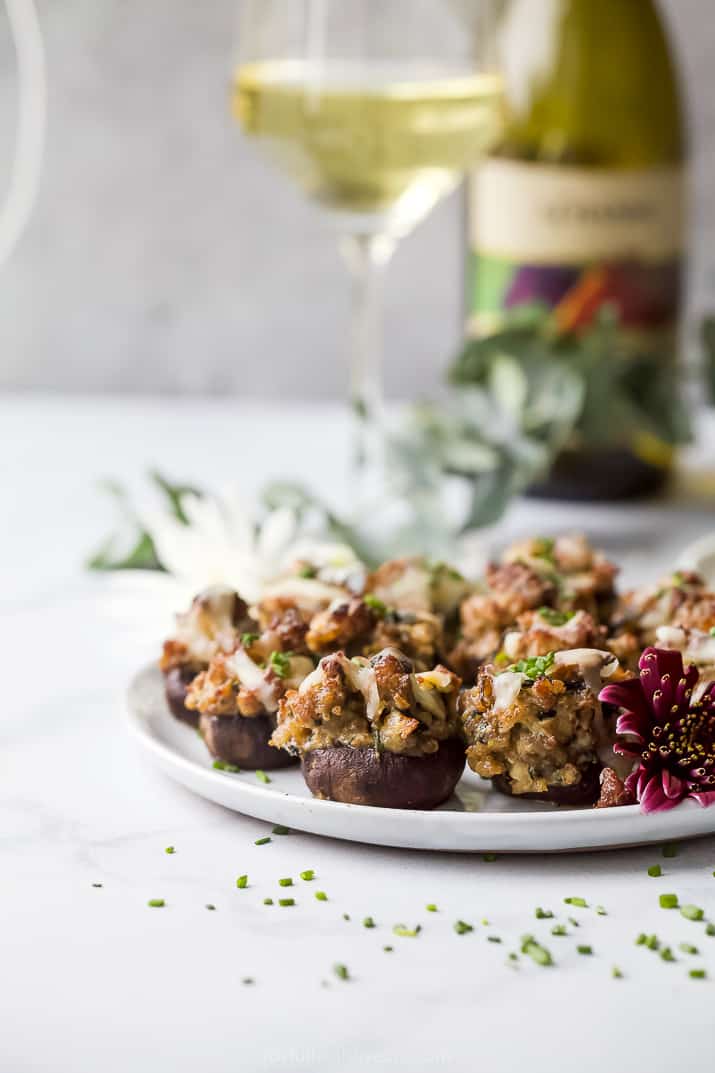 Cheesy Sausage Stuffed Mushrooms
This delicately stuffed mushroom appetizer packs a whole lot of flavor! These bite-sized snacks are made from earthy Bella mushroom caps baked with cream cheese and sausage filling. Savory, cheesy, and so tasty!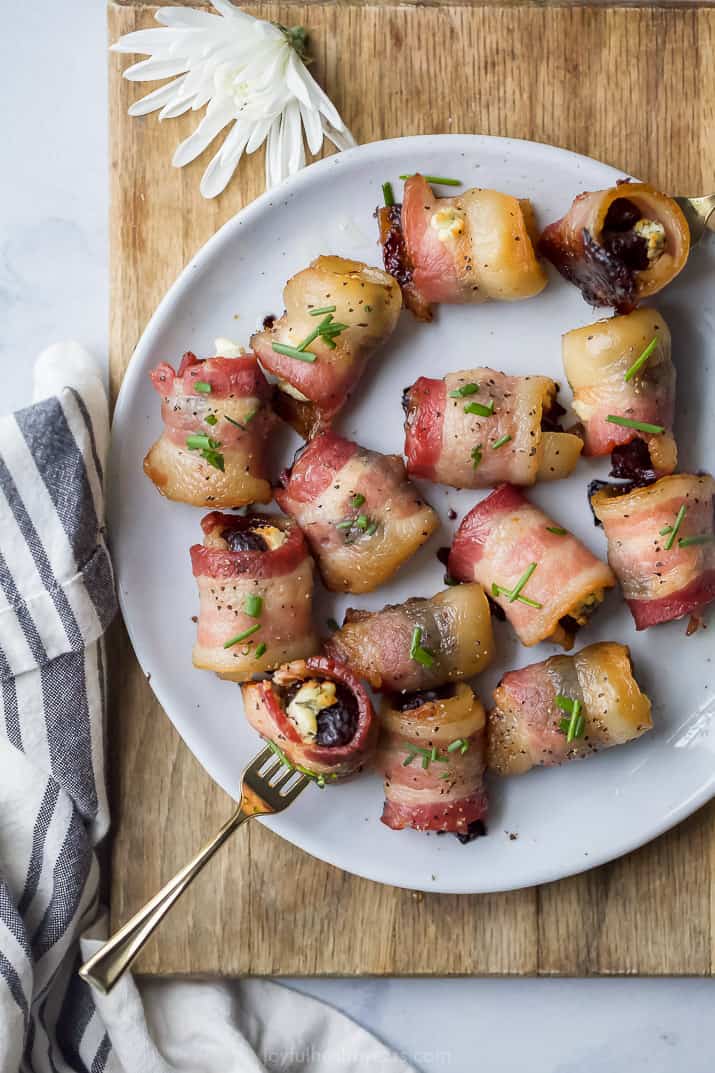 Bacon Wrapped Figs with Herb Goat Cheese
Prepare yourselves for the ultimate sweet and salty treat! These bacon-wrapped figs stuffed with herbed goat cheese make a beautiful yet easy appetizer idea that the whole Thanksgiving crowd will love.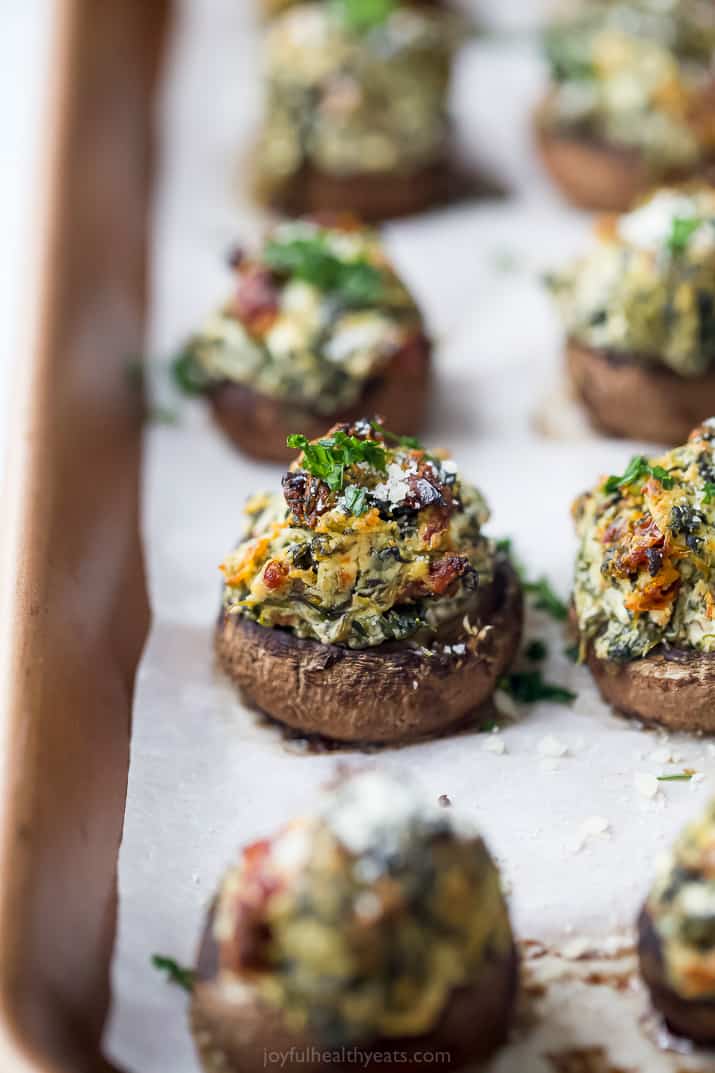 Easy Spinach and Goat Cheese Stuffed Mushrooms
Another mouthwatering stuffed mushrooms recipe, this time with nutritious spinach, zesty sun-dried tomatoes, and tangy goat's cheese! This is a perfect healthy appetizer that's still so full of flavor.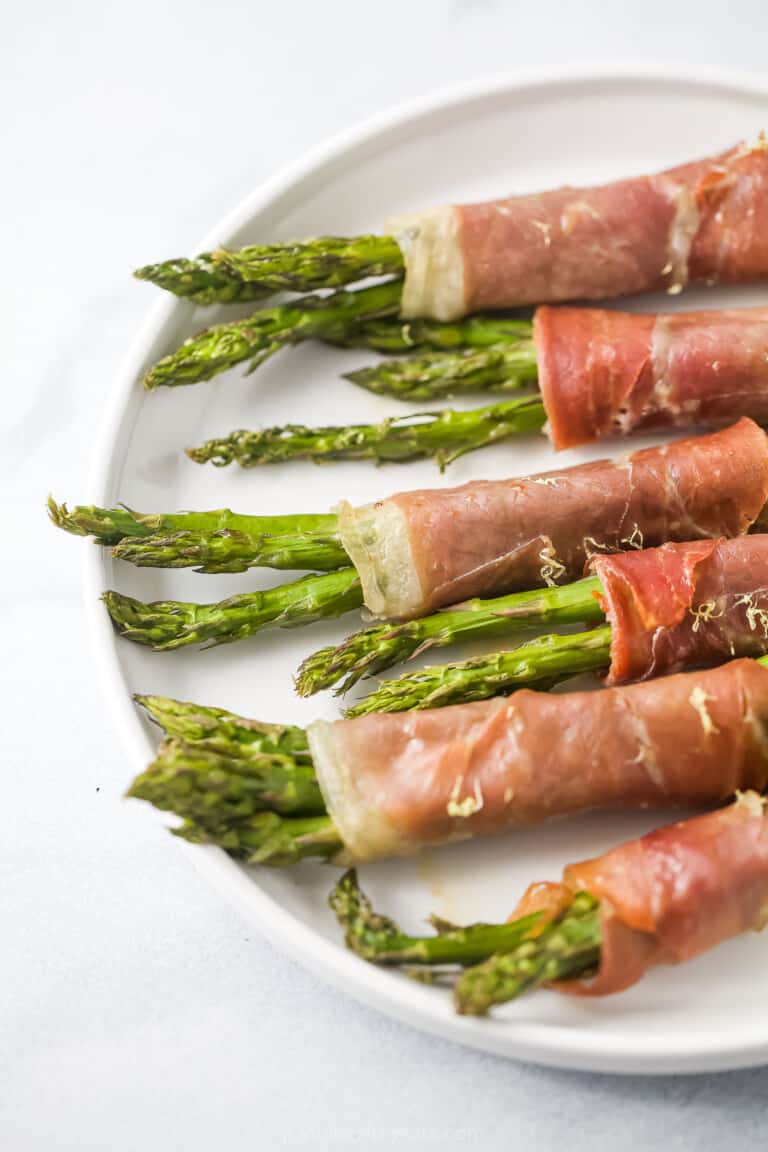 Easy Prosciutto Wrapped Asparagus
Guests always devour these tender-crisp asparagus bundles wrapped in salty prosciutto! It's a simple yet delicious and healthy holiday appetizer that's ready in just 20 minutes and never disappoints.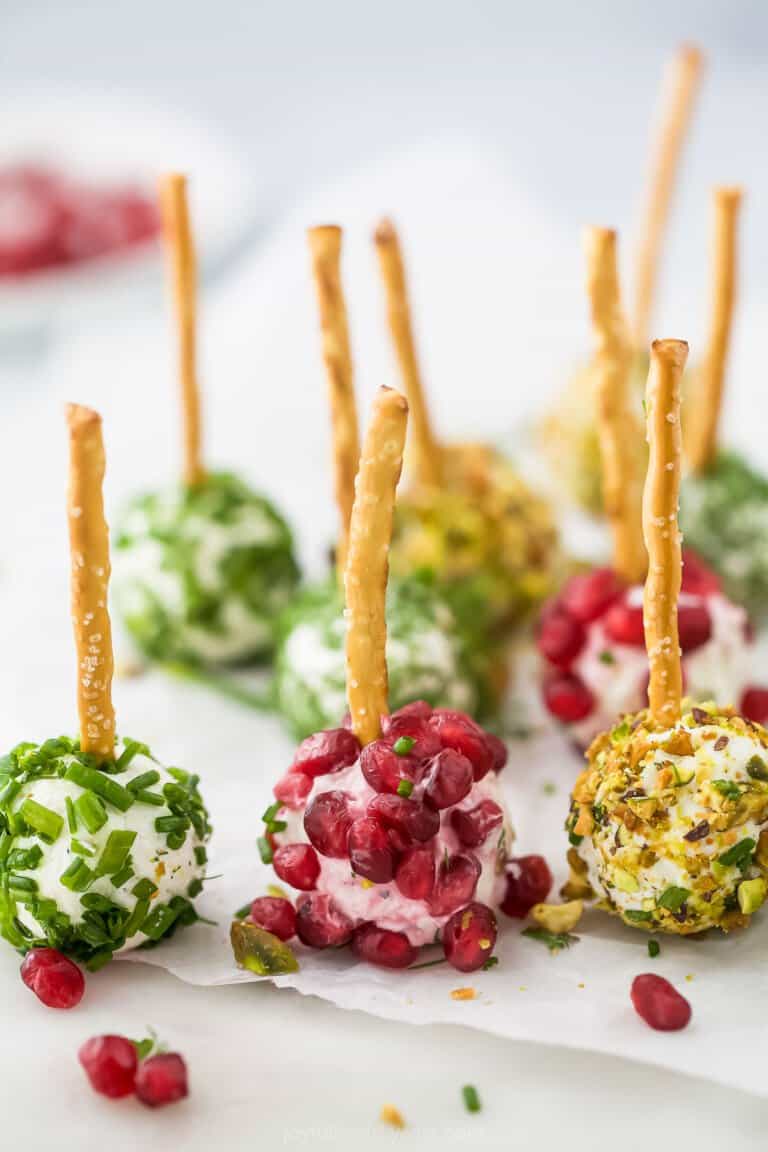 Assorted Holiday Goat Cheese Balls
Learn how to make perfect herbed goat cheese balls rolled in your favorite toppings! I love mine covered in crushed pistachios, fresh chopped dill, chives, and pomegranate seeds. But you can really make this appetizer your own with any ingredients you'd like!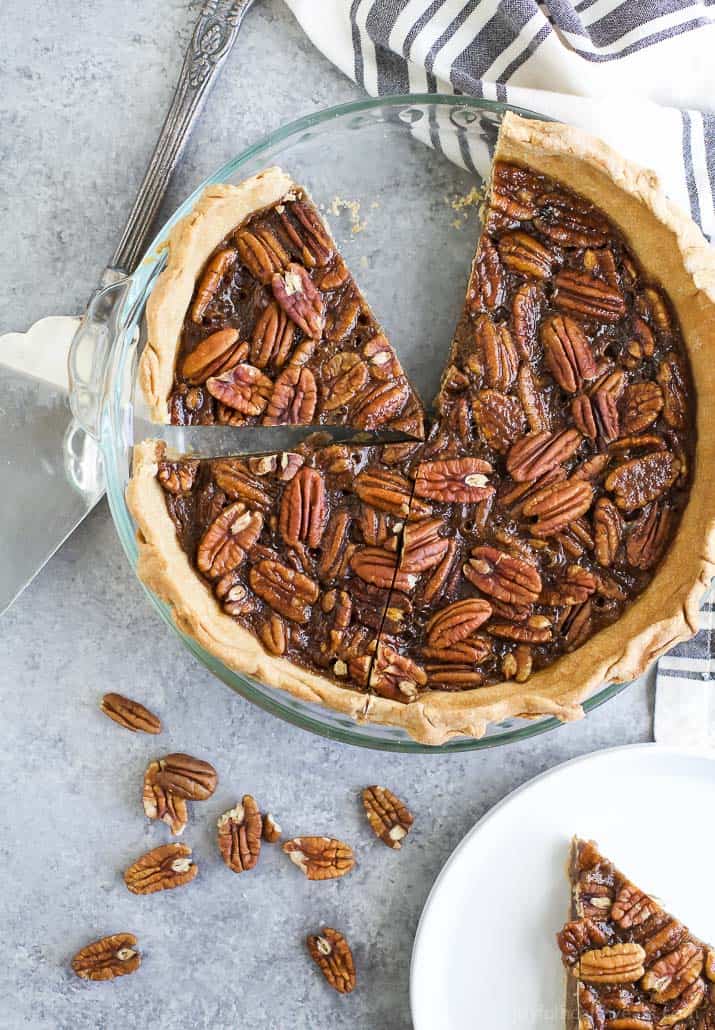 Homemade Pecan Pie (No Corn Syrup)
This totally guilt-free pecan pie is a healthier version of a classic Thanksgiving dessert. Baked in from-scratch, flaky whole wheat pie crust, the creamy and crunchy pecan pie filling is made without corn syrup, sweetened with maple syrup, and spiced with cinnamon.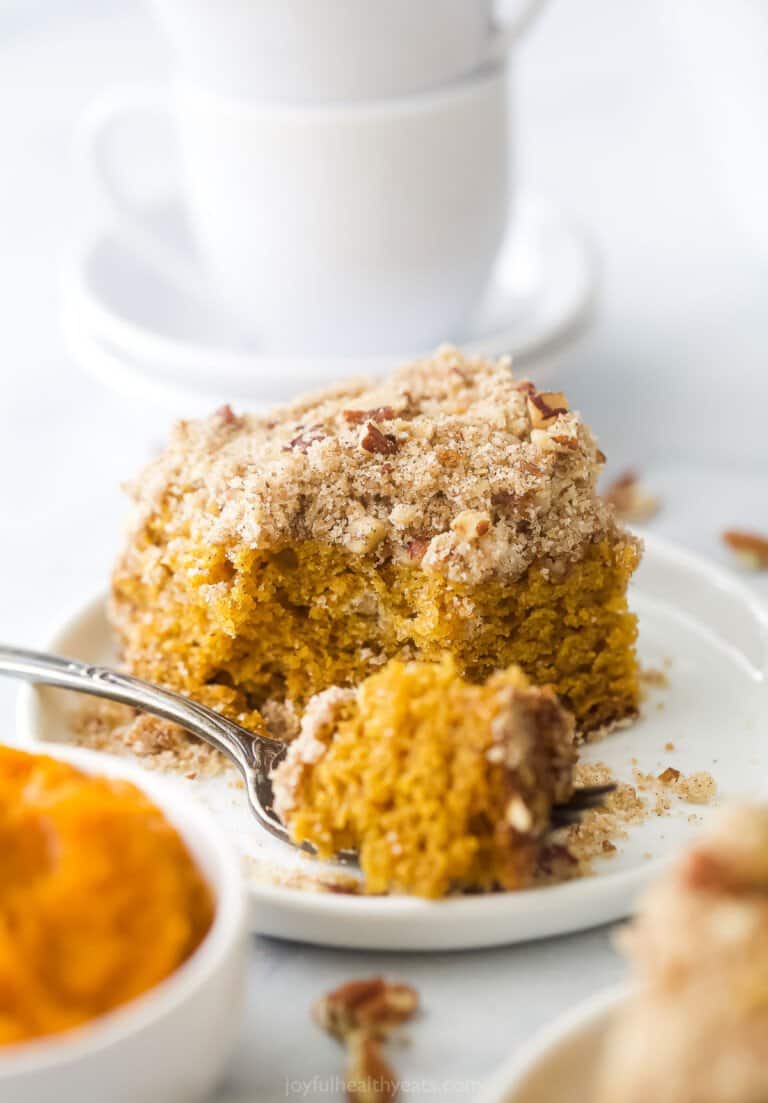 Pumpkin Spice Coffee Cake
The perfect coffee cake for fall! This cozy pumpkin spice coffee cake is just as delicious to have for breakfast as it is for Thanksgiving dessert! This cake recipe has the most incredible light, moist crumb, topped with a crunchy pecan streusel.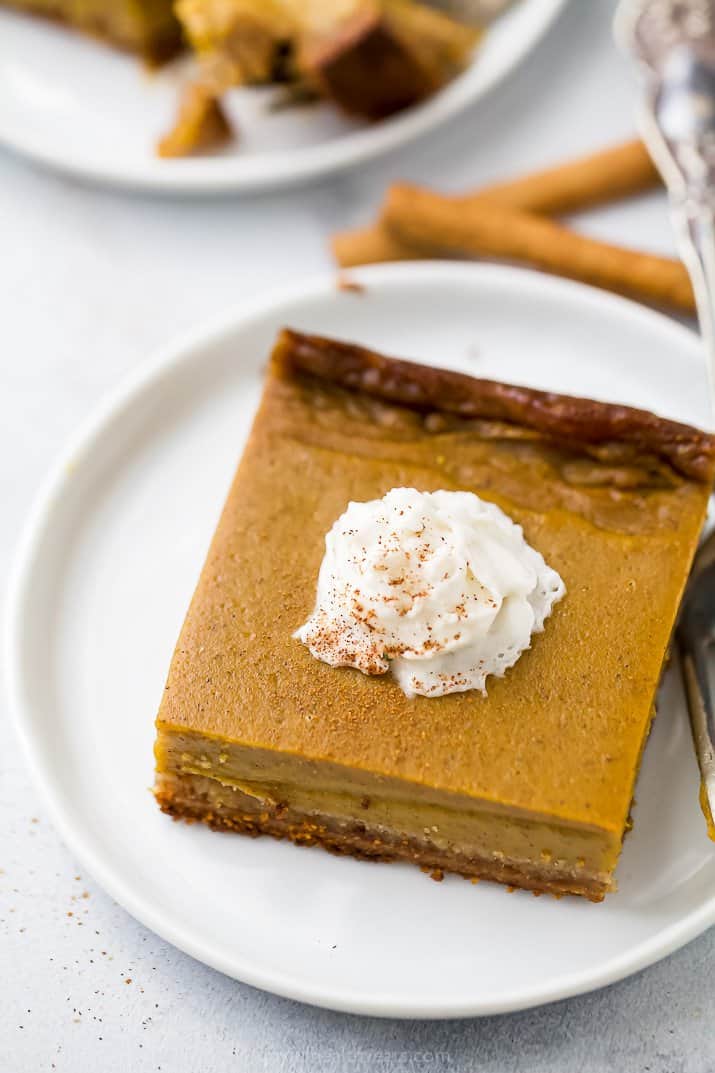 Must Make Easy Vegan Pumpkin Pie Bars
Imagine everything you love about a homemade pumpkin pie, packed into a vegan-friendly dessert bar! This is a simple yet oh-so-yummy recipe for smooth and creamy Thanksgiving pumpkin pie bars, made dairy-free with coconut milk and an almond-flour crust.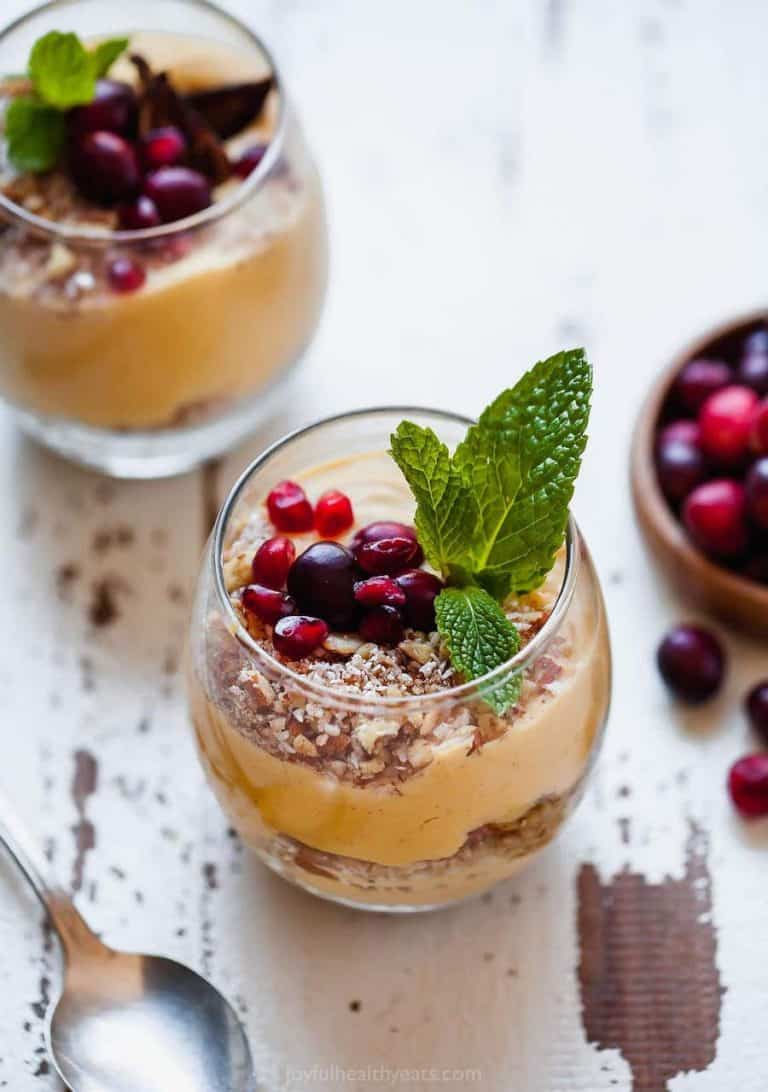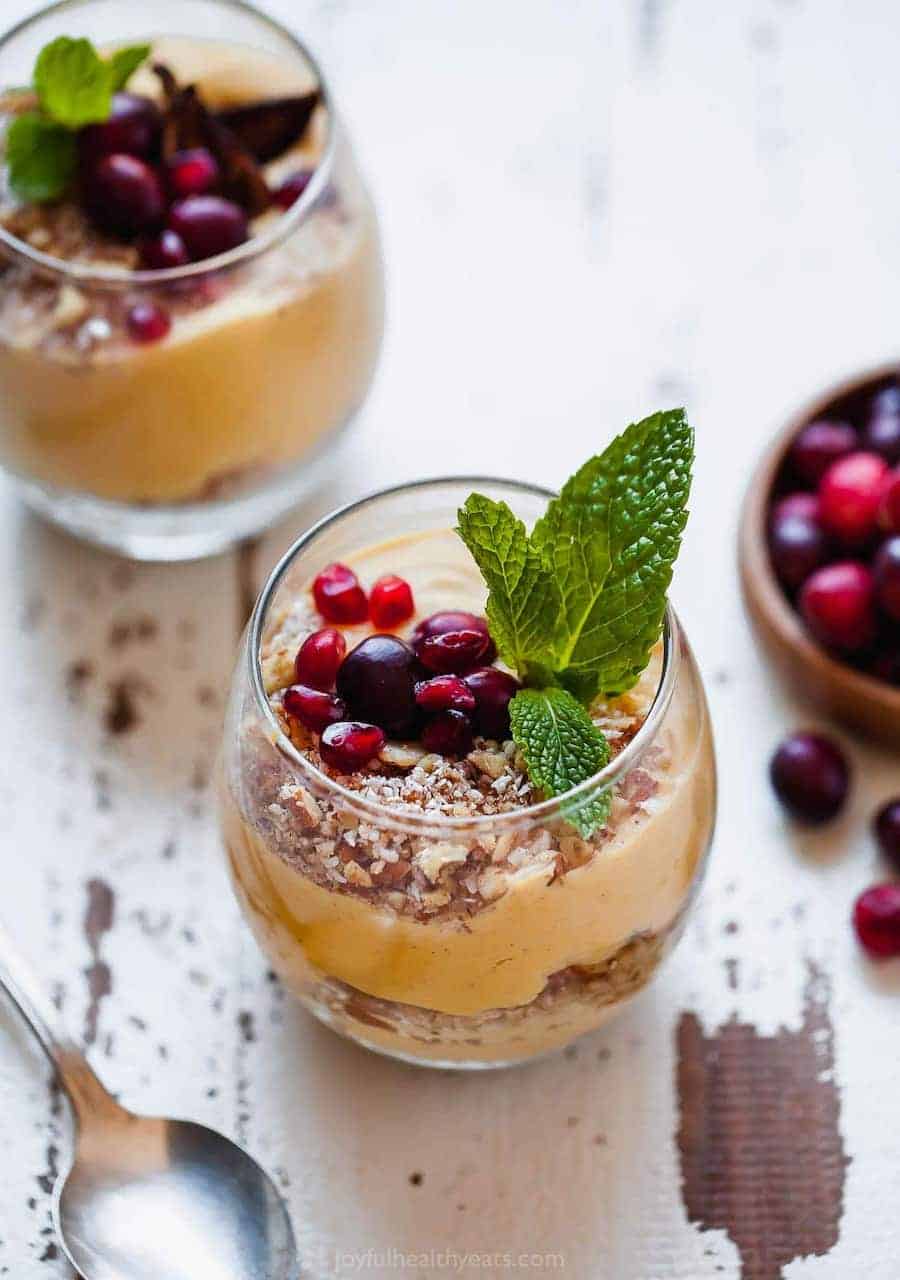 Healthy Pumpkin Pie Parfaits
This easy fall breakfast idea turns homemade pumpkin yogurt and homemade granola into a delightful, sweet-layered parfait. These healthy parfaits are the perfect light pick-me-up the morning after a Thanksgiving feast!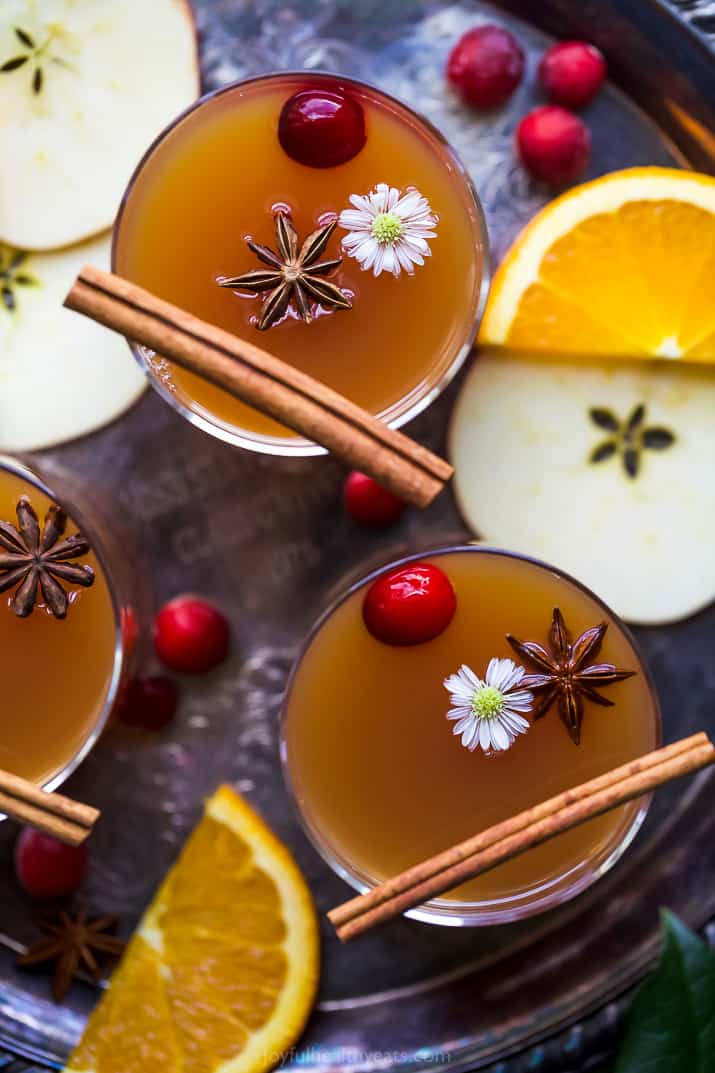 Spiked Hot Apple Cider
Get your Thanksgiving festivities warmed up the right way with a steaming mug of homemade mulled cider. This grown-up, spiked hot apple cider is brewed with a mixture of warming spices and fresh oranges, with a generous splash of spiced rum.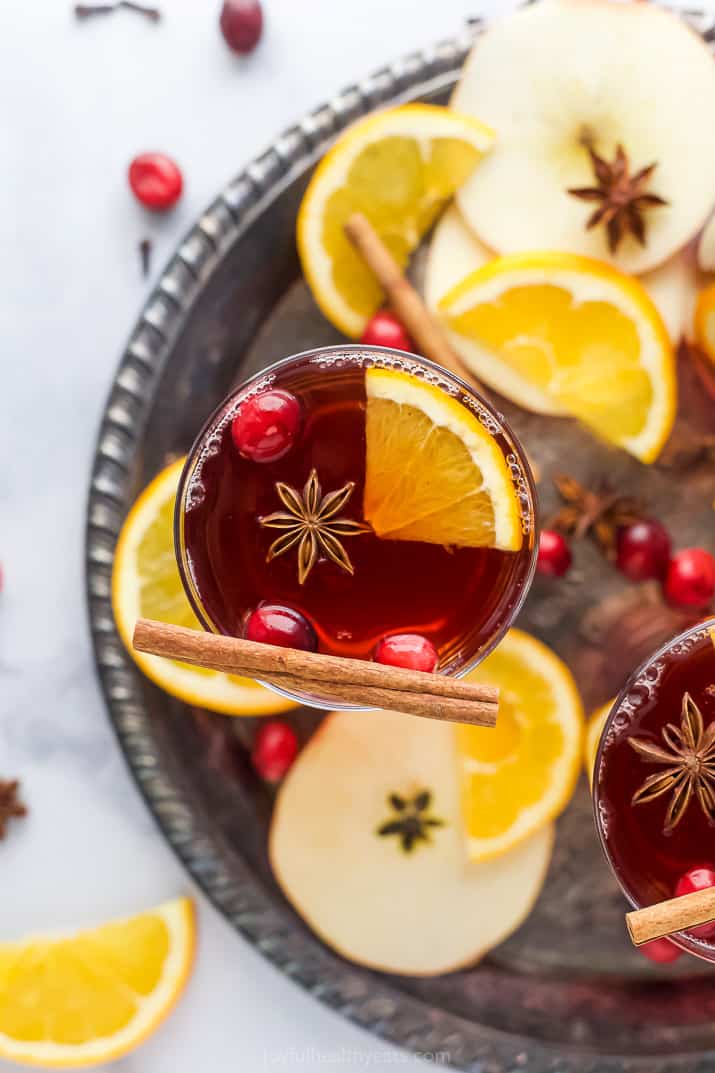 Festive Spiked Cranberry Mulled Apple Cider
I love making a huge batch of this festive hot spiked cranberry apple cider in my crockpot every year. One sip and you're instantly warm on the inside! This easy mulled cider recipe is a fun variation made with cranberry juice, heady spices, oranges, and rum.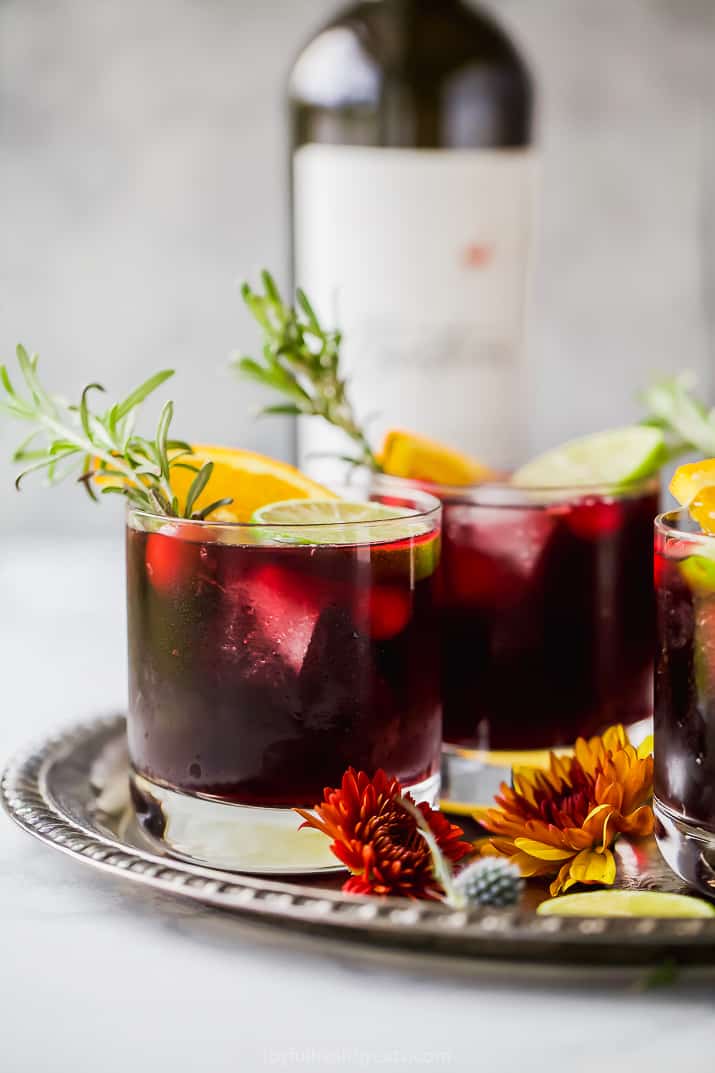 Easy Holiday Cranberry Sangria Recipe
If you thought that sangria was only for the steamy summer months, think again! My cozy holiday sangria recipe combines brandy, citrus, cranberry, and cinnamon into a festive holiday tipple that always makes an appearance at Thanksgiving.
DON'T MISS A RECIPE ->